The Montgomery County Planning Department is developing the county's first Pedestrian Master Plan. The plan will make walking and rolling safer, more comfortable, more convenient and more accessible for pedestrians of all ages and abilities in all parts of the county.
The plan will complement the 2018 Bicycle Master Plan and plans for other modes of transportation through strategies for making streets safer and more accessible.
This plan will be comprehensive. In addition to prioritizing needed infrastructure, it will recommend new and amended policies and operational practices, design standards and programming.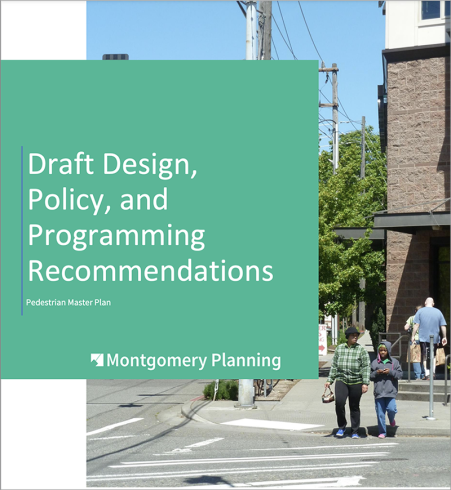 New! Draft Pedestrian Master Plan Draft Design, Policy, and Programming Recommendations
These recommendations offer solutions and strategies to make progress toward Montgomery County becoming more pedestrian-friendly, accessible, and to achieve the goals outlined in the plan. See the full list and offer your feedback on the draft recommendations.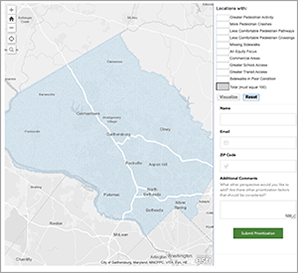 New! Pedestrian Prioritization Tool
Montgomery Planning is asking for your help to identify how and where you would prioritize pedestrian infrastructure improvements through our Pedestrian Prioritization Tool. This feedback will help inform equitable and data-driven decision-making on the Pedestrian Master Plan's recommendations and its future implementation as we work to improve the pedestrian experience across the county.
Last Updated: August 29, 2022