Montgomery County Planning Department
As Montgomery County continues to attract an increasingly diverse, technologically savvy, well-educated population, the Montgomery County Planning Department focuses its skills and talents to bring high-quality design in both form and function to all areas, from central business districts to rural villages.
The Department aims to improve quality of life by conserving and enhancing the natural and built environment for current and future generations. The Planning Department creates great communities by developing master plans, reviewing applications for development and analyzing various types of information to help public officials plan for Montgomery County's future. Each community within Montgomery County has a master plan that creates a comprehensive view of land use trends and future development. (Some jurisdictions within Montgomery County—such as the cities of Rockville and Gaithersburg and some smaller taxing districts such as Poolesville—have independent planning and zoning authority over land within their boundaries. Contact those jurisdictions directly for information about properties within their borders.)
The 140-member Planning Department brings regulatory cases, master plans, functional plans and many other initiatives to the Montgomery County Planning Board.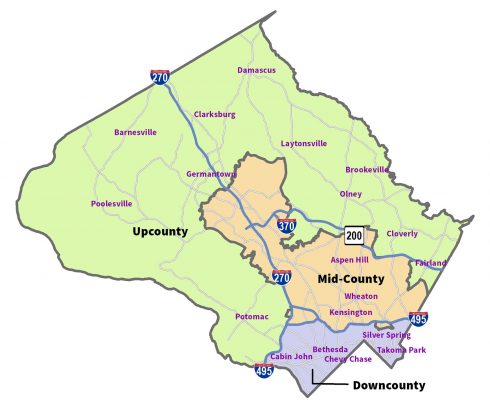 The Department operates in multi-disciplinary geographic teams with regulatory as well as community planning functions. This results in better integration and flexibility and leads to faster and more balanced decision-making. Divisions include:
Information Technology and Innovation
Office of the Planning Director/Planning Policy and Special Projects
Management Services
Strategic Communications
The team structure provides a unified point of contact and detailed knowledge about what's happening in each area. The structure also provides for differing perspectives to be heard and resolved within the team. Mixing staff with varying areas of expertise will enhance the responsiveness and quality of decision-making. The Planning Department is part of the Maryland-National Capital Park and Planning Commission.
Last Updated: June 27, 2023