Montgomery Planning's Historic Preservation Office launches new online archives of county history in honor of Preservation Month 2021
Newly digitized slide and photograph collection and Historic Area Work Permits are now easily accessible to property owners, researchers, historians, and the public
WHEATON, MD – The Montgomery County Planning Department, part of The Maryland-National Capital Park and Planning Commission (M-NCPPC), announced its  Historic Preservation Office has released new online archives showcasing the county's history in honor of Preservation Month 2021. This includes a newly digitized slide and photograph collection and Historic Area Work Permits, now more easily accessible to property owners, researchers, historians, and the public. The launch of these new digital archives coincides with the Montgomery County Planning Board's recognition of May 2021 as Preservation Month at its May 27 meeting.
View digitized slide and photograph collection
View digitized Historic Area Work Permits
During the meeting, Planning Board Chair Casey Anderson read a proclamation highlighting that "historic preservation is an effective tool for fostering local pride and maintaining community character." He also thanked the many organizations, local governments, community partners, and residents who preserve the county's "unique and complex history." This history is now more easily available to community members through Montgomery Planning's online slide and photograph collection and mapped Historic Area Work Permits.
"After years of working to digitize these historic materials, it is exciting that community members can now review them from their homes," said Planning Director Gwen Wright. "Students can now look up what Montgomery County looked like 90 years ago and owners of historic homes can get a fuller picture of the work that has been done on their home. These records will also allow researchers and historians to understand changes over time to our historic sites and communities."
Digitized Slide and Photograph Collection
Montgomery Planning's digitized slide and photograph collection captures a wide range of county history and provides a window into changes in the landscape over time. This includes many early Park and Planning photographs from the 1930s through the 1950s as well as other photographs that were donated to the Historic Preservation Office. It also includes pictures taken by Park and Planning staff as they created Montgomery Planning's first historic property surveys. These slides feature existing conditions from the 1970s through the 1990s for master planning efforts, surveyed historic communities, and documented historic resources.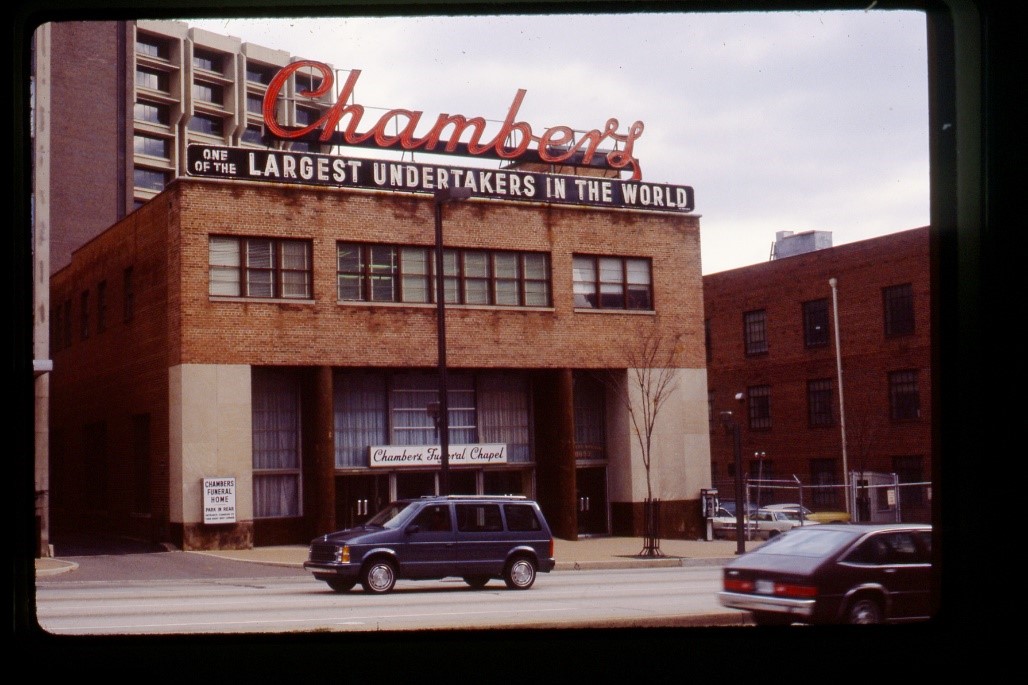 Chambers Funeral Home, undated. Credit: Montgomery County Planning Department Historic Preservation Office
Some sites in the county, like Glen Echo Park, are extensively depicted in the collection. Of the thousands of slides scanned for this project, about a third included locational information. These slides have now been mapped, making it easy to search by location. The remaining slides, which lack detailed geographic information, are archived on Montgomery Planning's website. Many of these images show places and people from the county's past about which there is little information, and some show resources that have likely since been demolished.
Digitized Historic Area Work Permits (HAWPs)
Since the appointment of the first Historic Preservation Commission in 1980, owners of historic properties have applied for Historic Area Work Permits (HAWPs) to make changes to designated historic resources. Over 3,000 HAWPs have now been scanned and mapped, creating an accessible record of changes to these historic sites through 2009. The mapped HAWPs can be searched by address or keyword to pull up relevant permits.
These records can provide current owners with knowledge about past alterations to the property and are valuable tools for researchers and architectural historians. In some cases, the scanned HAWPs include detailed architectural drawings of historic buildings and site maps of historic properties that were not included in previously available documentation.
Those who are interested in viewing the original physical slides and permits should contact the Historic Preservation Office to discuss arrangements for retrieving these records from the M-NCPPC archives. Photos published from these archives should be credited to the Montgomery County Planning Department Historic Preservation Office.
About the Historic Preservation Office
The Historic Preservation Office supports the Planning Board and the Historic Preservation Commission by providing for the identification, designation, and regulation of historic sites in Montgomery County. Historic Preservation staff also maintains an archive and library of documentation on historic resources in Montgomery County and provides preservation outreach and guidance on preservation best-practices to the public. If you are interested in historic buildings, sites, and programs in Montgomery County Parks, please visit Montgomery Parks.