Commercial Residential Zones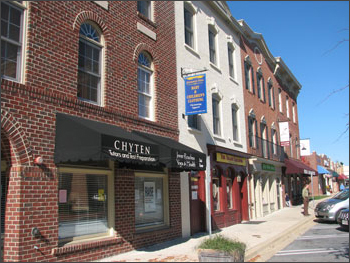 The Commercial/Residential (C/R) Zones are a family of mixed-use zones that allow a range of densities and heights. These zones are designed to
encourage a mix of commercial and residential uses
create interactive streets
provide meaningful public spaces
foster jobs and services where people can live, work, shop and play within a given neighborhood.
There are three Commercial/Residential Zone classifications which define the types of uses and the method of development allowed:
CR Neighborhood (CRN)
CR Town (CRT)
Commercial Residential (CR)
The CRN Zone allows standard method development; the CRT and CR Zones allow standard and optional method development. Optional method development requires the provision of public benefits, which are based on a point system specified in the zoning ordinance. The Incentive Density Implementation Guidelines provide further criteria for Planning Department staff, the Planning Board, applicants, and citizens to evaluate the adequacy of the public benefits proposed in an optional method application.
The family of zones allows for a range of densities and heights – as low as 0.25 floor area ratio (FAR), near single-family neighborhoods, to 8.0 FAR, which may be used in areas with direct access to Metro Stations such as our Central Business Districts. Within this range, master plans use the flexibility of the zones to ensure that development fits within the context of each community. Once mapped with specific density and height limitations, the zone provides certainty for residents about the type of development they can expect. Any zone must be designated on the official zoning map approved by the County Council.
Last Updated: June 30, 2022