Design Excellence Awards Competition Call for Entries now open until July 19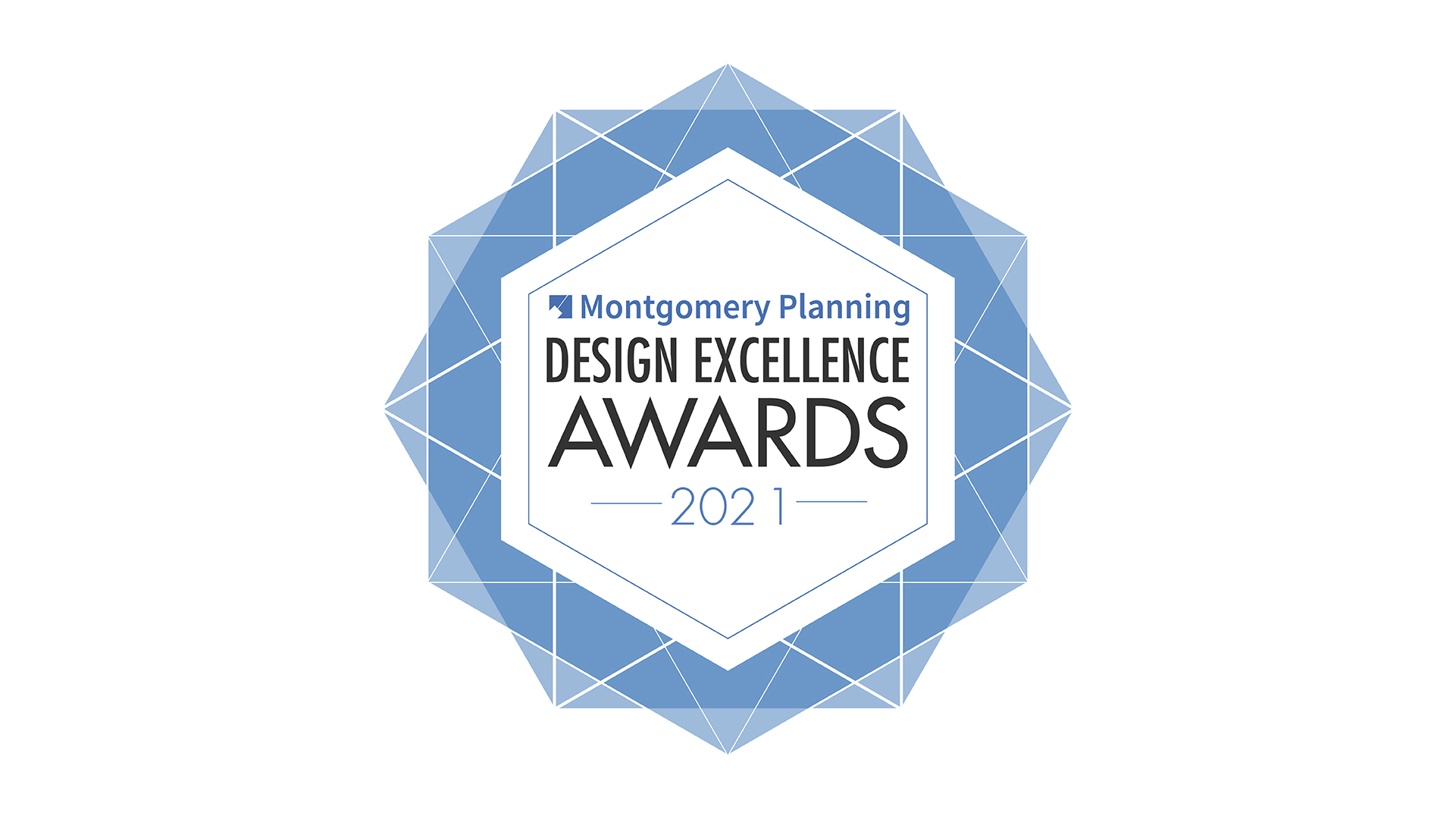 Developers, architects, and property owners invited to submit top quality, completed designs in Montgomery County; awards will recognize exceptional building, site and urbanism projects, multi-family housing, and public projects  
WHEATON, MD –The Montgomery County Planning Department, part of The Maryland-National Capital Park and Planning Commission, has launched its fifth Design Excellence Awards competition. The call for entries opened on June 15 and will remain open until 11:59 p.m. on Monday, July 19. Applications for the 2021 Design Excellence Awards can be submitted online.
The Design Excellence Awards, initiated in 2015, are intended to inspire architecture, landscape architecture and urban design of the best possible quality in Montgomery County; increase public awareness of this world-class design excellence; and show how physical design can lead to greater quality of life, economic opportunity and environmental sustainability.
This year, Montgomery Planning will honor projects with three Design Excellence Awards. The three winners and possible additional jury citations will be made by an independent panel of accomplished design and development professionals.
The Design Excellence Award recognizes an exceptional building, an urban design and/or a landscape in Montgomery County that enhances the public realm and promotes a stronger community through its design.
A second award, the Exceptional Multi-Family Housing Award, honors extraordinary residential architecture that exemplifies design excellence and makes lives better for communities and those who live there. This award focuses on multi-family housing, such as apartments, condominiums, townhome developments and other residential types, in Montgomery County.
A new third award, the Public Project Award, will be given to a public project that exemplifies the best qualities of design that support the public realm, community-building, and place-making.
All three award winners will illustrate how great design contributes to the community in terms of character, identity, and economic value. These awards provide the opportunity for the winning projects to be seen widely, particularly in business and professional settings where the best qualities of Montgomery County are promoted.
The Design Excellence Awards will be presented on the evening of October 21 at Celebrate Design 2021. This event will be held at the M-NCPPC's new Wheaton headquarters at 2425 Reedie Drive, Wheaton, MD 20902. It will be held in conjunction with the American Institute of Architects (AIA) Potomac Valley Chapter annual design awards celebration. The public is welcome to attend.
How to Apply
Projects eligible for the 2021 Design Excellence Awards include both private and public structures and spaces located within Montgomery County that were built within the past 10 years and are currently occupied and in use. The submitted projects should express the essential qualities of outstanding walkable, sustainable places at the scale of the neighborhood, block and building. Entries to the housing category should be apartments, condominiums, or townhouse developments; single-family detached houses are ineligible for submission.
Learn more about the Montgomery Planning's Design Excellence initiative.
2021 Design Excellence Award Jury
The jury is composed of accomplished and highly regarded practitioners in the fields of architecture, landscape architecture, planning and urban design, as follows:
Matt Bell, FAIA – Principal at Perkins and Eastman Architects in Washington, DC and a Professor of Architecture at the University of Maryland.
Tom Canfield, AIA – City Architect at the City of Alexandria, Alexandria, VA
Luanne Greene, FAIA – President of Ayers Saint Gross in Baltimore, MD
Jair Lynch – President and CEO of Jair Lynch Real Estate Partners in Washington, DC
Trini Rodriguez, AICP, AIA, ASLA – Principal of Parker Rodriguez in Alexandria, VA
Review the 2019 Design Excellence Award winners and jury citations.