2019 Design Excellence Awards
2019 Design Excellence Award Winners
Architecture and Site Design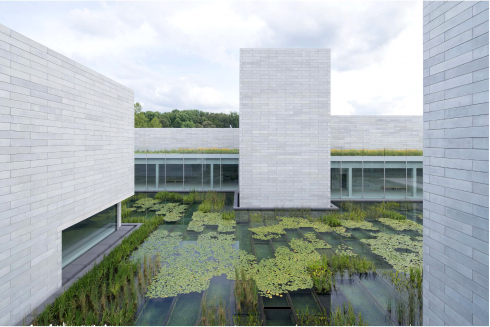 Glenstone Museum
Glenstone, the private museum in Potomac designed by New York-based Thomas Phifer and Partners, won the top honor for architecture and site design. "The minimalist architecture and restrained materials, composed with great detail, frame the contemporary art and landscape around the building," noted the awards jurors. "The simple building masses and layering of concrete blocks are reminiscent of historic stone quarries. This cultural destination is a true gift of beauty to Montgomery County and the region."
Firm/Project Lead: Thomas Phifer and Partners
Point of Contact: Thomas Phifer
Architect: Thomas Phifer
Landscape Architect: Peter Walker & Partners
Excellence in Housing Design
The Pearl
The Pearl, a 296-unit luxury apartment building in Silver Spring, was awarded the special prize for Excellence in Housing Design. Design Collective of Baltimore designed the 14-story Pearl for the Tower Companies of Rockville. "The building fits calmly into the surrounding neighborhood and creates a sensitive transition between single-family homes and a new mixed-use urban district," said the jurors.
Firm/Project Lead: Design Collective, Inc
Owner/Developer: The Tower Companies
Architect: Design Collective, Inc.
Landscape Architect: Sasaki and Associates, Inc.
Contractor: Clark Construction Group, LLC
Structural Engineer: Smislova, Kehnemui & Associates, PA
MEP Engineer: Integral Group
Civil Engineer: VIKA Incorporated
Photography: Tom Holdsworth; Morgan Howarth
Interiors: RD Jones & Associates
Building Envelope: Wiss Janney Elstner Associates
Commissioning Agent: Sustainable Building Partners
LEED Consultant: Sustainable Design Consulting
AV, IT, Acoustics: Polysonics
Geotechnical: Schnabel Engineering
2019 Design Excellence Jury Citations
Sustainable Design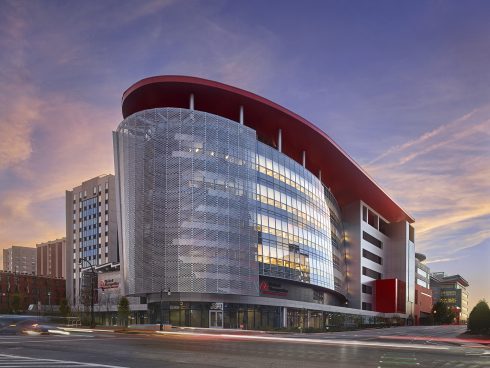 Unisphere
The Unisphere, designed by Ewing Cole of Philadelphia, won a citation for sustainable design. This energy-efficient building on the Silver Spring campus of United Therapeutics is a net zero design, meaning it generates as much, if not more, thermal and electrical energy as it consumes. "This building is an encyclopedia of environmental sustainability," said the jurors. "Solar panels and screens not only generate electricity, they are integral to the physical form of the building."
Firm/Project Lead: Ewing Cole
Point of Contact: Joseph Donahue
Neighborhood School Design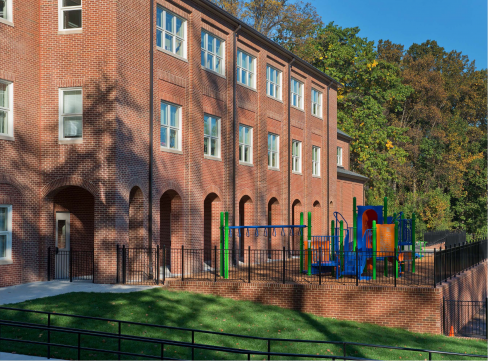 Westbrook Elementary School
The Westbrook Elementary School renovation and addition in Bethesda won a jury citation for neighborhood school design. Muse Architects of Bethesda expanded the 1930s building and updated the design of the interiors, while the school remained fully occupied throughout construction.
Firm/Project Lead: Stephen Muse, FAIA, Senior Principal; William Kirwan, AIA,
LEED® AP, Principal
Owner/Developer: Montgomery County Public Schools, Division of Construction
Owner Representative: Michael Shpur, AIA
Architect: Muse Architects
Contractor: Hess Construction
Structural Engineer: Ehlert Bryan, Inc.
MEP Engineer: EBL Engineers, LLC
Civil Engineer: A Morton Thomas & Associates, Inc.
Photography: Eric Taylor Photography
Additional Recognitions: John Thorp, RA; John Martinez (Muse Architects)
2019 Celebrate Design Event
About the 2019 Design Excellence Awards
The Montgomery County Planning Department seeks to recognize exceptional architecture, landscape architecture and urbanism that makes a difference in people's lives and represents the county's highest quality of design to the region, state and nation. This year, Montgomery Planning held its fourth Design Excellence Awards competition to honor this work.
The first top award in 2019 recognizes an exceptional building, an urban design and/or a landscape in Montgomery County that enhances the public realm and promotes a stronger community through design.
The second top award in 2019 honors extraordinary housing that exemplifies design excellence and makes lives better for communities and those who live there. This award focuses on multi-family housing, such as apartments, condominiums, townhome developments and other residential types, in Montgomery County.
The two winning projects demonstrate the essential qualities of outstanding walkable, sustainable places at the scale of the neighborhood, block and/or building. They are well integrated into the surrounding public realm and neighborhood. They are buildings and places that people love.
Both Design Excellence Awards show how great design contributes to the community in terms of character, identity and economic value. These awards provide the opportunity for the winning projects to be seen widely, particularly in civic, business and professional settings where the best qualities of Montgomery County are promoted.
Entries were accepted from May 22, 2019 through July 11, 2019.  The selection of the two winners was made by an independent jury with expertise in the fields of architecture, landscape architecture, planning and urban design.
The two Design Excellence Award winners were announced on Thursday, October 17, 2019 at an awards celebration at the AMP by Strathmore theater at Pike and Rose, (11810 Grand Park Avenue, North Bethesda, MD 20852). This event was held in conjunction with the American Institute of Architects (AIA) Potomac Valley Chapter annual design awards celebration.
Criteria for project eligibility:
Private or public projects built within Montgomery County.
Built and occupied within the past 10 years.
Exceptional high-quality design that has a clear relationship to its community context and enhances the public realm.
Buildings, urban designs and landscapes of all types in Montgomery County are eligible for the first award.
Multifamily housing, including apartments, condominiums, townhouses and other types of dwellings in Montgomery County, are eligible for the second award. (Single-family homes are ineligible.)
2019 Design Excellence Award Jury
Close X

Hilary Bertsch is a principal and a board director at Perkins Eastman. She is an expert in the design of large-scale mixed-use developments, with a special focus on waterfront revitalization, transit centers and urban retail complexes across the country. For more than 25 years, her designs have exhibited a consistent sensitivity to existing urban contexts. Bertsch has developed an expertise in creating new public environments that create lasting value for clients in both the private and public sectors. Among her high-profile projects are District Wharf in Washington, DC; Mayo Clinic Destination Medical Center in Rochester, MN; and Canalside in Buffalo, NY. Bertsch is active in the Urban Land Institute and has served as a Rose Fellowship Faculty Advisor, assisting cities in solving their complex urban design problems since 2010.

Close X

Principal and vice president at the landscape architecture firm Oehme Van Sweden, Sheila Brady maintains a design portfolio that includes much of the firm's distinguished work. Her recent commissions include the redevelopment of the St. Elizabeth's hospital campus; The Parks at Walter Reed and the renovation of the Martin Luther King, Jr. Memorial Library in Washington, DC. Her credits include the National World War II Memorial and the Martin Luther King, Jr. National Memorial; and gardens at the New York Botanical Garden and Chicago Botanic Garden. These award-winning designs demonstrate attention to detail and ecologically responsible design. Brady is a fellow of the American Society of Landscape Architects. She earned a master's degree in landscape architecture from Harvard University's Graduate School of Design and a bachelor of arts degree from George Washington University.

Close X

Hazel Edwards was appointed in 2016 as the first woman to lead the Department of Architecture, College of Engineering and Architecture at Howard University.  Edwards previously taught in the graduate city planning programs at Morgan State University and The Catholic University of America, where she also served as the planning program director. Over her career, Edwards has combined place-related research with planning and urban design practice and teaching. She received a bachelor of architecture degree from Howard University and a master of architecture degree in urban design from Harvard University. Edwards earned a PhD in regional planning from the University of Illinois-Urbana-Champaign before studying at the University of North Carolina at Chapel Hill as a Carolina Minority Postdoctoral Scholar. She is a certified planner with the American Institute of Certified Planners and was elected to its College of Fellows in 2018.

Close X

The founder and chairman of David M. Schwarz Architects leads the design process for all projects at the firm. In addition, David Schwarz is a Sterling Fellow at Yale University and served as chairman of the Architecture Dean's Council at Yale. He has led architecture studios at Yale, The Catholic University of America and the University of Notre Dame. In 2014, Schwarz was honored with the Arthur Ross Award for Architecture from the Institute of Classical Architecture and Art. He was chosen as the 2015 winner of the Richard H. Driehaus Prize from the University of Notre Dame. Schwarz is a past member of the Board of Directors of the National Building Museum where he serves as the jury chairman for the Vincent J. Scully Prize Fund Endowment.

Close X

As senior design principal of Shalom Baranes Associates, Robert Sponseller specializes in designing complex, mixed-use urban projects. Among his recent designs are CityMarket at O Street, 22 West, CityCenter DC apartments, Ritz Carlton Georgetown and redevelopment of the Fannie Mae headquarters. Sponseller focuses his efforts on designs that reconnect and restore sites to their neighborhoods, while embracing contemporary materials and aesthetic simplicity. He is active in public advocacy on issues such as contemporary design in historic districts, sustainable building practices and the incorporation of technology into design. Sponseller has served in a design review capacity for the DC Office of Planning and on numerous national design juries. He received a master of architecture degree from the University of Virginia and a bachelor of architecture degree from the University of Notre Dame.
Last Updated: July 12, 2022