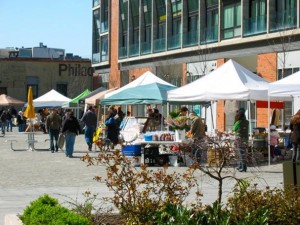 Elza's planners intution was correct. On a Saturday morning (even a cold and early one), Northern Liberties has more life.
What struck me about the space was the very fine relationship between buildings–entrances and exits are evident but not obvious, the apartments are close enough to oversee the space, but still have privacy.
This kind of deliberate use of space is the hallmark of an urban environment. In the suburbs, where land has been plentiful, it is rarely part of the design.
There's no reason a suburban parking lot or superblock couldn't be redeveloped with this degree of refinement, it just never seems necessary when we spend most of our time in our cars.