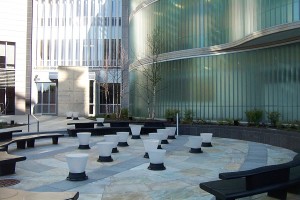 Several sculptural seating elements were created in the plaza space at the new United Therapeutics campus in Silver Spring (corner of Cameron and Spring) and I've only begun investigating their interactive potential. Scattered throughout the space and into the sidewalk, these 17- 23-inch poly-resin pieces are shaped like inverted cones stuck into the ground. Several have the symbols of elements, others have designs, most are undecorated.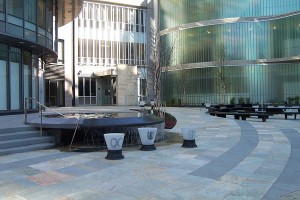 Although fun and functional during the day, their real impact is seen – and heard – at night. The translucent poly-resin material houses LED lights that change color in random patterns based on pedestrian motion or according to a program. Whether this feature is "on" yet, I can't tell – the colors intensified and faded while I was there, but I wasn't sure if I was "causing" anything to happen.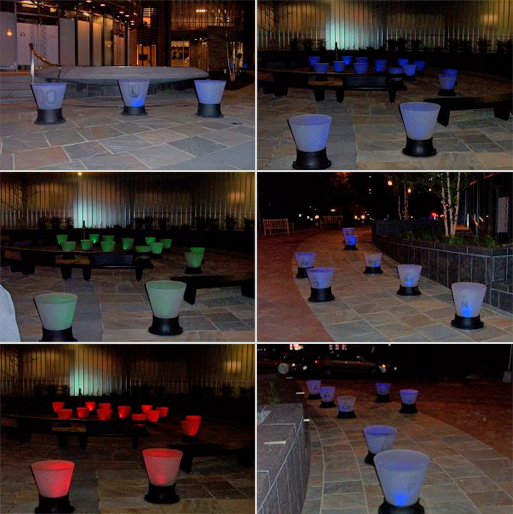 Also when I was there, I had forgotten that the installation was also tied into sound system that broadcasts original compositions into the plaza. The music I heard was new-agey and calm and fitting. This may be tied into displays on a future "Bio-Wall" feature that will show visual images and programs run by United Therapeutics and the AFI Silver Theatre. Something to look forward to!
In all, the entire space, including well-integrated plantings, water feature, seating, artworks, and architecture, is an exemplar of design excellence that we – as a county – should emulate. This open space will come to life when the adjacent residential buildings and retail shops start filling as the economic market begins its slow, steady rise back up.