Georgia Avenue Concept Study (2008)
Montgomery County planners are working to create a new vision for Georgia Avenue, one of the county's most important north-south corridors. The study provides a design framework for future master plans and projects from the District of Columbia to Howard County.
Georgia Avenue Study draft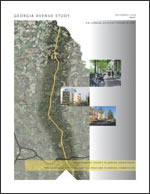 Original Version (pdf, 18.5MB)
Fast-download version (pdf, 2.7MB)
Working with the community, planners developed a draft that covers pedestrian safety issues, urban design of the corridor and public transportation. The study analyzes the corridor by each neighborhood, from Silver Spring, Montgomery Hills and Wheaton, through Glenmont, Aspen Hill, Olney and the rural villages of the Agricultural Reserve. Among the staff's recommendations:
Creating a development pattern of concentrated centers and residential communities
Enhancing Georgia Avenue to be an attractive, walkable place
Exploring the future of existing single-family houses
Background
View initial project presentation (pdf, 16 MB)
Learn more about the people who live in the Georgia Avenue Corridor:
Future of Georgia Avenue
Watch this slideshow to see how the Montgomery County Planning Department envisions the future of the Georgia Avenue corridor.
Schedule
December 18, 5 p.m.: Staff presents draft Georgia Avenue Concept Study to the Planning Board
January 2009: Planning Board transmits final draft of Georgia Avenue Concept Study to the Montgomery County Council
Previous Actions
M-NCPPC Staff Contact
Khalid Afzal, Community Based Planning
301-495-4650
Khalid.Afzal@mncppc-mc.org
Last Updated: September 14, 2023