About Montgomery Modern
Montgomery County historic preservation planners have begun exploring, analyzing and recording local mid-century modern buildings and communities, part of an effort we call Montgomery Modern.
Montgomery Modern explores mid-century modern buildings and communities that reflect the optimistic spirit of the post-war era in Montgomery County, Maryland. From International Style office towers to Googie style stores and contemporary tract houses, Montgomery Modern celebrates the buildings, technology, and materials of the Atomic Age, from the late 1940s through the 1960s. A half century later, we now have perspective to appreciate these resources as a product of their time.
The historic value of the mid-century era — the 1940s through the 1960s — has, until recently, been largely overlooked. Now, as these buildings and communities have matured and are over 50 years old, we have begun to appreciate their historical cultural and architectural significance. As result of a more complete understanding of these resources, decision-makers may find some of these resources appropriate for historic preservation.
Planners want to help raise the public's understanding of – and appreciation for – these buildings and communities developed during a time of tremendous growth in Montgomery County.
Montgomery Modern Book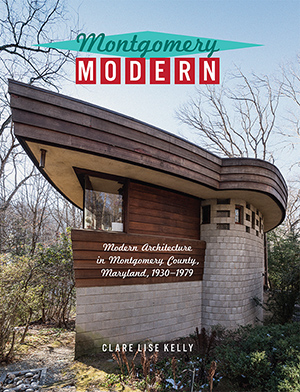 The Montgomery Modern book is a chronicle of mid-century modern architecture in Montgomery County.  This illustrated reference guide includes an inventory of key buildings and communities, and biographical sketches of practitioners including architects, landscape architects, planners and developers. Author Clare Lise Kelly was awarded the 2015 Paul H. Kea medal for architectural advocacy by the American Institute of Architects (Potomac Valley Chapter).
Copies of the book can be purchased online:
A hard cover copy costs $65 and a paperback costs $82. Now available in Kindle e-book, $14.99.
Buy hard cover Buy paperback Buy e-book
Book Reviews
"…Clare Lise Kelly and the county planning agency of which she is a part deserve recognition for providing a detailed, insightful guide to this rich legacy. Montgomery Modern is a pioneering book of its kind…" Read more.
Montgomery Modern Exhibit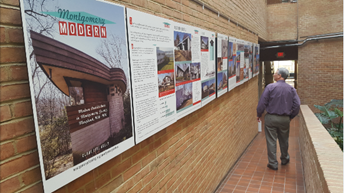 The Montgomery Modern exhibit on mid-century modern architecture in Montgomery County is based on the book, Montgomery Modern: Modern Architecture in Montgomery County.
Montgomery Modern Restoration
Resources for Conservation of Modern Architecture and Furnishings in Montgomery County
Montgomery Modern Tours
Montgomery Modern tours offer a chance for firsthand experience of the county's mid-century modern architecture. Explore guidebooks from previous tours.
Additional DC-Metro Area Modern Architecture Resources
Last Updated: September 9, 2021