Design Excellence Awards competition call for entries now open until July 17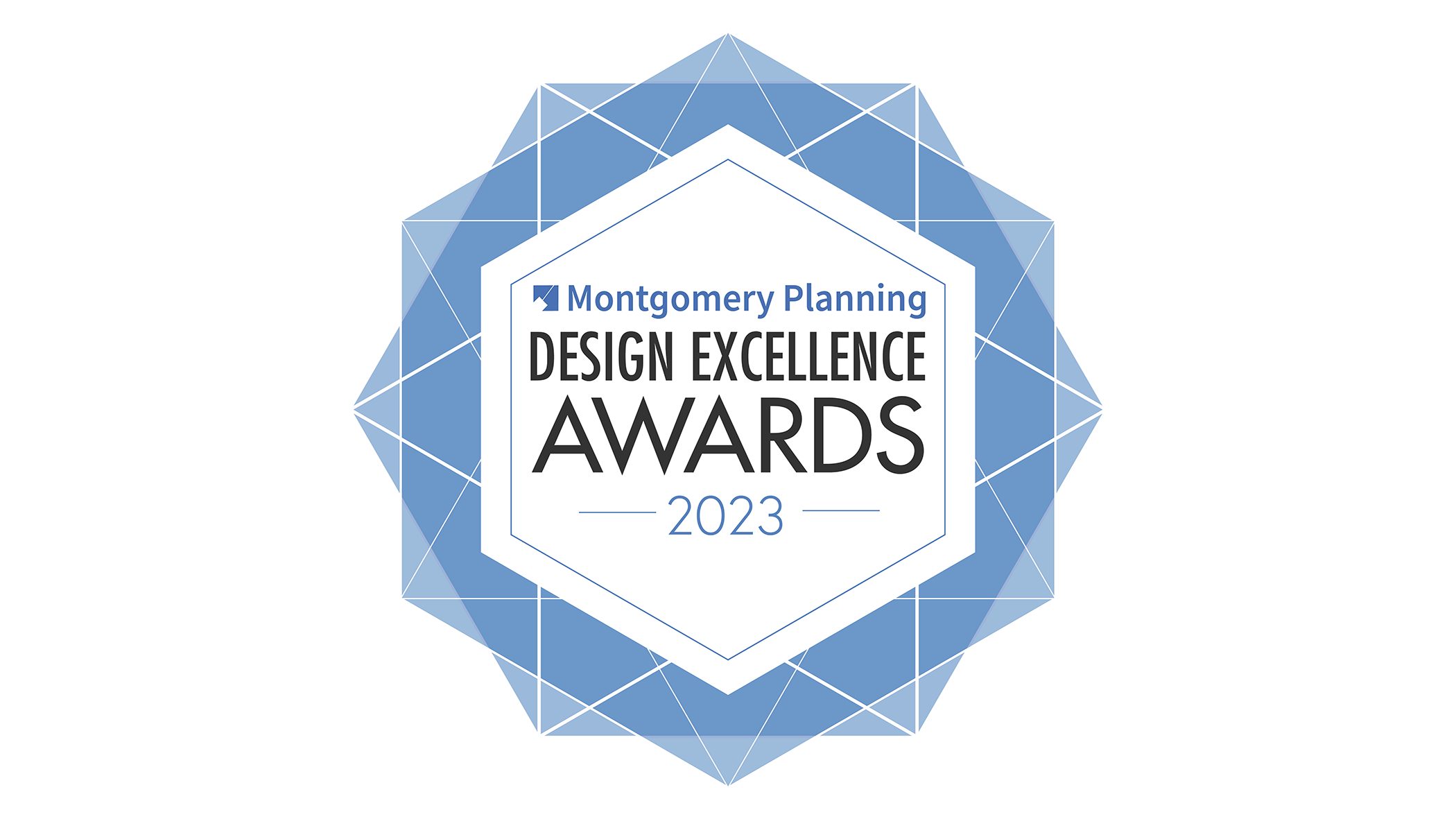 Developers, architects, and property owners invited to submit top quality, completed projects in Montgomery County; awards will recognize exceptional building, site and urbanism designs, multi-family housing, and public projects  
WHEATON, MD – The Montgomery County Planning Department, part of The Maryland-National Capital Park and Planning Commission (M-NCPPC), is hosting its sixth Design Excellence Awards competition in October, and the call for entries opened on May 10 and will remain open until 11:59 p.m. on Monday, July 17. The October 19 Design Excellence Awards ceremony at the M-NCPPC Wheaton Headquarters in downtown Wheaton will recognize exceptional architecture, landscape architecture and urbanism that makes a difference in people's lives and represent the county's highest quality of design to the region, state, and nation. This year's independent jury will choose the best work in the following categories:
Buildings, Urban Design and Landscapes
Exceptional Housing
Applications for the 2023 Design Excellence Awards can be submitted online.
The Design Excellence Awards, initiated in 2015, are intended to inspire architecture, landscape architecture and urban design of the best possible quality in Montgomery County; increase public awareness of this world-class design excellence; and show how physical design can lead to greater quality of life, economic opportunity, and environmental sustainability. The biennial awards ceremony will be held during Celebrate Design 2023, co-hosted by the AIA Potomac Valley Chapter.
2023 Design Excellence Awards Jury
The jury is composed of accomplished and highly regarded practitioners in the fields of architecture, landscape architecture, planning and urban design, as follows:
Evan Goldman– Vice President of Land Acquisitions and Development for EYA.
Marina Khoury, RA, LEED AP, CNU– Partner at DPZ CoDesign, Director of Washington, DC-area office.
Georgeanne Matthews, PhD– Assistant professor of architecture at the University of Maryland School of Architecture, Planning and Preservation.
Mark McInturff, FAIA– Founder of Bethesda-based McInturff Architects
Lee Quill, FAIA– a founding principal of Cunningham | Quill Architects in Washington, D.C.
How to Apply
Projects eligible for the 2023 Design Excellence Awards include both private and public structures and spaces located within Montgomery County that were built within the past 10 years and are currently occupied and in use.  Entries for the housing category should be apartment, condominium, or townhouse buildings; single-family detached houses are ineligible for submission. Entries will be accepted starting Monday, May 10, 2023. The deadline for submission is Monday, July 17, 2023, at montgomeryplanning.org/design.
Learn more about the Montgomery Planning's Design Excellence initiative.
Review the 2021 Design Excellence Award winners and jury citations.
Celebrate Design 2023
The Celebrate Design 2023 event will be held on Thursday, October 19, 2023, at M-NCPPC's Wheaton Headquarters, the first government-owned office building in Maryland to receive the LEED Platinum certification for its innovative, environmentally friendly design. This event honors many of the finest architectural projects in our region and presents the winners of AIA Potomac Valley's Excellence in Design Awards. Celebrate Design brings together urban designers, architects, landscape architects, planners, developers, builders, policymakers, elected officials, design professionals, artists and interested community members from across Montgomery County and the region.
Tickets are expected to go on sale for the October event in September.
For more information, contact Paul Mortensen at paul.mortensen@montgomeryplanning.org or 301-495-4523.