Water Resources Plan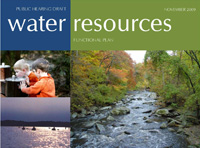 The Water Resources Plan [PDF] (pdf, 7.5 MB) examines Montgomery County's land use, growth, and stormwater management in the context of adequate drinking water supplies, wastewater treatment capacity, water quality regulatory requirements, and inter-jurisdictional commitments. The County Council approved the plan in July 2010 and it was adopted by the full Commission in September 2010.
View the Council resolution.
View the Water Resources Plan appendix.
Request a copy of the plan or appendix on CD-ROM.
Last Updated: November 14, 2016