Protecting Environmental Buffers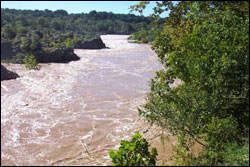 Streams are the backbone of environmental sustainability. Water sustains life as it flows from rain through plants, wetlands and forests into waterways that lead to the Chesapeake Bay. Protecting streams and their buffers — wetlands, floodplains and slopes — is essential to a healthy environment. These sensitive areas provide habitat, cool clean water and natural areas to absorb flood waters, avoiding damage to private property. The Environmental Guidelines & Reports describe how to identify environmental buffers.
Streetscapes
Planners conducted a year-long project on environmental site design (ESD) focused on street edges. ESD integrates site design, natural hydrology, and other controls to capture and treat runoff. The project resulted in plans for retrofitting streetscapes in suburban and urban areas to better handle stormwater and improve the environment for pedestrians and cyclists in addition to motorists.
Water Resources Plan
The Water Resources Functional Master Plan examines Montgomery County's land use, growth, and stormwater management in the context of adequate drinking water supplies, wastewater treatment capacity, water quality regulatory requirements, and inter-jurisdictional commitments.
Special Protection Areas
Some particularly sensitive, high-quality stream systems require special protection from development. An effective way to protect county streams is to designate all or part of a watershed a Special Protection Area, a label that identifies streams and related natural features as very high quality and calls for minimizing impervious surface cover in development projects. Development or redevelopment projects in three SPAs are subject to specific limits on impervious surfaces. In a part of one SPA, the Planning Board limits impervious surfaces during development or redevelopment to as low as 6 percent of the project area.
Water and Sewer
Montgomery County provides policies for extending water and sewer service and describes a process for requesting service. The county's Department of Environmental Protection prepares the Ten-Year Comprehensive Water Supply and Sewerage Systems Plan and sends it for consideration and adoption by the County Council. By state law, the Planning Board reviews the plan and any amendments to ensure they remain consistent with community master plans.
Last Updated: July 12, 2022