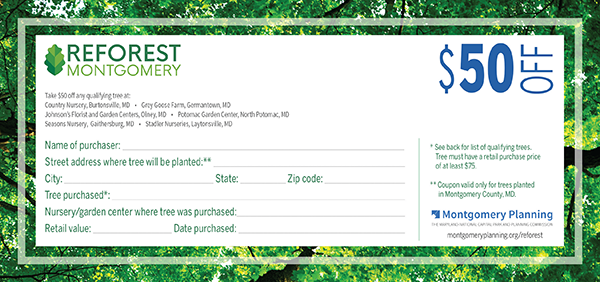 Green Montgomery County by planting native trees on your property. Download our Reforest Montgomery coupon to receive a $50 discount on any qualifying tree with a retail value of at least $75 from one of the participating nurseries or garden centers below. Adapted to the unique environmental conditions of Montgomery County, these native trees may need less maintenance and offer high quality habitat that supports pollinators and other local wildlife.
This $50 coupon can be combined with the State of Maryland's $25 Marylanders Plant Trees coupon for $75 off the price of a tree that qualifies for both programs. View trees that qualify for the Marylanders Plant Trees program.
Note: This program was formerly known as Leaves for Neighborhoods.
Participating Nurseries and Garden Centers
*Nursery participates in both Reforest Montgomery and State of Maryland programs.
Do you represent a nursery or garden center in Montgomery County? Email reforest@montgomeryplanning.org to join the program.
Planting and Caring for Your New Trees
Follow the guidelines below to give your new trees the best chance of long-term survival:
Dig a hole 3 times the diameter of the root ball and as deep as the root ball.
Handling the tree only by the container or the root ball and lower stem, remove the container, then lower the tree into the hole. For balled and burlap trees, center the tree in the hole, then carefully cut away the burlap and wire basket.
Cut all visible encircling roots.
Ensure the central leader is straight and the trunk flare is above the soil surface. Add soil underneath the root ball as needed until positioned properly.
Backfill soil until it is level with the surrounding soil surface. Tamp soil gently to avoid air pockets.
Flood the hole with water to settle the soil around the roots.
Add mulch 2-3 inches deep in a ring around the tree, ensuring that no mulch touches the trunk flare of the tree.
Sign up for Reforest Montgomery Water Alerts and water the tree between March 1 and November 30 (or the first frost).
Conservation Montgomery, Tree Montgomery, and the Maryland Department of Natural Resources offer additional tutorials and tips on properly planting and caring for your trees.
Last Updated: April 6, 2023