Fire Department Access Performance-Based Design Guide
About the guide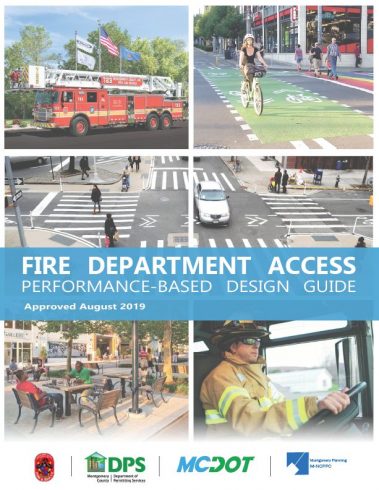 The Fire Department Access Performance-Based Design Guide addresses evolving fire department access issues and balances these requirements with the needs of pedestrian and bicycle safety and the protection of natural resources. By identifying safe and sustainable design considerations for fire department access, street intersections, and streetscapes, the design guide streamlines the development review process and will improve the quality of life in Montgomery County.
With Montgomery County projected to experience robust population growth in the coming decades, planning policies must support concentrated growth along transit routes and the preservation of open space. Compact, mixed-use developments require streets to accommodate multiple modes of transportation, including private vehicles, pedestrians, bicycles, and public transit. Simultaneously, denser living and working environments create challenges to effective emergency service operations. As dictated by the nature of an all-hazards response agency, fire department apparatus are large, commercial-type vehicles. While narrow streets limit pedestrian exposure to vehicle collisions, they also limit fire department vehicular access. Features that improve quality of life for the community, such as street trees, set-backs, and separated bike lanes, must be designed to allow the fire department to fulfill its mission to protect lives, property, and the environment.
The design guide consolidates key Fire Department access requirements and performance-based design, which allows for alternatives that meet the intent of prescriptive fire department access requirements while still accounting for other interests, including pedestrian and bicycle safety and stormwater management. The design guide is intended to be a resource to assist engineers, architects, developers, planners, and public agencies in designing communities that are fully accessible by MCFRS while promoting safe intersections and streets that support people that walk, bike and use transit.
The design guide applies to all new community and commercial development or redevelopment, infill development, and road reconstruction and prioritizes roadway safety, complementing the County's Vision Zero Action Plan and the Bicycle Master Plan. Existing MCFRS access requirements are not modified by this design guide and can be found in Montgomery County Code Chapter 22.
Issued by the Montgomery County Department of Permitting Services (MCDPS), the design guide was produced in collaboration with the Montgomery County Fire and Rescue Service (MCFRS), Montgomery County Department of Transportation (MCDOT), and the Maryland-National Capital Park and Planning Commission (M-NCPPC), and was formally approved by all four agencies in August 2019. The design guide was produced by the Life Safety and Urban Design (LSUD) work group, which formed in early 2018 and met monthly to determine the guide's scope and recommendations. The LSUD work group included staff members from DPS, MCFRS, MCDOT, and M-NCPPC.
Download the Fire Department Access Performance-Based Design Guide (PDF, 30MB).
Learn more
Last Updated: July 29, 2022