Planning Board Approves Update to Guidelines for Incentive Density in Commercial/Residential and Employment Zones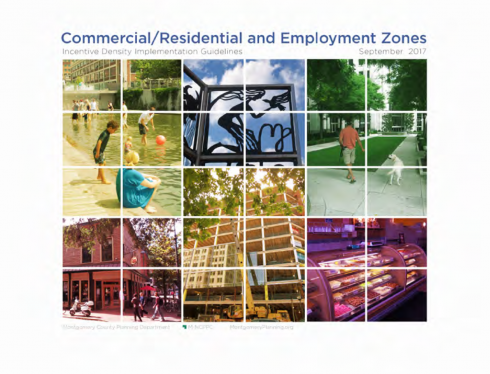 Recommended practices for developers, property owners and project reviewers aim to ensure a higher quality of design, dialogue and public benefits in exchange for increased density
SILVER SPRING, MD – The Montgomery County Planning Department, part of The Maryland-National Capital Park and Planning Commission, has issued updated guidelines for meeting the requirements of Commercial/Residential (CR) and Employment zones, and providing public benefits in exchange for additional building density and height. The Planning Board approved the 76-page document at its meeting on December 14, 2017.
Review the updated Commercial/Residential and Employment Zones Incentive Density Implementation Guidelines online.
This update does not include any changes to the previous guidelines or the matrix of points awarded for supplying public benefits. Rather, it further clarifies the benefit categories through intent statements and illustrative photographs of precedent developments throughout the region and country.
The guidelines explain the categories and criteria for public benefits, including proximity to transit, enhanced accessibility for the disabled, energy conservation and historic preservation, in exchange for increased density. Chapters on transit, connectivity and mobility address parking, streetscapes and neighborhood services. Diversity of uses, quality building and site designs, public art, recycled buildings and protection and enhancement of the natural environment are also part of the guidelines.
Within the guidelines, numerous photos and captions of projects from Montgomery County and around the country illustrate the ways of achieving the recommended practices.
"The goal is to take the guesswork out of how to determine the type and value of public benefits that qualify for incentives," says Paul Mortensen, the Senior Urban Designer in the Planning Director's Office who updated the guidelines. "By adding intent statements to each category and precedent photos and captions, the improved document will help developers understand the benefits, inform the community and provide direction to staff when working through the development review process."
About the Incentive Density Implementation Guidelines
The guidelines for determining incentives were created to provide Planning Department staff, developers and property owners with clear requirements for public benefits that qualify for an increase in density within Commercial Residential and other zones within the county, and inform the community about what to expect in exchange for the impact from such development projects. The original guidelines were issued in 2012 and updated in 2015 to be consistent with the new county zoning ordinance, which was enacted in 2014.
The newly revised, 2017 guidelines provide clearer explanations of specific public benefits and the reasons why they are important to communities. Photos and diagrams with captions are included to better explain what planners and the public are seeking for each benefit.
For more information about the guidelines, contact Paul Mortensen at tel. 301-495-4523 or paul.mortensen@montgomeryplanning.org.