Community Meeting for MARC Rail Communities Plan Will Be Held on November 30 at the Upcounty Regional Services Center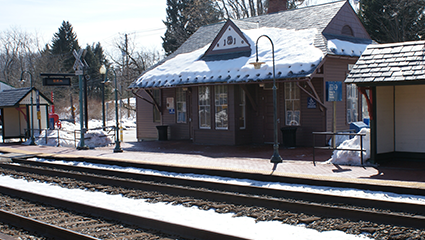 Results of transportation studies of station areas in Boyds and Germantown will be presented for discussion at public event
Silver Spring, MD – The Montgomery County Planning Department, part of the Maryland-National Capital Park and Planning Commission, will hold a meeting on Wednesday, November 30 from 7 to 9 p.m. in Room 2 of the Upcounty Regional Services Center (12900 Middlebrook Road, Germantown, MD 20874) to discuss the MARC Rail Communities Plan.
Planners will present information from consultants studying the Maryland Area Regional Commuter (MARC) station areas in Germantown and Boyds. The public discussion will focus on road "diets" – reducing the number of travel lanes or road widths – in Germantown and a possible overpass or underpass in Boyds.
RSVP for the November 30 MARC Rail Communities Plan meeting.
When completed in 2017, the MARC Rail Communities Plan will offer recommendations for parking, roads and land use within the station areas that take into account citizen input and results of the traffic studies. Learn about the MARC Rail Communities Plan and stay informed about upcoming events.
About the MARC Rail Communities Master Plan
The MARC Rail Communities Plan will focus on improvements to transit station areas in Boyds and Germantown. This effort is based on ongoing studies of parking and access issues at MARC stations in the County that are being undertaken by the Maryland Transit Administration and Montgomery County Department of Transportation.
Recommended land uses and existing zoning will be evaluated for consistency with the desired scale and character for these historic communities. Access and connections in the vicinity of the stations will be evaluated and enhancements recommended where needed. In coordination with MARC Rail and County and state agencies, the Plan will consider land uses and alternative arrangements for existing surface parking and access.
An intensive workshop, called a charrette, was held in March 2016 to gather community feedback about the transit station areas. Learn more about this plan online.
Stay connected
Stay informed and join the MARC Rail Communities email list at montgomeryplanning.org/marcrailplan
Email us at mailto:Roberto.Duke@montgomeryplanning.org
Meet with us in our offices in Silver Spring or attend a public meeting in Boyds or Germantown.
Our team
Roberto Duke, Planner Coordinator, 301.495.2168
Leslie Saville, Planner Coordinator, 301.495.2194