Washingtonian Magazine Names Montgomery County Planning Board Member Natali Fani-González to 40 Under 40 List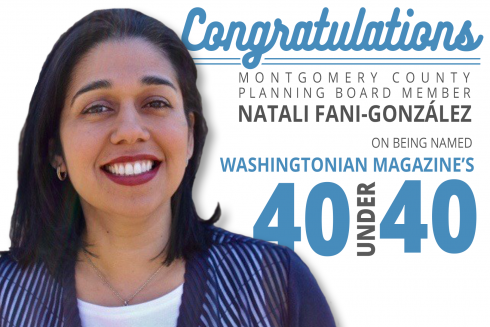 First millennial to serve on Planning Board cited for making a difference in the region
Silver Spring, MD – The Montgomery County Planning Board, part of the Maryland-National Capital Park and Planning Commission (M-NCPPC), is pleased to announce that Planning Board member Natali Fani-González, 36, has been named as one of Washingtonian magazine's "40 Under 40" changemakers. Board member Fani-González will be featured in the April 2017 issue of the magazine.
"I am honored to be named to Washingtonian's '40 Under 40' list and hope this acknowledgement draws attention to the progressive changes we are executing in Montgomery County," says Natali Fani-González. "I continue to be focused on the importance of affordable housing, the region's transportation network and our quality of life. We need housing for people of all income levels while providing transportation choices to access jobs, schools and exceptional parks to promote our community's economic growth."
The Washingtonian's annual "40 Under 40" list represents individuals "doing interesting things" in the region, according to the magazine. The list was selected by Washingtonian writers and editors who asked for nominations of people in the fields of business, government, the arts, education, public relation, sports, not-for-profit organizations, media, real estate and more. The several hundred names received were narrowed to a list of 40 that best represents a diverse range of industries and interests.
About Natali Fani-González
Natali Fani-González was appointed to the Planning Board by the Montgomery County Council in 2014 and serves as a Commissioner of the Maryland-National Capital Park and Planning Commission (M-NCPPC). She is the first millennial to serve on the five-member Board, which reviews master plans and policies governing growth and development throughout Montgomery County.
Fani-González is the principal of The Matea Group, LLC, a dynamic public relations and translations firm that has worked on national and international issues. For more than a decade, she has completed extensive advocacy and communications projects for a variety of public and private entities, including the Maryland Department of Health and Mental Hygiene, Reform Immigration for America, Amnesty International, Capital Area Food Network, MomsRising, Casa de Maryland, Virginia Consumer Voices for Healthcare, Iron Workers International Union and Service Employees International Union. Fani-Gonzalez served as vice-chair of the transition team for Prince George's County Executive Rushern Baker III.
Fani-Gonzalez is the recipient of several prestigious awards, including the 2015 Montgomery Women Rising Star Award, 2014 Citation of the Maryland General Assembly for Outstanding Contributions to the State of Maryland, 2013 Leading Women Award by The Daily Record and the Poder Con Ganas Award from the Latino Democratic Club of Montgomery County. She graduated from Goucher College with bachelor degrees in political science and international relations, and holds a National Security Certificate from Georgetown University. Natali lives with husband Angel González, an electrical engineer and a former U.S. Marine, and their children in Wheaton, MD.