The Predictive Safety Analysis
Taking a data driven, proactive approach to identifying transportation safety challenges and solutions in Montgomery County.
Background
Between 2015 and 2019, there were over 59,000 crashes in Montgomery County, resulting in over 1,200 serious injuries and nearly 150 fatalities. As part of Montgomery County's Vision Zero goal to eliminate traffic deaths and severe injuries by 2030, Montgomery Planning is using a new way to improve road safety for drivers, bicyclists and pedestrians called the Predictive Safety Analysis. This is a proactive data-driven approach that identifies future problem areas and works to prevent severe and fatal crashes before they happen.
The Predictive Safety Analysis estimates the expected number of crashes at a given roadway segment or intersection based on the attributes and context of that location. This analysis then allows the county to prioritize where and how to most effectively invest in safety improvements through capital projects, development approvals, and master planning.
Montgomery County is one of the first jurisdictions of its size and land use mix to undertake a predictive analysis with this level of rigor and detail. This marks a shift from a transportation safety approach that focuses on locations where high rates of severe injuries or fatalities have occurred to one that proactively identifies and treats locations with similar high-risk characteristics.
Using an Algorithm to Understand Crash Risks
The Predictive Safety Analysis uses the context and characteristics of locations that have a history of crashes to understand which combination of attributes may have contributed to these events. To inform this analysis, Montgomery Planning is developing an equation that estimates the number of bicycle, pedestrian, and vehicle crashes for common crash types at intersections and segments throughout the county.
This algorithm looks at several variables, including land use context (urban, suburban, and rural), roadway characteristics (speed limits, traffic signals, and presence of sidewalks or bikeways), and the level of travel activity (the number of pedestrians, bicyclists, and motorists using a roadway or intersection).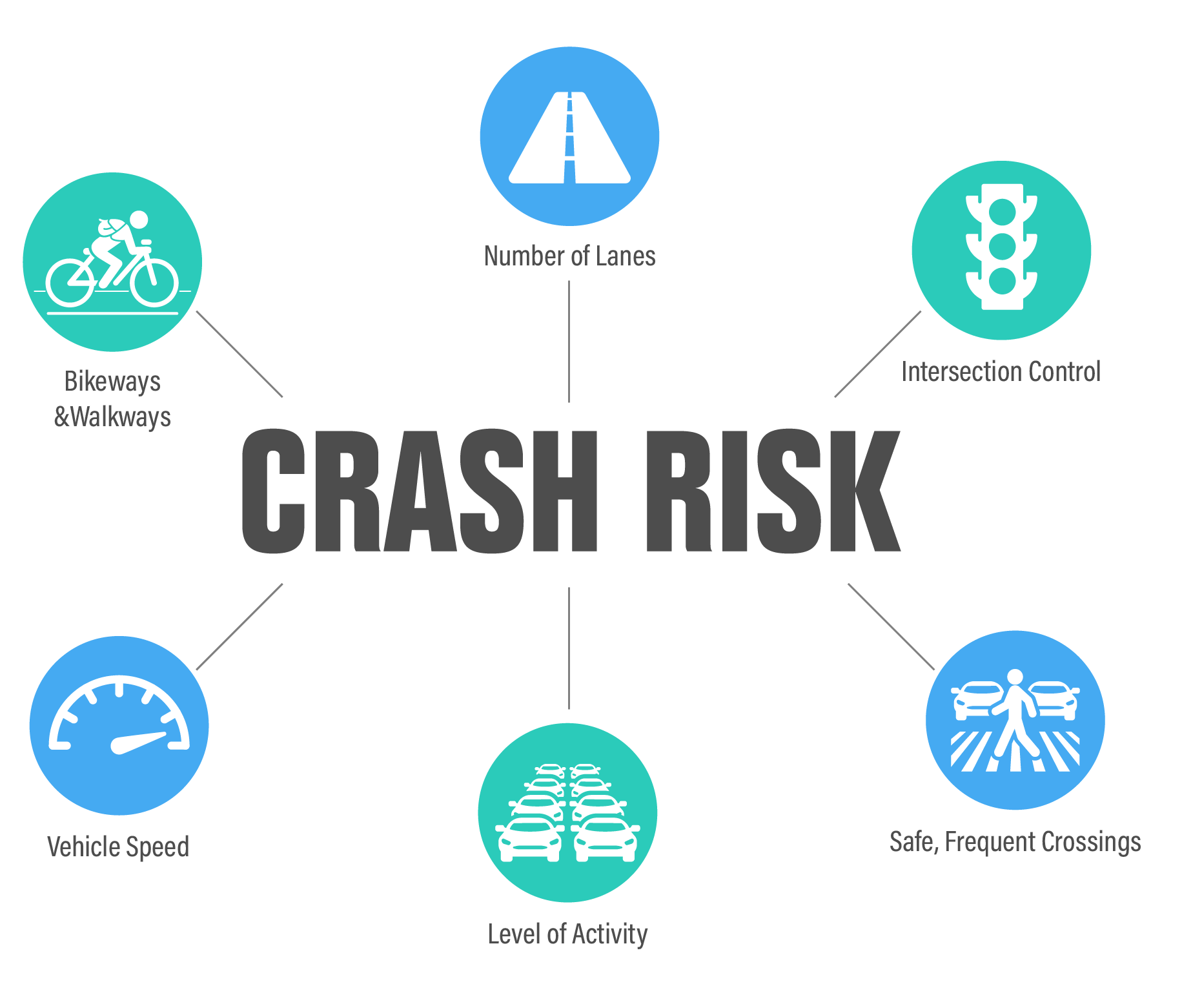 With this data, Montgomery Planning can understand what contributes most to the risk of crashes at a roadway or intersection and which solutions can best address those safety threats.
Assessing the Impact of Transportation and Development Projects
Montgomery Planning will also be able to use the Predictive Safety Analysis to identify how a roadway's crash risk will change as the result of a capital transportation project or new development. As a result, Montgomery Planning will be able to provide data-informed feedback on the safety of proposed capital investments or development projects. For example, if a new development is estimated to increase vehicle volumes by 10 percent on the surrounding streets, Montgomery Planning staff will be able to calculate how that increase in volume will impact crash risk. Staff can then suggest improvements based on the analysis's data to reduce this risk.
Through the Predictive Safety Analysis, Montgomery Planning can improve and prevent dangerous roads to make Montgomery County safer for all.
Last Updated: January 29, 2021