Throughout the Corridor Forward planning process, planners have sought to hear from residents and transit users about their experience using (or not using) current transit infrastructure to help guide the analysis. Planners implemented a questionnaire to gauge transit riders values and asked residents to tell their stories using transit in Montgomery County. Below is a summary of what we've heard thus far in the plan process.
Respondents care more about transit options that provide travel times equal to or better than driving (62%) rather than options that relieve congestion (31%).
Respondents want a balance between convenient access (50%) and short travel times between major stops (43%).
Ranking Immediate and Future Delivery of Plan Values
Respondents' Higher Priorities:
Realizing Near-Term Benefits
Serving Existing Centers
Serving Existing Equity Needs
Respondents' Lower Priorities:
Realizing Long-Term Benefits
Serving Areas Designated for Growth
Grappling with Potential Displacement
Other Takeaways:
Balance economic, environmental, and equity benefits to the greatest extent possible.
Transit Characteristics: Trade-Offs
View transit options under review for the I-270 Corridor.
Some retained options, like Red Line Extension, offer reliable and frequent service and generate high ridership, but are more challenging to implement due to engineering, cost, and political constraints.
Some options are easier to implement, but may provide less frequent or reliable service, like the I-270 Corridor Bus Rapid Transit Option.
Some options may prove to be both challenging to implement and only offer modest ridership gains. These options will be de-prioritized.
No single option can fully satisfy all preferences, as captured in the questionnaire. As such, staff proposes to prioritize a package of corridor transit options that consider the following feedback from the community:
Advance high performing option(s) despite implementation challenges—acknowledge a long-term horizon
Prioritize service for existing centers of demand and marginalized communities—focus less on areas slated for growth
Balance local access with efficient travel
Focus more on improving transit travel times and less on reducing congestion: prioritize transit that best serves transit riders rather than transit that supports automobile drivers
Transit Stories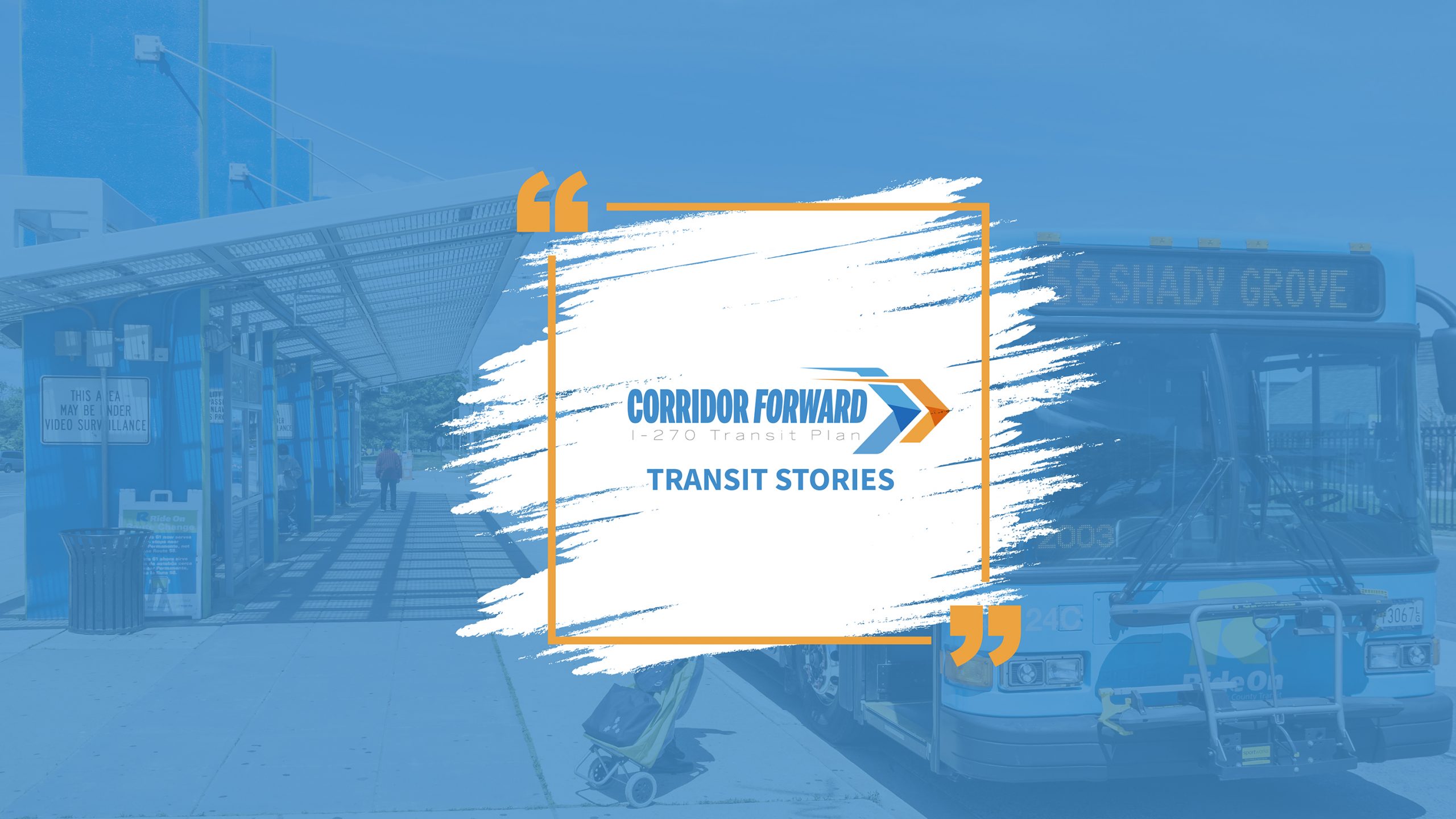 To provide effective transit options planners needed to understand how people were currently using transit and how well it worked for them. Through in person interviews, an online form and social media, planners engaged with these users through the "Transit Stories" campaign. Each story is an important piece of information which brings the county closer to meeting its transit goals. Below are a few stories we heard during the campaign:
Not everyone has the privilege of working from home. My partner does not drive for health reasons, and housing within walking distance to transit and jobs is crucial.
—Questionnaire Response

I live in Frederick and it takes me two hours each way to get me to my destination in Bethesda by bus. The bus is cheaper than Metro and makes it easier to connect with other parts of the county.
—RideOn Bus Route 101 extRa User

Public transit is necessary for an equitable community so I'm choosing to forgo owning a car. A car shouldn't be a necessity for someone to live a reasonably convenient life.
—Sundjata S.
Last Updated: January 10, 2023