MD355/I-270 Technology Corridor Study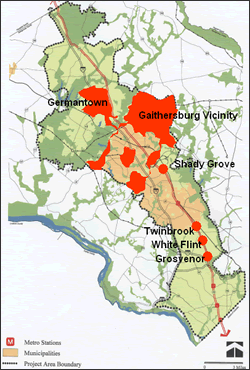 The study looks broadly at Montgomery County's most-traveled corridor, identifying strategies to unify and improve the 27-mile swath connecting Bethesda to Clarksburg.
Through a coordinated approach, the Planning Board hopes community centers along its path – Bethesda, White Flint, Twinbrook, Rockville, Gaithersburg, Germantown and Clarksburg – will see new jobs and a mix of housing types thanks to their proximity to Metro's Red Line or the proposed Corridor Cities Transitway rapid bus or light rail system. The study also emphasizes ways to promote environmental conservation as well as new arts and entertainment venues.
The study recommends clustering technology industries, increasing mobility along the corridor by putting people closer to Metro, train, and interconnecting bike trails, and improving the look of MD 355 (Rockville Pike).
Coordinating with other plans, this project studies improving the quality of planning, character and development along the Route 355/I-270 corridor and in the employment and residential centers. The amount and pace of development will be included in the Growth Management Initiative.
Learn more about community participation in planning the MD355/I-270 Technology Corridor.
355/270 Technology Corridor Study Planning Process
Why, What, and Issues
Learn the basics of why this plan is being done, what will be included, and the major issues the project addressed. Read the press release and final draft study.
Project Boundaries
The 355/270 Corridor Study area starts at Friendship Heights at the District of Columbia line and extends north to the Montgomery/Frederick County line. To the east and west, the boundaries are the same as the Bethesda/Chevy Chase, and I-270 Corridor Planning Areas.
Other plans within the 355/270 Corridor
Please check the individual plans for specific dates relating to the MD355/I-270 Study.
Little Bennett Regional Park Master Plan
Public meetings and workshops
Last Updated: July 12, 2022