Sustainability Initiatives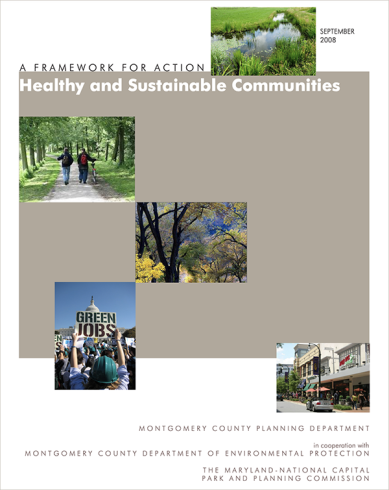 Healthy and Sustainable Communities
The Planning Department and the county Department of Environmental Protection developed a policy framework of goals, actions, and indicators that measure our progress toward healthy and sustainable communities. The project helps policymakers and residents judge how their policies, programs, and actions contribute to environmental goals and guide future environmental and energy plans.
View the Healthy and Sustainable Communities report.
Agency Sustainability Practice
In July 2022, the Maryland-National Capital Park and Planning Commission revised its Sustainability Practice to guide agency actions in the area of sustainability, including:
Green building management strategies which meet nationally accepted sustainability certifications for energy conservation and use of renewable resources;
Procurement of goods and services aimed at high efficiency products and other sustainable practices;
Implementation of green development strategies in community planning, landscape design and other site planning;
Elements aimed to foster ongoing awareness among our employees and patrons on sustainability objectives and programs; and
Updated County and State sustainability mandates.
Agency Sustainability Planning
Building upon the Sustainability Practice, the Commission adopted two sustainability plans, one for each county. Together they function as the M-NCPPC Sustainability Plan. The Plan serves as a strategic plan to implement practices that advance sustainability of the Commission and the communities we serve.  It is updated every five years and is built on the three pillars of sustainability: Environmental Responsibility, Social Equity, and Economic Vitality. You can check out the plan for each county in the links below:
Learn more about the approval of the Sustainability Plan in the presentation M-NCPPC on February 15, 2023:
Last Updated: July 11, 2023