Tree Canopy Analysis
In 2011, planners analyzed Montgomery County's tree canopy — the layer of leaves, branches, and stems of trees that cover the ground when viewed from above — as part of an effort to improve the local climate of urban areas. The more shade, the less energy required for cooling homes and cars. Moreover, tree canopy shades impervious surfaces like streets, sidewalks and roofs, reducing the amount of heat that radiates into the atmosphere and the amount of stormwater runoff.
The tree canopy analysis (PDF, 3.1 MB) conducted by the University of Vermont with high-resolution aerial imagery, found that much of the county contains a healthy level of tree canopy. However, many of the county 's most urbanized areas are lacking shade — right where it is needed most.
While Montgomery County's business districts and urban areas should have at least 25 percent tree canopy to maintain a healthy environment, many have much less.
Urban Areas
The tree canopy analysis determined tree canopy coverage as follows:
Tree Canopy Analysis

| | |
| --- | --- |
| Bethesda Central  Business District | 24% |
| Clarksburg Town Center | 33% |
| Cloverleaf Center | 23% |
| Damascus Town Center | 33% |
| Flower/Piney Branch/Arliss Center | 13% |
| Friendship Heights | 31% |
| Germantown Town Center | 19% |
| Glenmont | 41% |
| Grosvenor | 44% |
| Montgomery Hills | 8% |
| North Bethesda | 23% |
| Olney Town Center | 21% |
| Shady Grove | 22% |
| Silver Spring CBD | 14% |
| Twinbrook | 16% |
| White Flint | 19% |
| Wheaton Central  Business District | 26% |
Planting Projects
Montgomery Hills, a community just north of downtown Silver Spring, was found to have the lowest canopy cover of any urban area in Montgomery County.
To improve tree canopy in the area, Conservation Montgomery organized a tree-planting project for November 5, 2011 at the Seminary Place Shopping Center and other locations throughout their neighborhood. Property owners agreed to a planting project that will place eight trees — four sugar maples and four red maples — in a large parking lot island in front of CVS and in four other locations in the adjacent neighborhood. Trees have been donated by Ace Tree Movers.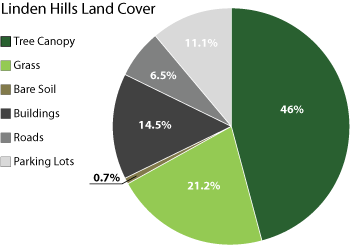 Learn more
Want to know how much tree canopy shades your community? Contact us for a site-specific analysis.
Last Updated: August 18, 2017