A detailed plan for a portion of a Comprehensive amendments to the General Plan for the Maryland-Washington Regional District ("On Wedges and Corridors") that provide detailed and specific land use and zoning recommendations for specific areas of the County. They also address transportation, the natural environment, urban design, historic resources, public facilities, and implementation techniques.master plan area that is adjacent to transit or covering a Any one of the County's principal business districts that has been so designated in section 59-C-6.12 of the Montgomery County Zoning Ordinance. The County's CBDs are Friendship Heights, Bethesda, Silver Spring, and Wheaton.central business district or other small area characterized by intense development.sector plan
for Long Branch in East Silver Spring, presented a staff draft to the Planning Board on December 13, 2012.
Recommendations for the community of older, neighborhood-oriented commercial areas and a mix of single-family and A building or complex of buildings each containing three or more A building or a portion thereof that provides complete living facilities including, at a minimum, facilities for cooking, sanitation, and sleeping, for not more than one family.dwelling units or apartments. Units usually do not have the private, ground-level outdoor space that is required for townhouses.multifamily housing, will become one in a series of The land use element of an approved and adopted general, master, sector, or functional plan.land use plans that set design and development patterns in Purple Line station areas.
Reflecting input from members of the community collected over three years, the draft recommends new mixed-use zoning, varied housing options to serve residents at different life stages, and a safe, connected pedestrian and bicycle network. Overall, planners expect the transit stations – at Arliss Street and University Boulevard – to catalyze redevelopment and reinvestment. The plan includes a recommendation to designate the Flower Theater and Shopping Center as a historic site, placing it on the county Master Plan for Historic Preservation.
Long Branch Planning Board Draft moves to Council
The County Council has received the Planning Board draft and will be setting up a public hearing for July. Document [PDF]
Planning Board to review Long Branch Design Guidelines on July 22, 2013
The Design Guidelines will assist in implementing the recommendations in the approved and adopted Long Branch Sector Plan. The Design Guidelines, comprised of text, maps, illustrations and photos, are not regulations. They illustrate the plan vision and suggest ways the plan recommendations may be met, encouraging creative designs that create an attractive public realm. They also provide guidance in creating graceful transitions between existing single-family zoned residential properties and proposed CRT zoned properties.
After the draft guidelines are approved by the Planning Board, they will be transmitted to the County Council. When the Sector Plan is approved and adopted, the Planning Board will resume work on the Design Guidelines to reflect the approved and adopted Sector Plan. At that time, the Planning Board will hold a public hearing and take into consideration testimony before approving the design guidelines for use. See guidelines [PDF]
Background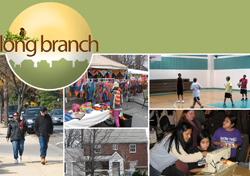 Long Branch was covered in part of the East Silver Spring and City of Takoma ParkMaster Plans, which were approved and adopted in 2000. Both plans cited reinvestment in commercial centers and quality of life issues as important to this multicultural community.
Two groups appointed by the County Executive examined commercial reinvestment, pedestrian and public safety, and recreational opportunities. The Long Branch Sector Plan will build upon the recommendations of those groups. View the Long Branch Scope of Work [PDF] (600KB).
The Challenge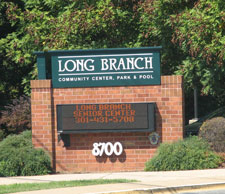 Planners will focus on land use and regulatory recommendations to create a mixed-use, transit- oriented community that enhances the attributes that make Long Branch unique and dynamic. The plan will:
Ensure that Long Branch benefits from future reinvestment opportunities created by Purple Line stations
Examine quality of life issues such as environment, design, open space, and the public realm to create a sustainable community
Retain existing affordable housing and encourage new housing
Provide incentives to retain diverse local businesses.
Project Schedule
Upcoming
Past meetings
May 16, 2013: Planning Board worksession 7
May 9, 2013: Planning Board worksession 6
April 11, 2013: Planning Board worksession
April 4, 2013: Planning Board worksession
March 21, 2013 Planning Board worksession
March 7, 2013: Planning Board worksession
February 21, 2013: Planning Board worksession
February 7, 2013: Planning Board Tour of Long Branch
Download the tour booklet [PDF](10 MB)
January 31, 2013, 6 p.m.: Planning Board public hearing
Read the transcript [PDF] (360 KB)
January 16 2012: Community meeting
December 13, 2012: Planners presented the Long Branch Sector Plan staff draft [PDF](6.2 MB) to the planning board. Read the press release.
June 25, 2012: Staff presented preliminary recommendations for the sector plan.
December 9, 2010: Staff presented preliminary recommendations [PDF](700 kb) to the Planning Board and community
Long Branch Library
View the staff presentation [PDF] (6 mb)
May 11, 2010: Sector Plan office hours
Long Branch Library
April 28, 2010: Community workshop, part 2
Long Branch Library
View the workshop presentation [PDF]. (8 MB) | View presentation [PDF] in Spanish (5 MB)
Send any comments on the presentation to MCP-Long Branch@mncppc-mc.org.
April 21, 2010: Community workshop, part 1
Long Branch Library
Sector Plan office hours

Monday, March 29, 2010
Tuesday, April 13, 2010

February 24, 2010: Community Meeting
Long Branch Library, 8800 Garland Avenue
January 7, 2010: Planning Board reviewed the Long Branch Scope of Work [PDF] (600 KB)
View the staff presentation [PDF](3.8 MB)
M-NCPPC Staff Contact
Melissa Williams
301-495-4642
Melissa.Williams@montgomeryplanning.org
Last Updated: November 21, 2018