Planning Department's Retail Trends Study Reveals Balanced Mix of Store Types in Montgomery County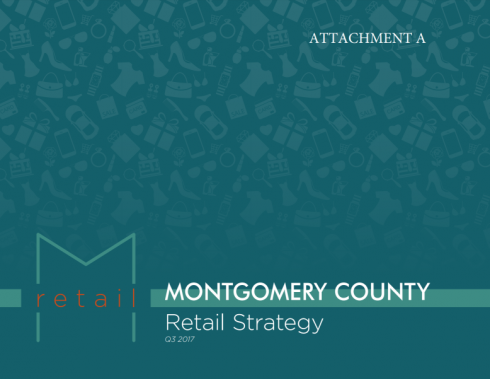 Research shows broad range of retail offerings, but more neighborhood stores are needed in most communities
Silver Spring, MD – The Montgomery County Planning Department, part of the Maryland-National Capital Park and Planning Commission (M-NCPPC), will present the Retail Trends Study to the Planning Board on October 12, 2017. The study was undertaken by the Department's Research and Special Projects Division and led by the Bethesda-based consultant Streetsense to analyze how Montgomery County is dealing with the fundamental changes occurring in the retail environment as large chain stores close and more people shop online. Understanding these shifts is critical for current and future planning work.
The study, which analyzes the supply and demand across Montgomery County to present an accurate picture of retail in our communities, shows that the county is actually well balanced and offers a broad range of retail types, styles and formats that complement, not compete with one another.
View the Retail Trends Study webpage. Read the Retail Trends Study online.
Planning Director Gwen Wright says the results of the study reflect what planners are seeing in different parts of the county every day. "People are looking for opportunities to see and interact with others," says Wright. "Since people are increasingly able to work from home and buy needed merchandise online, retail is becoming all about the experience. Our recent plans, like the Bethesda Downtown Sector Plan, Rock Spring Master Plan and White Flint 2 Sector Plan, are paying attention to this shift."
Retail Trends Study Methods
Standard industry methodology was used to assess retail market growth and potential in Montgomery County. Retail supply and demand, population projections and sales expenditures were analyzed for 12 submarkets: West County, East County, Germantown/Clarksburg, Gaithersburg, Rockville, Olney, Aspen Hill, Wheaton/Glenmont, Kensington, Bethesda/Chevy Chase/North Bethesda, Silver Spring and White Oak.
Within each submarket, supply and demand were evaluated according to three categories: neighborhood goods and services; food and beverage; and general merchandise, apparel, furnishings and other.
On the whole, the submarkets throughout Montgomery County are well balanced in their retail offerings. However, in nearly all areas, there is not enough neighborhood or convenience retail, which includes drugstores, grocery stores, hardware stores, cleaners, hair salons and barbershops.
Research Division project manager Rick Liu was pleased by the results of the study. "Montgomery County is well-positioned for the future because we avoided over-building retail. We have a strong demographic mix that remains attractive to national retailers, along with various ethnic, rural, lifestyle and neighborhood centers, which keep us more resilient to the growing changes from online shopping," says Liu.
Retail Trends Study Findings
–Montgomery County is balanced: Montgomery County has about 24 square feet of retail per capita, which is close to the national average of 23 square feet of retail per capita but lower than that found in several neighboring jurisdictions such as Loudoun, Fairfax and Prince George's Counties. Since the county's retail establishments were developed over time, resulting in a variety of retail types, categories, locations and sizes, stores tend to complement rather compete against one another.
–Widespread demand for neighborhood goods and services: Most submarkets studied do not meet the demand for convenience retail. As retail is increasingly seen as an amenity within a residential component of a mixed-use project, convenience retailers are often overlooked as they are not perceived as increasing property values, despite high demand. New developments that include neighborhood retail can better serve on-site and local populations, and help to maintain retail balance in the county.
–County malls are thriving: Traditional malls, such as Westfield Montgomery in Bethesda and Westfield Wheaton, are bucking the national trend and performing well with annual revenues of about $500 million each. They are some of the top performers in the Westfield portfolio of national shopping centers.
–The night-time economy needs more: Current retail in the county supports daytime population needs, but is more limited in serving night-time demands. Changes to regulations, such as liquor license requirements and the noise ordinance, as well as effective marketing by retailers and programming more evening events could increase entertainment and commercial activity after dusk.
–But regulations have also helped prevent overbuilding: Land use policies, such as establishing the Agricultural Reserve in the north and preserving the rural nature of the west through lower densities, has prevented the overbuilding of retail space in Montgomery County that has plagued many other communities across the nation.
–Placemaking is key to retail success: Developments with public art, well designed streetscapes and attractive signage attract shoppers and keep retail vibrant. Healthy, central business districts with a mix of uses – like Bethesda and Silver Spring – are attractive locations for national and innovative retailers.
–Submarkets vary in supply: Rockville is the submarket with the most unfulfilled demand, while Gaithersburg is the one submarket that is arguably oversupplied. The problems of oversupply can be observed when top stores migrate to new retail spaces, resulting in increased vacancies, lower rents and more cost-sensitive tenants occupying their older spaces.
According to Streetsense Director of Research + Analysis, Heather Arnold, Montgomery County has found the right mix to protect retail. "It's a story about prudence paying off," says Arnold. "Montgomery County is insulated from some of the retail issues their neighbors are facing due to its smart and strategic growth strategy."
The findings in the Retail Trends Study will help to guide current master planning and regulatory efforts for the future. Consultant Streetsense also provided recommendations on how to improve the retail landscape.
Retail Trends Study Recommendations
-Promote more neighborhood and convenience retail through master planning, economic development, and outreach efforts educating landlords and the retail community at-large about their benefits.
-Provide opportunities to expand neighborhood retail, and elevate it as an amenity for new mixed-use projects.
-Encourage adaptable, flexible spaces where different types of retail can evolve.
-Encourage placemaking in retail developments through public art, signage and streetscape designs.
-Help bring about desired types of retail development in each submarket through land use recommendations.
-Consider additional clustered commercial and retail development to minimize disturbance in rural and sparsely populated areas to provide resident access to neighborhood retail while also preserving open space and rural character.
Learn more about the Research and Special Projects Division of the Montgomery County Planning Department.
Questions, Comments?
Contact Economic and Development Specialist, Rick Liu AICP, LEED BD+C, PMP
tel. 301-650-5641
rick.liu@montgomeryplanning.org