Planning Department Will Hold Last Session of 2017 Winter Speaker Series on March 21 to Present New Strategies for Affordable Housing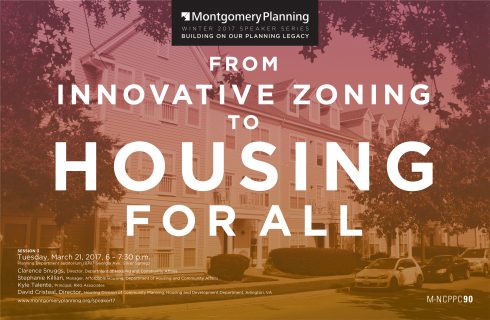 Session will feature local housing experts from government agencies and a private firm who will discuss plans and policies in Montgomery County and the region
Silver Spring, MD – The Montgomery County Planning Department, part of the Maryland-National Capital Park and Planning Commission (M-NCPPC), will hold the last session of its three-part Winter Speaker Series, which celebrates 90 years of planning achievements since the M-NCPPC was founded in 1927. Titled "From Innovative Zoning to Housing for All," the event will be held at the Planning Department headquarters auditorium (8787 Georgia Avenue, Silver Spring, MD) from 6 to 7:30 p.m. on Tuesday, March 21.
Speakers will discuss innovative policies and strategies that build on Montgomery County's pioneering affordable housing program to provide rental and ownership options for more households in the future. Montgomery County's moderately priced dwelling unit (MPDU) program is believed to be the nation's first inclusionary zoning law that gave a density bonus allowance to builders for providing affordable housing. The session will be moderated by Clarence Snuggs, Director of Montgomery County's Department of Housing and Community Affairs.
The Winter Speakers Series is free and open to the public and planning professionals. Attendees can earn certification maintenance (CM) for members of the American Institute of Certified Planners (AICP) and continuing education credits for other professional organizations.
About the speakers
David Cristeal is the Housing Director of Arlington County, Virginia, and has worked in community planning and affordable housing since the 1980s. His leadership role has helped in the preservation and creation of one-third of the county's 7,500 committed affordable rental units. Since 2013, Cristeal has served as Housing Director and is excited by the challenges of implementing the ambitious goals of Arlington's recently adopted Affordable Housing Master Plan and expanding the range of housing options for working households. Cristeal earned a bachelor degree in geography from the University of Wisconsin and a master degree in regional planning from the University of North Carolina.
Stephanie Killian is the Affordable Housing Programs Manager for the Montgomery County Department of Housing and Community Affairs. She is responsible for administering the Moderately Priced Dwelling Unit Program and several housing rehabilitation programs. Prior to that position, Killian administered Montgomery County's multifamily housing loan programs, which total more than $25 million a year, and Community Development Block Grant Program. Before joining county government, she worked at the United States Department of Housing and Urban Development, and the Council of State Community Development Agencies. Killian received a master of arts degree and a master of planning degree from the University of Virginia.
Clarence Snuggs is Director of Montgomery County's Department of Housing and Community Affairs. In his previous job as Deputy Secretary for the Maryland Department of Housing and Community Development, Snuggs created the first statewide housing plan; initiated the Families First Pilot Program to provide rental assistance to homeless veteran families; and helped nearly 13,700 families to achieve homeownership. Prior to his tenure with the state, he worked for the Enterprise Foundation in Baltimore, Neighborhood Reinvestment Corporation in Washington DC and banking organizations in the region. Snuggs holds a bachelor degree from Winston‐Salem State University and a master of business administration degree from Howard University.
Kyle Talente joined Alexandria, Virginia-based RKG Associates in 1998 and has since cultivated specializations in housing market and affordability analysis, local and regional real estate market studies, and economic development strategies. Recently, he served as a consultant for the Montgomery County Rental Housing Market Study, a joint effort undertaken by the Planning Department and Montgomery County Department of Housing and Community Affairs. Talente's educational background has enabled him to be a strategic liaison between the disciplines of urban design and architecture, and the market realities of real estate investment decision making. Talente received a bachelor of science degree in architecture and a master degree in city planning from the Georgia Institute of Technology.