Planning Department Unveils MCReactMap at Forest Glen/Montgomery Hills Sector Plan Community Meeting on June 4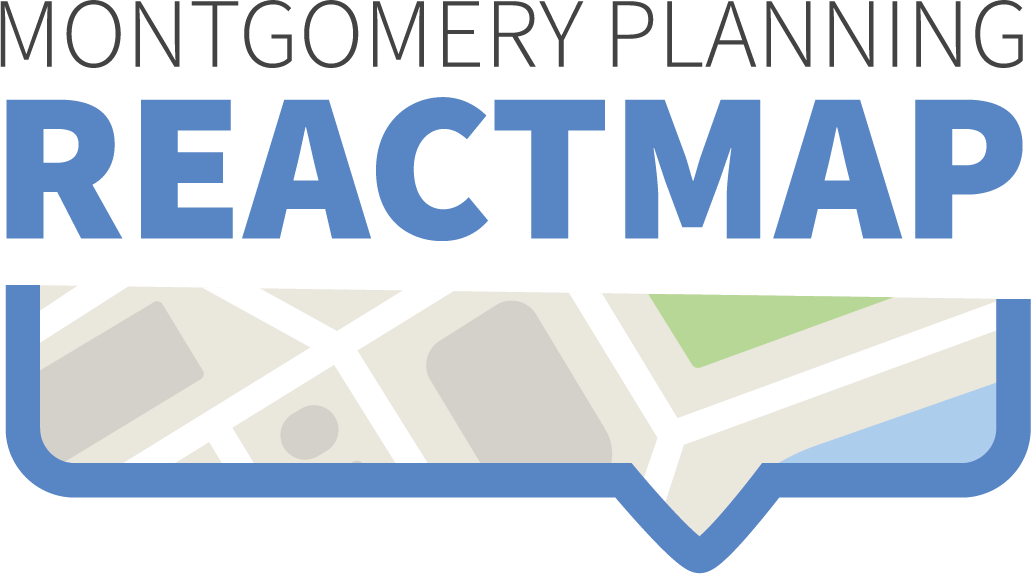 New digital map allows residents and property owners to provide comments and concerns about existing conditions and future improvements in the plan area online and via text message
SILVER SPRING, MD – The Montgomery County Planning Department, part of the Maryland-National Capital Park and Planning Commission, is launching a new online outreach tool, called the MCReactMap, on Monday, June 4 to allow residents and stakeholders to provide feedback through their smart phones about the Forest Glen/Montgomery Hills Sector Plan.
Using the hashtags #LoveIt, #FixIt, #NeedIt, property owners can text their concerns and comments about what they love about the Forest Glen and Montgomery Hills communities, what is missing or needs improvement in these areas. They can also access the MCReactMap from a computer and register their feedback online.
Clicking on the pins on the digital map reveals questions to answer about different neighborhoods within the plan area. Visitors can also respond to other comments they agree or disagree with. Other features include a language translation tool as well as street views of the plan area and social media sharing options.
On June 11, residents and visitors to the plan area will start seeing questions posted on bus shelters along Georgia Avenue and around the Forest Glen Metro Station to answer on the MCReactMap. Other map prompts will be posted throughout the plan area. Planners remind the public to text responses only when it is safe to do so. Standard message and data rates may apply.
From the map feedback, planners will collect all the information and use it to inform preliminary recommendations for the sector plan. User phone numbers will not be publicly displayed or given to third parties, but any information sent to the Planning Department may be subject to Maryland Public Information Act requests.
About the Forest Glen/Montgomery Hills Sector Plan
Launched in 2017, this sector plan reevaluates land uses, transportation strategies and redevelopment along the Georgia Avenue corridor as well as offering recommendations to improve the area's pedestrian and bicycle accessibility, connectivity and safety. The plan also looks to protect and enhance existing residential neighborhoods while balancing the region's evolving traffic demands. Read more about the plan here.
The Planning Department's updated schedule for the sector plan process includes developing preliminary recommendations this fall, delivering a first draft of the plan to the Planning Board in spring 2019 and sending the revised Planning Board draft to the County Council and the County Executive for their approval in fall 2019.