Planning Department Receives 2016 American Planning Association Chapter Award for Bicycle Stress Map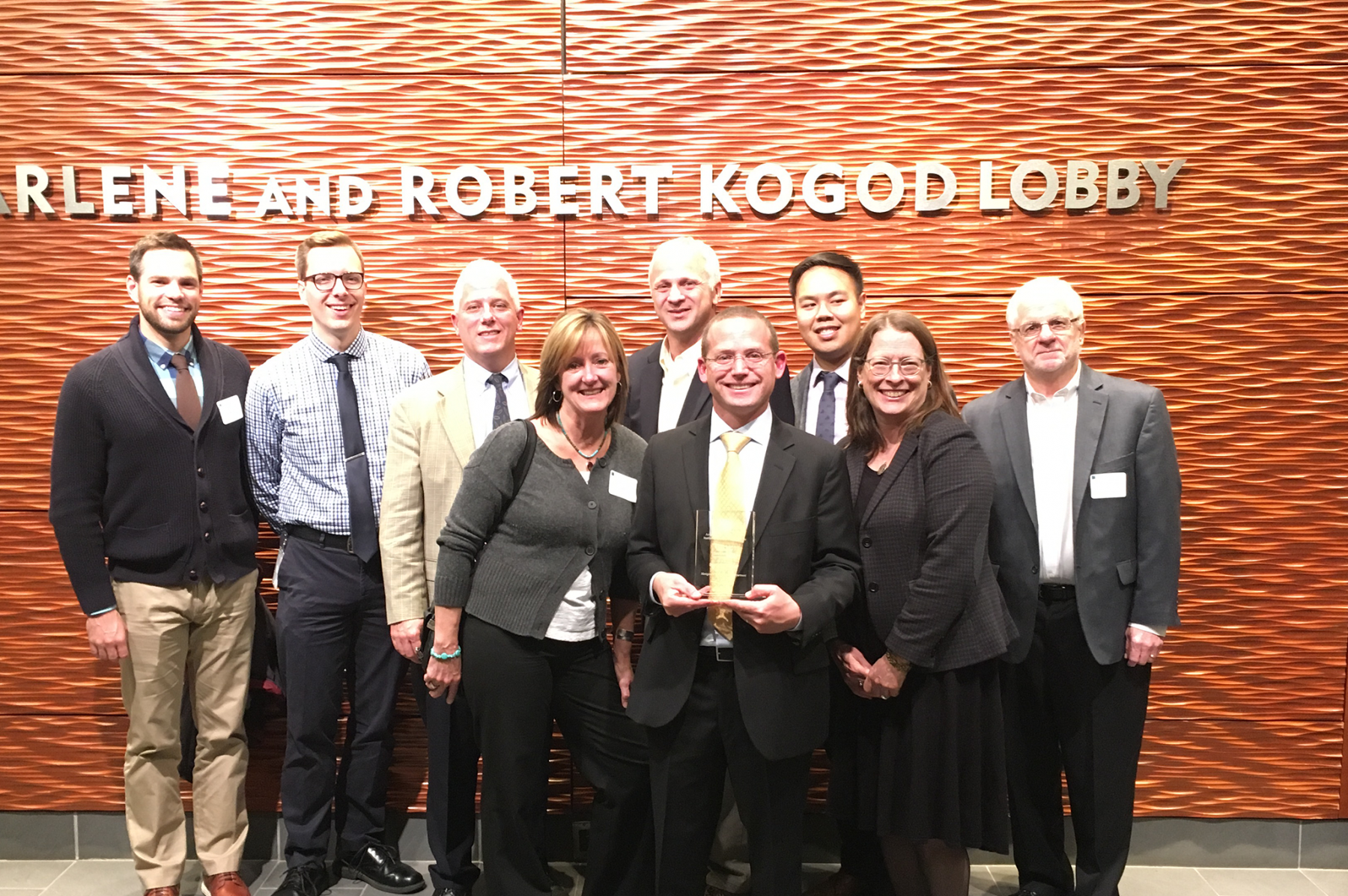 National Capital Area Chapter of the American Planning Association honors Bicycle Stress Map as an outstanding tool for developing the Bicycle Master Plan

SILVER SPRING, MD – The Montgomery County Planning Department, part of The Maryland-National Capital Park and Planning Commission, accepted the 2016 Award for an Outstanding Tool from the National Capital Area Chapter of the American Planning Association at a ceremony held on Tuesday, November 15 at the Atlas Performing Arts Center in Washington, DC. The award was one of nine honors bestowed by the APA chapter to local organizations, public agencies and individuals.
The Award for Outstanding Tool recognizes the value of the Department's Bicycle Stress Map in helping to develop a data-driven Bicycle Master Plan for Montgomery County. The purpose of this digital map is to understand impediments to bicycling and to identify and prioritize the changes that are needed to create a low-stress bicycling environment for people who say they would be interested in bicycling, but do not currently bicycle because they have safety concerns.
Planning Department staff evaluated more than 3,500 miles of roads and trails in the County to determine the level of stress on each road segment and intersection, and assign a value from high stress to low stress. Recently, the map was updated to allow users to map their routes according to stress levels.
"Montgomery County is working to elevate bicycle planning to the level of analysis that is used for traffic and transit planning by gaining a deeper understanding of what connectivity means for people who bicycle," says Project Manager David Anspacher. "I am excited that the Bicycle Master Plan team won an award for this cutting-edge tool."
View the Montgomery County Planning Department Bicycle Stress Map.
Background on the Bicycle Stress Map
What is traffic stress?
For most people the decision to bicycle includes consideration of whether road conditions, such as traffic volume and traffic speed, exceed their threshold for stress. Since most adults are uncomfortable bicycling on roads with four or more lanes or a posted speed limit of 30 mph or higher, the opportunities to get from Point A to Point B in Montgomery County are limited unless there is a separated bikeway such as a path, trail or separated bike lane.
What does the bike stress map do?
This publicly accessible tool displays the data in a way that can inform the public about bicycling in the County and help decision makers prioritize bicycling improvements.
Users can toggle between stress levels to reveal the bicycling network available to people, depending on the different levels of traffic stress they can tolerate.
Videos capture the look and feel of different stress levels.
Connectivity analyses show how well each rail station, public school, library, recreation center and regional park is connected to the surrounding neighborhood.
A bike shed analysis can be customized to reveal the areas that can be reached without exceeding a cyclist's comfort level.
How has the Bicycle Stress Map helped planning efforts?
Preliminary analysis from the Bicycle Stress Map has revealed the following:
While about 70 percent of County road miles are suitable for most adult bike riders, only a fraction of actual trips can be completed on a low-stress network, due to the inability to reach destinations with minimal detours.
Only 18 percent of people living within a two-mile distance of a Metrorail station can reach that station on a low-stress bicycling network.
Connectivity is poor around schools. Elementary, middle, and high schools are connected to only 20 percent, 10 percent and 5 percent of the residences within their service area, respectively, by a child-appropriate bicycle network.
Questions or Comments?
Contact: David Anspacher, Bicycle Master Plan Project Manager
Email: David.Anspacher@montgomeryplanning.org
Telephone: 301.495.2191
Connect With Us
Follow: @MCBikePlan
Sign up: for the Bicycle Master Plan eletter