Planning Department Invites the Public to Rate New Benches and Trash Receptacles for Future Installation in Downtown Silver Spring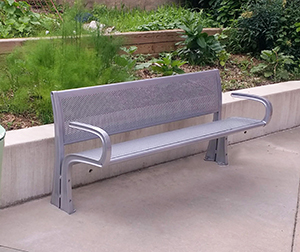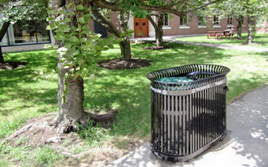 Samples of proposed designs are in Royce Hanson Park outside Planning Department for the public to experience and rank online through the Montgomery Planning website
SILVER SPRING, MD – The Montgomery County Planning Department, part of The Maryland-National Capital Park and Planning Commission (M-NCPPC) is updating the Silver Spring Streetscape Standards, which were first issued in 1979.
The Standards guide the design of sidewalk elements between the street curbs and buildings in downtown Silver Spring. These components include paving, planting, lighting and streetscape furnishings, such as benches, trash receptacles, recycling bins and bike racks.
Silver Spring residents, business owners, community associations and local government agencies requested that sample benches and trash receptacles be available for the public to review and comment on before these designs are recommended in the Silver Spring Streetscape Standards.
The Planning Department installed several benches and trash receptacles in Royce Hanson Park, which is located next to the Montgomery County Planning Department (8787 Georgia Avenue, Silver Spring, MD). They will remain in the park through July 31, 2018.
The entire Silver Spring community is invited to use the furniture and provide valuable feedback through a survey located on the Planning Department website. These rankings will help planners determine the furnishings to specify in the updated Silver Spring Streetscape Standards.
Each design can be rated according to comfort, ease of use and aesthetic appeal. The rating scale is from 1 to 10 with 1 being the lowest rating and 10 being the highest rating. Images of the furniture can be viewed on the survey or tried out in person at Royce Hanson Park.
The Planning Department will hold a meeting to review and approve the Silver Spring Streetscape Standards in the Fall of 2018. After they are approved, the Standards will guide the upgrade of streetscapes in Silver Spring for both public and private development. It is during the upgrade of streetscapes that new paving, shade trees, lighting and furnishings, including benches and trash receptacles will be installed. Property owners that installed streetscapes according to the old standards may update to the new Standard upon review and approval by the Planning Department.
For more information about this project, contact John Marcolin at john.marcolin@montgomeryplanning.org or  301-495-4547.