Planning Department Celebrates Bike Month with Bike to Work Day Events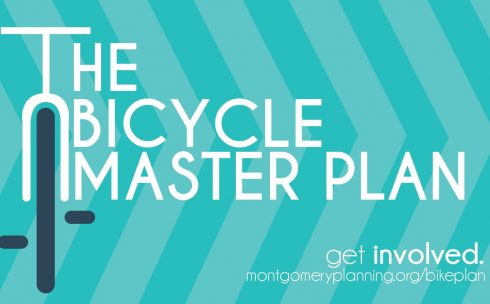 Planning staff will present preliminary bikeway recommendations for Downtown Silver Spring as part of the Bicycle Master Plan at Bike to Work Day's Silver Spring pit stop
SILVER SPRING, MD – The Montgomery County Planning Department, part of The Maryland-National Capital Park and Planning Commission, is celebrating Bike Month in May by participating in Bike to Work Day on May 19. Planning staff will present preliminary bikeway recommendations for Downtown Silver Spring at the Silver Spring pit stop.
Learn more about Bike to Work Day.
Montgomery County Planning Board Chair Casey Anderson plans to ride with Montgomery County Councilmember Hans Riemer to multiple pit stop locations on Bike to Work Day.
Councilmember Riemer reflected recently on the value of the annual Bike to Work Day event. "Last year, I ran into a friend of mine at Bike to Work Day in North Bethesda. He said that he was biking to work for the first time that day, from Rockville to Bethesda. The next time I saw him he stated that he had become a regular bike commuter and he was really enjoying it. That is what Bike to Work Day is all about." Councilmember Riemer went on to say: "I'm looking forward to seeing our residents out at the pit-stops and I always enjoy riding with my friend Casey Anderson, who is making a huge impact on biking in his role as Planning Chair. We're going to continue working together to make our streets safer and more inviting."
Chair Anderson will promote the Planning Department's Bicycle Master Plan which is currently in progress. "Bike to Work Day is better every year as our bicycle and pedestrian infrastructure improves and residents and visitors feel safe and more comfortable on our bicycle network," said Anderson. "We are working to produce one of the best bicycle plans in the nation and I encourage everyone to learn about the preliminary recommendations for this exciting plan at our June meetings."
Public meetings are planned for June 2017 to provide the public the opportunity to comment on preliminary bikeway recommendations for Montgomery County's Bicycle Master Plan. The meetings will be held in five different locations so that county residents can pick the one that is most convenient for them to attend.
Each event will consist of an open house and informal discussion from 4:00 to 7:00 p.m. when attendees can meet with Planning Department staff to discuss cycling issues and concerns. The discussion will be followed by a presentation about the master plan and a question-and-answer session, from 7:15 to 8:30 p.m.
Bicycle Master Plan Meeting Schedule:
All meetings will be held from 4 to 9:00 pm. Reservations are encouraged but not required.
Tuesday, June 6 – Meeting 1 at the Planning Department Headquarters (8787 Georgia Avenue, Silver Spring, MD). RSVP for Meeting 1.
Thursday, June 8 – Meeting 2 at the Bethesda Regional Services Center (4805 Edgemoor Lane, Bethesda, MD). RSVP for Meeting 2.
Monday, June 12 – Meeting 3 at the Olney Library (3500 Olney Laytonsville Rd, Olney, MD 20832). RSVP for Meeting 3.
Wednesday, June 14 – Meeting 4 at the UpCounty Regional Services Center (12900 Middlebrook Road, Germantown, MD).  RSVP for Meeting 4.
Thursday, June 22 – Meeting 5 at the Marilyn J. Praisner Library (14910 Old Columbia Pike, Burtonsville, MD. RSVP for Meeting 5.
Since launching the Bicycle Master Plan in July 2015, planners have considered the newest types of bikeways, such as separated and buffered bike lanes and bicycle boulevards, as well as secure bicycle storage facilities at transit stations. Proposed recommendations for the cycling network are based on an evaluation of the varying levels of stress imposed by traffic on cyclists along each roadway in Montgomery County.
View the award-winning online Bicycle Stress Map.
Questions or Comments?
Contact: David Anspacher, Planner and Project Manager
Email: David.Anspacher@montgomeryplanning.org
Telephone: 301.495.2191