Planning Board Reviews Zoning Text Amendment for Short-Term Residential Rentals and Transmits Recommendations to County Council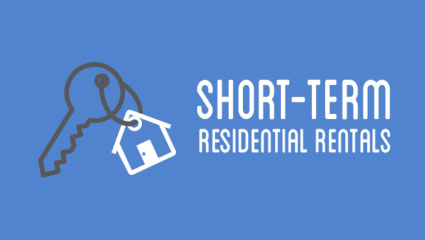 New standards, including licensing and limits on rental stays, are suggested to regulate short-term home rentals, such as Airbnb
SILVER SPRING, MD – The Montgomery County Planning Department, part of The Maryland-National Capital Park and Planning Commission, presented a zoning text amendment (ZTA 16-03) to regulate online-advertised, short-term home rentals, such as Airbnb, Flipkey, HomeAway and VRBO, to the Planning Board on May 11, 2017.
The Planning Board's recommendations were transmitted to the County Council on May 17, 2017 for its review. The Council's Planning, Housing and Economic Development (PHED) Committee will review ZTA 16-03 this summer or fall.
The Planning Board's  transmittal letter and draft ZTA are posted  online for public review.
Planning Board Recommendations for Short-Term Residential Rentals
The Planning Board reviewed the proposed ZTA at its May 11, 2017 meeting and made the following recommendations:
-The short-term rental use of a residential property should be regulated separately from a bed and breakfast use.
-The property owner or tenant who hosts the short-term stay must be the primary resident of the house.
-Short-term residential occupancy of a dwelling or a room should be restricted to a maximum of 90 days in a calendar year only if the host will not be present during the rental period.
-A limit on the maximum number of days is unnecessary when the host remains in the home during the short-term residential rental stay.
-All short-term rentals will be monitored and licensed by Montgomery County.
-To make it easier for the public to contact a county official should problems arise, the Planning Board suggests one agency should oversee all residential rentals.
-The host's short-term residential rental license will be suspended if at least three verified complaints against that host are received within a calendar year.
Background on Short-Term Residential Rental Zoning Text Amendment
The County Council introduced a zoning text amendment (ZTA 16-03) in February 2016 to allow short-term residential rentals under certain parameters. ZTA 16-03 was introduced in conjunction with Bill 2-16, which would update the licensing requirements for all transient housing, including a bed and breakfast.
After holding a public hearing on ZTA 16-03 and Bill 2-16, the County Council requested that the Planning Department reach out to county residents and stakeholders to seek their input regarding the regulation of short-term residential rentals. As part of this effort, staff studied regulations adopted by other jurisdictions locally and nationally to collect information that could be pertinent to crafting new legislation for Montgomery County.
The Planning Department held three public meetings in 2016 to solicit community feedback about the ZTA and met with the county Departments of Permitting Services, Health and Human Services, and Housing and Community Affairs, to discuss the ZTA and input from the community.