Planning Board Hears Public Testimony and Votes to Approve Equity One Sketch Plan Minus the Historic Cemetery Parcels at February 23 Meeting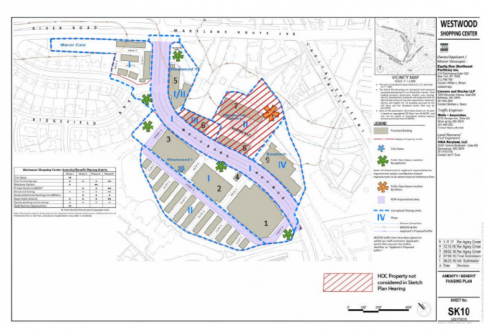 Board requires Equity One to complete an archaeological investigation of an historic African-American cemetery within the next two months
Silver Spring, MD –The Montgomery County Planning Board, part of the Maryland-National Capital Park and Planning Commission (M-NCPPC), held a public hearing on Equity One's Westwood Shopping Center Sketch Plan on Thursday, February 23, 2017. The area where an African-American cemetery historically existed was excluded from the sketch plan until a thorough archaeological investigation of the site is conducted by the property owner.
The Planning Board voted to approve Equity's One sketch plan with staff conditions, excluding the area of the historic burial ground. During the meeting, 32 people were signed up to testify before the Board, including representatives of community groups, the Macedonia Baptist Church on River Road and neighborhood residents.
"We are heartened that so many members of the community care so deeply about the future of Westbard and have come forward to share their thoughts about its cultural heritage and natural resources," says Planning Director Gwen Wright. "We will work diligently to make sure that a thorough and professional archaeological investigation of the historic African-American cemetery is done and that additional detailed planning for the naturalization of the Willett Branch progresses."
The Board required Equity One to conduct the archaeological study within the next two months. Once the investigation is done, a sketch plan amendment will be needed to incorporate the results of the investigation. The next step in the development process will be the filing of a Preliminary Plan for the entire project. The community will be notified of all upcoming meetings and public hearings on this project.
Watch the full video of the Westwood Shopping Center Sketch Plan agenda item from the February 23 Planning Board meeting, starting at 4:42:25.
Review the staff report on the Westwood Shopping Center Sketch Plan.
Steps to resolving issues raised by the community
In recent months, the Montgomery County Planning Department has initiated and facilitated conversations with the church, community members and the developer who owns the land where the burial ground was historically located. Our intention in this process has been to accomplish the following:
-Require the developer, Equity One, to explore thoroughly the possibility of an African-American cemetery on its property and conduct a respectful investigation.
-Refrain from reviewing any development on the part of the site in question until the investigation is completed.
-Ensure that any archeological work on the site is done in a thorough and professional manner.
-Encourage Equity One to be fully responsive to community concerns.
Review the updated frequently asked questions about the Westwood Shopping Center development.
Learn more about the approved and adopted Westbard Sector Plan.