Montgomery Planning Director Gwen Wright announces retirement as of January 1, 2023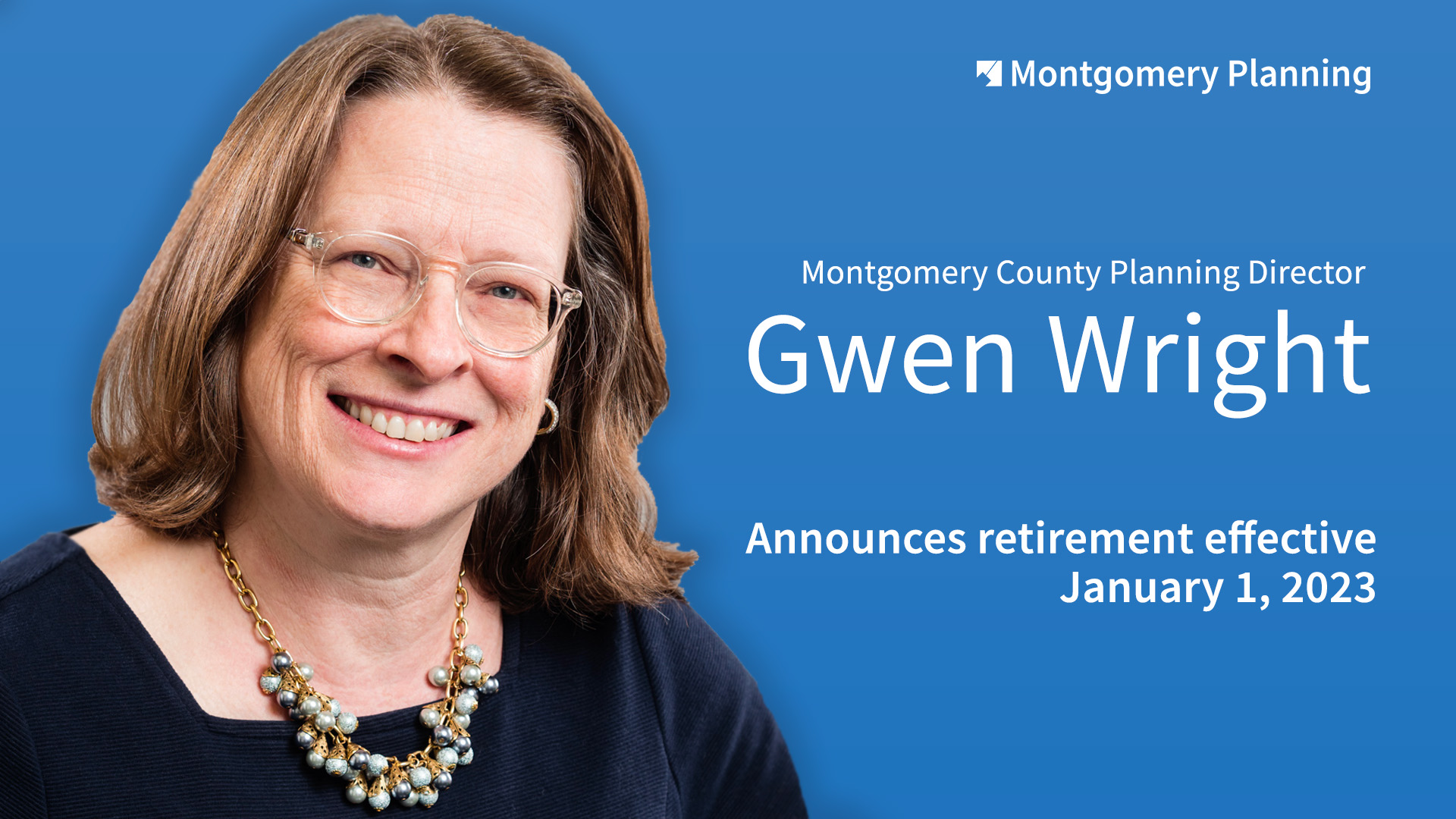 I have informed Planning Board Chair Casey Anderson that I will be retiring from the Montgomery County Planning Department and M-NCPPC as of January 1, 2023.
Since July 2013, I have had the honor of serving as Director of the Montgomery County Planning Department. During my tenure with M-NCPPC, which began in 1987, I have seen Montgomery County change and grow in a positive direction. I am grateful for the many roles I have held with the Commission, including serving as Historic Preservation Supervisor for Montgomery County's robust preservation program, as Chief of the Countywide Planning Division, and as Acting Planning Director in 2007-2008.
I am very proud of all the work that we have accomplished over my 30-year career. Some significant projects include:
Building Montgomery County's historic preservation program, including the creation of numerous publications, the acquisition and interpretation of important historic sites in the Parks system, and the creation of the Heritage Area Program.
Improving the forest conservation program when I was chief of the Countywide Planning Division, which has led to programs like Reforest Montgomery.
Implementing significant changes and improvements to the Development Review Process such as Concept Plans and Speed to Market procedures.
Launching the first Design Excellence initiative, the Placemaking initiative, and the first Design Advisory Panel in the county, which has resulted in numerous outstanding new buildings and places.
Completing a record number of master plans in communities such as Bethesda, Silver Spring, Grosvenor, Rock Spring, Montgomery Village, Westbard, Lyttonsville, White Flint II, and Chevy Chase Lake.
Overseeing the completion of the Zoning Code Rewrite.
Leading the first full update to the General Plan in over 50 years.
Initiating the Equity in Planning Agenda to focus our engagement and planning process with an equity lens.
Providing stability, strength, and direction for the Montgomery County Planning Department for over 9.5 years.
It has been a privilege to serve the community of Montgomery County, and to lead the land-use and planning of this special place. My time with M-NCPPC has been incredible and fulfilling – both professionally and personally – and I will always value the relationships I have created with Planning Board members, staff, and community members. From now until January 1, 2023, there is important work to be done at the Planning Department and I look forward to continuing to work with the community to keep our county thriving.