Montgomery Parks and Planning Will Transform Silver Spring Parking Spaces into Creative Installations for Park(ing) Day on September 20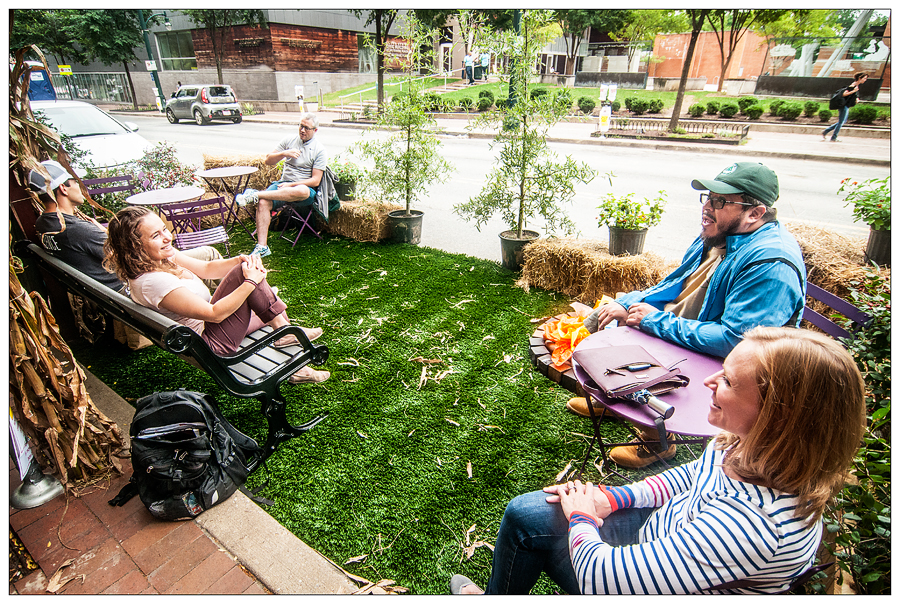 Pop-up parklets on Ellsworth Drive near Fenton Street in downtown Silver Spring will transform street parking to demonstrate new ideas for public amenities
SILVER SPRING, MD –Montgomery Parks and the Montgomery County Planning Department, part of The Maryland-National Capital Park and Planning Commission (M-NCPPC), invite the community to celebrate PARK(ing) Day on Friday, September 20, 2019. The departments will transform two parking spaces in downtown Silver Spring into temporary pop-up parklets, located on Ellsworth Drive between Veterans Place and Fenton Street. Parks and Planning staff will be available, and games and seating will be part of each installation for passersby to enjoy.
Montgomery Planning's parklet will focus on the Thrive Montgomery 2050 effort to update the county's General Plan, the basic framework for all land use decisions. Community members are invited to learn more about Thrive Montgomery 2050 and post their ideas for improving the county over the three decades on a large board in the temporary park or talk with Planning staff.
Montgomery Parks' temporary space will include seating, activities, games and a visit from Montgomery Parks' mascot Woody the Tree.  Staff will be on hand to provide information on Montgomery Parks' nature centers, community garden program and upcoming park projects.
"PARK(ing) Day allows us to rethink how our land is planned and allocated, and to demonstrate some of the ideas associated with our master plans and new Energized Public Spaces Functional Master Plan for urban parks," says Casey Anderson, Chair of the Montgomery County Planning Board. "The parklets show how street parking spaces can be used in creative ways to do more than store cars."
Details:
PARK(ing) Day 2019
Friday, September 20, 9 a.m. to 3 p.m.
Located on Ellsworth Drive between Veterans Place and Fenton Street
The event is free and open to the public.
About PARK(ing) Day:
This annual event, which began in 2005, is held on the third Friday in September in cities around the globe to encourage discussion around issues related to urban infrastructure, including the role of open space, transit and the environment.  In addition to the fun nature of the event, PARK(ing) Day provides an opportunity for cultural expression, socializing and play. Although this project is temporary, the broader goal is to encourage people to get more involved in the civic process to promote more urban open space, influence how public space is created and improve the quality of urban areas.