Montgomery Parks and Planning Departments Move to New Headquarters in Downtown Wheaton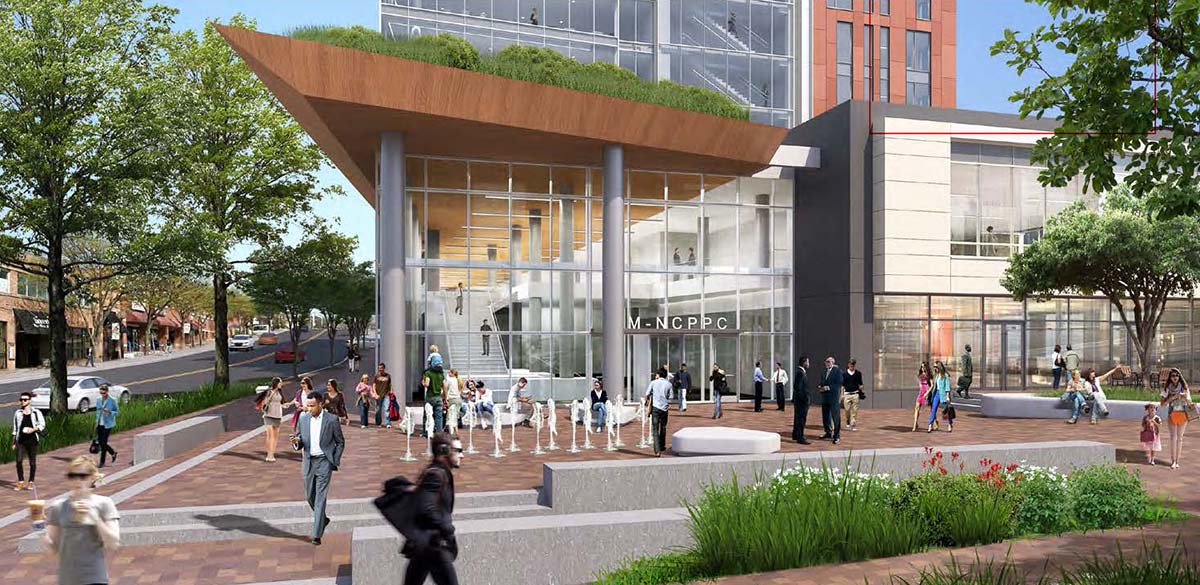 New M-NCPPC 14-story LEED Platinum building will include six Montgomery County agencies; building is closed to the public due to COVID-19
WHEATON, MD –The Montgomery County Planning Department and Montgomery Parks, both part of The Maryland-National Capital Park and Planning Commission (M-NCPPC), have begun operations from the new M-NCPPC Wheaton Headquarters (WHQ, 2425 Reedie Drive, Wheaton, MD 20902). While the building is open for staff, many will continue to telework due to the COVID-19 crisis. The building will remain closed to the public until further notice.
The 14-story building, owned by M-NCPPC, is one of the first LEED Platinum-certified government-owned office buildings in Maryland. The building includes a 200-seat auditorium for the Planning Board meetings, a new town square, and an underground public parking garage. It is home to six Montgomery County departments including:
Montgomery County Department of Permitting Services (MCDPS)
Montgomery County Department of Environmental Protection (MCDEP)
Mid-County Regional Services Center – Wheaton Urban District
Community Use of Public Facilities (CUPF)
Montgomery County Health and Human Services (HHS)
Montgomery County Department of Recreation (REC)
 Approximately 900 government employees are relocating to the WHQ to help revitalize the area. The town square includes public space with an amphitheater for people to gather and enjoy programming throughout the year. There is a fountain on the plaza.
The building is located near the Wheaton Metro Station and several bus lines, enabling staff to take transit to and from work. Staff will also be encouraged to walk and bike to work when possible, reducing traffic and adding more pedestrian and street activity to downtown Wheaton.
Sustainable features of the building include:
Geothermal heating and cooling, integral solar panels, green roof and gray water reuse.
The exterior incorporates rain screen facades, and the plaza and streetscapes are designed with landscaped elements to manage stormwater onsite.
A living wall in the lobby.
The building is located within walking distance of Metrorail and bus lines to encourage transit use and reduce greenhouse gas emissions from car commutes.
The office interiors are designed to achieve a LEED Gold rating through energy-efficient lighting, abundant daylight, locally sourced building materials, reuse/remanufactured furniture, and recycled materials.
"We are really proud of this project and what it will mean for the Wheaton community," said Montgomery Planning Board Chair Casey Anderson. "I think this building is a great representation of sustainable planning and a model of co-location near transit with excellent design for the community.
"A lot of work went into making sure this building would set a new standard of excellence in the design of public facilities in Montgomery County," said Planning Director Gwen Wright. "While we are sad to leave downtown Silver Spring, we are very excited to call this beautiful building our new home."
"We are excited to move into our new offices and to support the revitalization of the Wheaton area," said Mike Riley, director of Montgomery Parks. "The new building will also be home to six county agencies in addition to Montgomery Parks and Planning Departments, which will promote greater collaboration and provide the public a central point of access for their needs."
About the Wheaton Headquarters:
The mixed-use building with ground-floor retail and upper-floor offices faces a landscaped plaza and town square. The large, entrance lobby is framed in glass and illuminates the new plaza at night. The two-story lobby space will be open to the public once COVID-19 restrictions are lifted, and used for displays, celebrations, and other events.
The open lobby includes an information desk and publicly accessible grand staircase leading to the Planning Board auditorium on the second floor. A living wall of greenery extends on one side of the space to represent the building's environmentally sensitive design.
Changes to Names of Montgomery Planning Divisions
In coordination with the move to Wheaton, the Montgomery County Planning Department is announcing changes to the names of some of its divisions. Effective immediately, the new division names are:
Functional Planning and Policy is now called Countywide Planning and Policy (CPP)
Area 1 is now called Downcounty Planning
Area 2 is now called Mid-County Planning
Area 3 is now called Upcounty Planning
Development and Regulatory Coordination (DARC) is now called Intake and Regulatory Coordination (IRC)
Research and Special Projects is now called Research and Strategic Projects
The changes in titles will not affect the services provided by these divisions.