Montgomery County Planning Department Launches 2017 Design Excellence Awards Competition for Public Spaces, and Buildings and Sites, with Call for Entries through July 27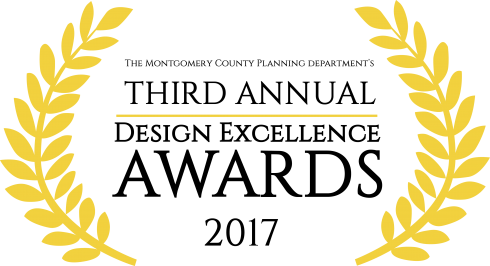 Planning Department urges developers, architects, landscape architects, designers and property owners to submit top-quality, completed projects in the County to annual award competition
SILVER SPRING, MD –The Montgomery County Planning Department, part of The Maryland-National Capital Park and Planning Commission, seeks to recognize exceptional work in architecture, landscape architecture and urban design through its third annual Design Excellence Award competition. This year there will be two Design Excellence Awards, one for buildings and their sites, and one specifically for open spaces and landscapes. Developers, property owners and their design teams are invited to submit completed projects that contribute to improving the quality of physical environments throughout the County.
The call for entries opened on Monday, May 15, 2017 and closes on Thursday, July 27, 2017. The selection of two winners will be made by an outside jury of accomplished professionals invited by the Planning Department.
Submit to the 2017 Design Excellence Award.
Learn more about the Montgomery County Planning Department's Design Excellence initiative.
The winners will be recognized on Thursday, October 19, 2017 at an awards celebration at the Silver Spring Civic Building. The event will also include the annual awards ceremony of the American Institute of Architects (AIA) Potomac Valley Chapter.
Project Eligibility for Award
Projects eligible for the award include both private and public structures and spaces located within Montgomery County that were built within the past 10 years and are currently occupied and in use. The submitted projects should express the essential qualities of outstanding walkable, sustainable places at the scale of the neighborhood, block and building. They should illustrate how great design contributes to the community in terms of character, identity and economic value. Review the 2015 and 2016 winners and the recipients of jury citations.
Purpose of Design Excellence Award
Montgomery County is one of the country's most successful and well run counties, and its stature should be reflected in the excellent architecture, urban design and landscape architecture of its buildings and spaces. Design excellence is becoming increasingly important as the amount of available land for development in the County is shrinking and building density is increasing. The highest quality design is important to sustain a thriving and attractive County with buildings, public spaces and neighborhoods that are worthy of its deserving residents and workers.
The Planning Department's annual Design Excellence Award, launched in 2015, is intended to inspire architecture, landscape architecture and urban design of the best possible quality in Montgomery County, and increase the public awareness of this world-class design excellence.
October 2017 Awards Ceremony
The winners of the annual Design Excellence Awards will be recognized at an awards celebration co-hosted by the Planning Department and the American Institute of Architects (AIA) Potomac Chapter on October 19, 2017.
The two winning projects will be celebrated by the Montgomery Planning Department as premier examples of Design Excellence in Montgomery County through promotional campaigns and will be presented by Department leadership at conferences and public events.
2017 Design Excellence Award Jury
The jury is composed of accomplished and highly regarded practitioners in the fields of architecture, landscape architecture, planning and urban design, as follows:
Andrew Altman is a national recognized leader in urban planning and transforming cities.
Mr. Altman is currently the co-founder of Fivesquares Development, a newly formed real estate development company based in Washington DC that is focused on innovative urban and transit-oriented projects. Fivesquares was selected by WMATA to redevelop the Grosvenor Metro station area and has partnered with Whitman-Walker Health to redevelop their site on 14th Street in the District.
Mr. Altman was the first Chief Executive Officer of the London Olympic Park Legacy Company in London, England from 2009-2012. As CEO, he led the master development of the largest regeneration project in the United Kingdom to position the 600-acre, 2012 Olympic Park for its post-Game use as a new international growth center.
Before being recruited to London for the 2012 Olympics, he was the Deputy Mayor for Economic Development and Planning for the city of Philadelphia under Mayor Michel Nutter. He chaired the Delaware River Waterfront Development Corporation and the City Planning Commission.
Mr. Altman first established himself as a recognized urban planner in Washington, DC as the city's Planning Director, and was subsequently the founding CEO of the Anacostia Waterfront Development Corporation, under Mayor Anthony Williams. He led the Anacostia Waterfront Initiative that resulted in the transformation of Washington's waterfront.
Mr. Altman speaks and consults on urban planning internationally, and is a Non-Resident Senior Fellow at the Brookings Institution Centennial Scholar Initiative.
Mr. Altman has held numerous fellowships related to urban planning, including the Loeb Fellowship at the Harvard Graduate School of Design, a German Marshall Fund Transatlantic Fellowship in Europe and a Lady Davis Fellowship at the Technion University in Israel, and has been a visiting lecturer at the Harvard Graduate School of Design, the University of Pennsylvania and the London School of Economics.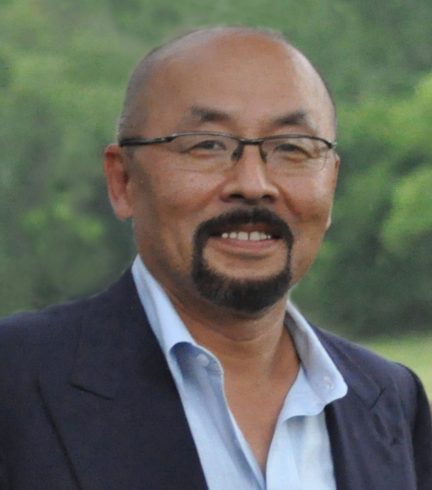 Jeff Lee, FASLA is the President and Founding Principal of Lee and Associates, Inc. headquartered at Gallery Place in Washington D.C. He received The Presidential Citation from The American Society of Architects: AIA, for leading the design team for The Pentagon 9-11 Memorial. In 2007, he became the first Korean American to be inducted into The American Society of Landscape Architects Council of Fellows, the highest honor one can achieve in the profession..
During the past 30 years of practice, he has crafted a body of work which integrates the complex relationship between man and nature by designing ecological and sustainable solutions that promote stewardship of our land, waterways, cities, gardens, parks and ultimately, the public realm. His focus on beauty and function, while maintaining a deep commitment to the history and culture of natural and built places, has produced many unique, award-winning projects in the U.S.A. and throughout the world. Whether it is a Cultural Tourism Master Plan for two centuries of Buddhism in China(Dazu); two of the most important connections of the Hajj(Mecca); or breathing new life and function to a historical Ottoman Pasha's Palace (Ciragan Palace Kempinski Istanbul), his projects all share a respect for the past and an, understanding of the present in an attempt to create timeless projects for the future.
Lee was educated at the University of Virginia in the School of Architecture in landscape architecture, fine arts and architecture (through a scholarship). After working in Seoul, Korea; Doha, Qatar and on projects throughout Asia and Middle East, he returned to U.S.A. to launch his career in landscape architecture. He started his own firm in 1987 in Washington, D.C., immediately gaining attention for significant projects such as: the Finnish Chancery; the Korean Embassy Residence; the International Culture & Trade Center: Ronald Reagan Building; Fort Belvoir Community Hospital; and the recently completed City Center. His current projects include: The Wharf at SW Waterfront; Capital Crossings; St. Elizabeth Campus; UDC Student Center and The Smithsonian. Lee serves on the Board of Managers for UVA Alumni Association; Council Member of FONA (Friends of the U.S. National Arboretum) and is a former Vice Chairman and Life member of The Committee of 100 on The Federal City, an organization founded in 1923 dedicated to safeguarding and advancing Washington's historic distinction, natural beauty and livability.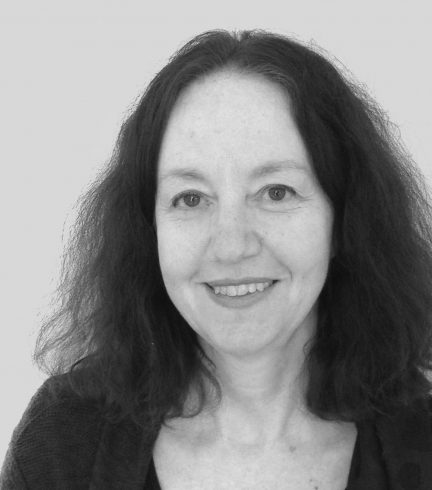 Suzane Reatig, FAIA founded her practice in 1989 with the strong conviction that a small office can be creative, socially responsive and still prosper. Reatig has developed projects of great sensitivity in urban areas that have been long neglected. Expressing a contemporary use of materials and an intuitive understanding of modern structure and space, her bold designs reflect our time while still addressing the basic needs of her clients.
Reatig has received numerous national and international awards, and her work has been extensively discussed by her peers, the architectural community and press. She has been featured in prominent publications including The New York Times, The Washington Post and Architectural Record.  She has been a featured speaker at the National AIA and The National Building Museum, a frequent presenter at local AIA meetings, and a mentor to aspiring AIA fellows, all of which allow her the opportunity to share her vision with other architects.
Given the clarity of her designs, the contextual and spatial simplicity of their formal resolution, and the beauty of their construction and uplifting sensitivity to light and reflection, Reatig's work continues to inspire.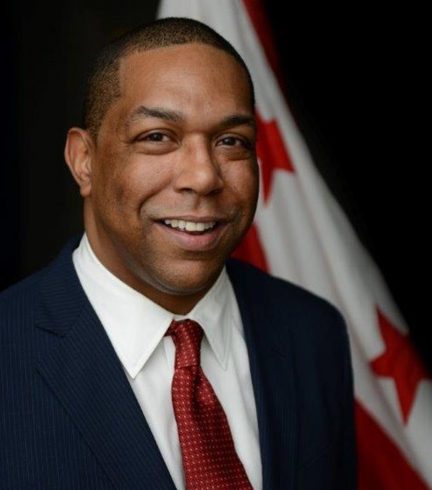 Eric D. Shaw was appointed by Mayor Muriel Bowser to serve as Director of the DC Office of Planning January 2015.  As director he manages a staff of 75 who are responsible for neighborhood and systems planning, urban design strategies, data and mapping, historic preservation and development review.  Shaw also represents the Mayor on a number of federal and regional planning bodies.  He is a strong proponent of equitable development, innovative community engagement and community led implementation of plans.
Before joining the Bowser administration, Eric was the Director of Community and Economic Development for Salt Lake City where he was the lead city official on place- based and development policy.  He managed a number of high profile projects including a new citywide engagement program, the restructuring of the small business loan program, and updates to nine city plans including the city's general plan.
He was a leader in planning efforts in post Katrina Louisiana as the Director of Community Planning for the Louisiana Recovery Authority and Vice President of Programs and Policy for Foundation for Louisiana. As Director of Community Planning, Shaw provided direct technical assistance to local leaders and managed the $10 million Comprehensive Resilience Pilot Program.  At Foundation for Louisiana, he edited the nationally recognized Citizens' Guide to Land Use and Citizens' Guide to Urban Design that trained residents on the principles of land use and urban design.
Eric has also worked in the public, nonprofit, and philanthropic sectors in Silicon Valley and Miami. Shaw earned a Bachelor's of Arts in International Development and Policy Studies from the University of California, Los Angeles and a Master's Degree in Urban Planning from the Harvard University Graduate School of Design.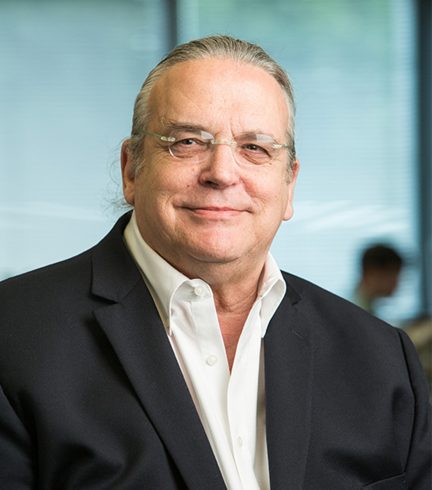 John Francis Torti, FAIA, LEED AP BD+C President
As President of Torti Gallas+Partners, Mr. Torti has provided strong conceptual leadership to bring his firm to international recognition. Torti Gallas' focus on the "architecture of real estate" has provided an important catalyst for transformation in numerous cities and suburbs around the world. The firm's role in neighborhoods like Columbia Heights and Capper Carrollsburg in Washington, DC, City West in Cincinnati, MacArthur Park in Los Angeles and Kemer Country in Istanbul has been integral to successfully transforming these places and the lives of the people who live there. Current projects such as the revitalization of the former Walter Reed Medical Center, the addition to Rockville Town Center, and the Twinbrook Metro in the Washington Area, the Alice Griffith Neighborhood in San Francisco, and the Soyak Revitalization in Istanbul are places that are just beginning their comprehensive transformations. Torti Gallas takes its responsibility seriously to understand the shifting patterns of society and how people will live in a changing world in applying their skills to make a better world. With offices in Washington DC, Silver Spring, Tampa, Los Angeles and Istanbul, Torti Gallas has focused their practice on TransNational Urbanism, transit-oriented mixed-use architecture and mixed-income neighborhoods. Mr. Torti and his partners have built a firm that understands the inextricable tie between urban design and architecture for clients and communities. Torti Gallas has been the recipient of over 100 national and international design awards in the last 15 years, including 93 LEED Platinum Certificates, the ULI Award for Excellence for Columbia Heights, the ULI Impact Award for the Capper Carrollsburg Neighborhood in Washington, and CNU Charter Awards for Wyandanch, NY, a TOD in the poorest neighborhood on Long Island, and The Corridor Plan for South Bend, Indiana. Prior to joining Torti Gallas+Partners, Mr. Torti worked with NASA and the National Capital Planning Commission, where he worked on numerous designs to rebuild Washington after the 1968 riots. He was also a Principal in an architectural firm in the Midwest, the Director of a non-profit housing and community development corporation and a Principal with CHK Architects and Planners, the firm that is now Torti Gallas+Partners.
Mr. Torti's professional affiliations and education include:
• American Institute of Architects College of Fellows
• Member of the National Board of the Congress for the New Urbanism
• Member of the Advisory Council for the School of Architecture at the University of Notre Dame
• US Green Building Council LEED AP BD+C
• The Paul H. Kea Medal for Leadership by the Potomac Valley Chapter of the American Institute of Architects in 2007
• University of Notre Dame Bachelor of Architecture
• Catholic University of America Graduate Studies in City and Regional Planning
A selected listing of Mr. Torti's recent speaking venues includes:
American Institute of Architects
Urban Land Institute
Congress for the New Urbanism
Multi Housing World Info Expo
National Apartment Association
National Association of Home Builders International Builders' Show
The Mayor's Institute on City Design: Northeast
National Conference of the American Planning Association
Multi-Family Housing Conference
University of Notre Dame
University of Maryland
Andrews University
University of Miami
Harvard University