Montgomery County Parks and Planning Departments Presented Spring 2017 Semiannual Report to the Montgomery County Council on April 4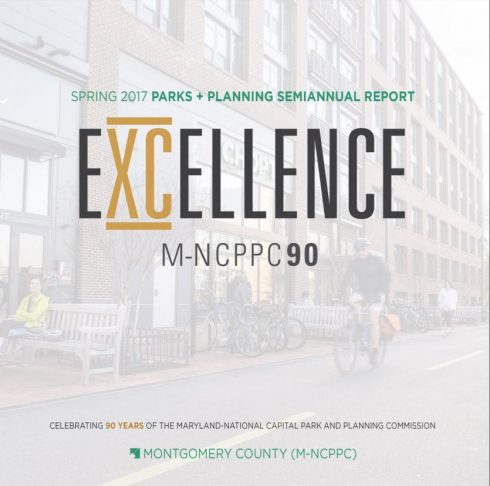 Report highlights plans and projects completed over past six months, and outlines ongoing work and future initiatives
SILVER SPRING, MD – Montgomery Parks and the Montgomery Planning Departments, part of the Maryland-National Capital Park and Planning Commission, presented their Spring 2017 Semiannual Report to the Montgomery County Council on Tuesday, April 4, 2017. The report, available online, showcases key projects, park activities and plans from the past six months, and work that will be completed over the next six months and beyond.
View the Spring 2017 Semiannual Report.
Planning Board Chair Casey Anderson introduced the progress report and emphasized the need for effective planning strategies to attract residents and businesses to Montgomery County. Anderson noted the 90th anniversary of the Maryland-National Capital Park and Planning Commission, which was founded in 1927, and the recent accomplishments of the Parks and Planning Departments that are built on its legacy.
"What will Montgomery County look like in another 90 years?" Anderson asked rhetorically in the report. "The answer can be found in our current programs and policies for affordable housing, active parks in urban areas and multi-modal transportation with an emphasis on walking, biking and transit," Anderson added. "We are laying the groundwork for a better future."
Planning Director Gwen Wright explained the three themes of the semiannual report – New Suburbanism, Engaging Communities and Strengthening Economic Competitiveness – as key to managing county growth. Wright noted that, in recent planning efforts, such as the Bicycle Master Plan, attention has been shifted away from cars in an effort to promote alternatives to driving. Staff monitoring of transportation modes through the Mobility Assessment Report shows this shift is already occurring; compared to 2005, the amount of vehicle miles traveled in 2015 decreased by 11 percent.
"Our approach to planning is based on research and data," said Planning Director Gwen Wright. "Taking a closer look at housing, retail and employment trends informs our master plans, which in turn lead to smarter development."
Director of Montgomery Parks Michael Riley explained the pivotal role that urban parks and trails play in developing walkable, compact communities in the suburbs.
"Our new Energized Public Spaces Functional Master Plan is a blueprint for vibrant parks in mixed-use areas of high population density where green spaces and recreational activities aren't typically found but are really needed," said Riley. "This plan is now under development and its ongoing work was recently reviewed by the Planning Board."
Planning Department's Notable Achievements
The Spring 2017 Semiannual Report highlights the following accomplishments, achieved by the Planning Department over the past six months:
-Planning Board recently approved the Rock Spring Master Plan and will conclude its work sessions on the White Flint 2 Sector Plan this spring.
-The Grosvenor-Strathmore Metro Area Minor Master Plan is underway to find ways of integrating development at a Metrorail station located adjacent to a performing arts center.
-The Veirs Mill Corridor Master Plan has been launched to determine ways of better connecting neighborhoods along the busy road extending from Wheaton to Rockville. Community outreach to the diverse residents in this area is critical to the planning effort.
-Studies of rental housing and retail trends, due to be completed in 2017, will help inform future plans.
-Notable regulatory cases include the new Marriott International headquarters and Apex Building in Bethesda, Elizabeth House in Silver Spring and the Brownstones at Chevy Chase Lake, all now in various stages of development.
Department of Parks' Notable Achievements
The Spring 2017 Semiannual Report highlights the following accomplishments, achieved by the Department of Parks over the past six months:
-The Department's Program Access Office is incorporating more opportunities for people with disabilities to participate in parks programs.
-Parks launched a new comprehensive outreach system, "Parks and Recreation of the Future," to engage diverse communities and solicit their input about park programs, amenities, development and planning projects.
-Parks introduced a new Rainout Line app for athletic field users to quickly and easily find out if fields are open or closed. Parks will leverage the data collected through the app to review and evaluate field conditions.
-Parks recently won several awards, including honors for its website, improvements to the Capital Crescent Trail and a garden gateway at Brookside Gardens.
-The Department is improving the water quality of streams on parkland through restoration projects addressing erosion control, bank and channel stabilization, and replanting of vegetation.