White Flint Placemaking Community Meeting
Wednesday, May 30, 2018 6:00 p.m. to 8:00 p.m. BACK TO CALENDAR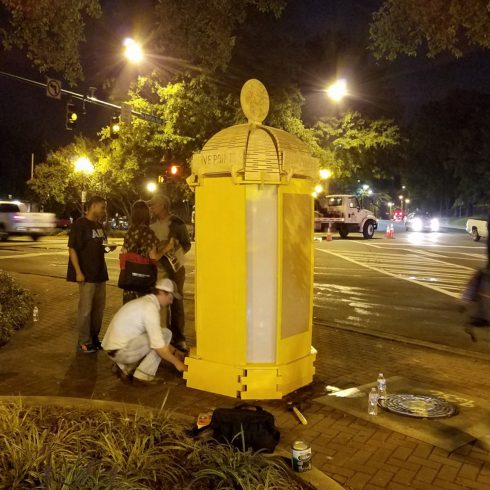 The Montgomery County Planning Department invite you to a kick-off meeting to launch the White Flint Placemaking effort. Hosting in partnership with the Better Block Foundation, this evening event will feature a keynote presentation about community placemaking by Better Blocks CEO Jason Roberts.
Attendees will share thoughts and ideas on how placemaking could be used as a tool to build community in the Randolph Hills area.
The evening will conclude with the building of a "Morris Column" community message board (shown right).
This event is free and open to the public.
About the Better Block Foundation
Better Block Foundation is a 501(c)3 nonprofit that educates, equips, and empowers communities and their leaders to reshape and reactivate built environments to promote the growth of healthy and vibrant neighborhoods.
More information on the Better Block Foundation at BetterBlock.Org.
Montgomery County
Planning Department
8787 Georgia Ave.
Silver Spring, MD 20910