Community Invited to Comment on Preliminary Bikeway Recommendations for Bicycle Master Plan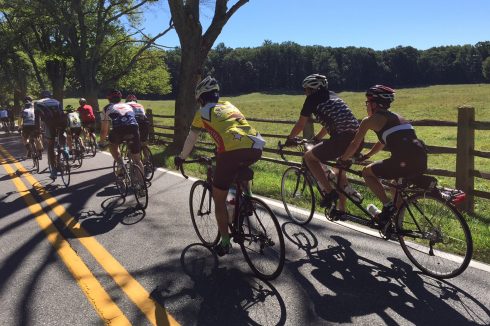 The public is invited to five meetings across the county in June 2017 to learn about the proposed bikeway recommendations and provide feedback
SILVER SPRING, MD – The Montgomery County Planning Department, part of The Maryland-National Capital Park and Planning Commission, invites the community to participate in public meetings during June 2017 to comment on preliminary bikeway recommendations for Montgomery County's Bicycle Master Plan. The meetings will be held in five different locations so that county residents can pick the one that is most convenient for them to attend.
Since launching the Bicycle Master Plan in July 2015, planners have considered the newest types of bikeways, such as separated bike lanes and neighborhood greenways, as well as secure bicycle storage facilities at transit stations. Proposed recommendations for the cycling network are based on an evaluation of the varying levels of stress imposed by traffic on cyclists along each roadway in Montgomery County.
View the award-winning online Bicycle Stress Map.
Schedule of summer Bicycle Master Plan meetings
The meetings will be held in June, with the first event scheduled for Tuesday, June 6 from 4 to 9 p.m. at the Planning Department headquarters (8787 Georgia Avenue, Silver Spring, MD). RSVPs are encouraged but not required. Register to attend each of the Bicycle Master Plan meetings, listed below.
Each event will consist of an open house and informal discussion from 4 to 7 p.m. when attendees can meet with Planning Department staff to discuss cycling issues and concerns. That session will be followed by a Bicycle Master Plan presentation by project manager David Anspacher and a question-and-answer session, held from 7:15 to 8:15 p.m.
Attendees will also have the chance to contribute their comments about bicycling safety and facilities on an interactive digital "feedback map." These community comments will be used to guide the planners during their work.
Bicycle Master Plan Meeting Schedule:
All meetings will be held from 4 to 9 pm.
Tuesday, June 6 – Meeting 1 at the Planning Department Headquarters (8787 Georgia Avenue, Silver Spring, MD). RSVP for Meeting 1.
Thursday, June 8 – Meeting 2 at the Bethesda Regional Services Center (4805 Edgemoor Lane, Bethesda, MD). RSVP for Meeting 2.
Monday, June 12 – Meeting 3 at the Olney Library (3500 Olney Laytonsville Rd, Olney, MD 20832). RSVP for Meeting 3.
Wednesday, June 14 – Meeting 4 at the UpCounty Regional Services Center (12900 Middlebrook Road, Germantown, MD).  RSVP for Meeting 4.
Thursday, June 22 – Meeting 5 at the Marilyn J. Praisner Library (14910 Old Columbia Pike, Burtonsville, MD. RSVP for Meeting 5.
Learn more about the Bicycle Master Plan
The Planning Department began working on the Bicycle Master Plan in July 2015 and expects to present the plan to the Planning Board in late 2017. The plan focuses on developing a high-quality/low-stress bicycle network throughout Montgomery County. Visit the Bicycle Master Plan webpage for more information.
Questions or Comments?
Contact: David Anspacher, Planner and Project Manager
Email: David.Anspacher@montgomeryplanning.org
Telephone: 301.495.2191