Annual Monitoring Report for Bethesda Downtown Plan Will Be Presented to the Planning Board on May 31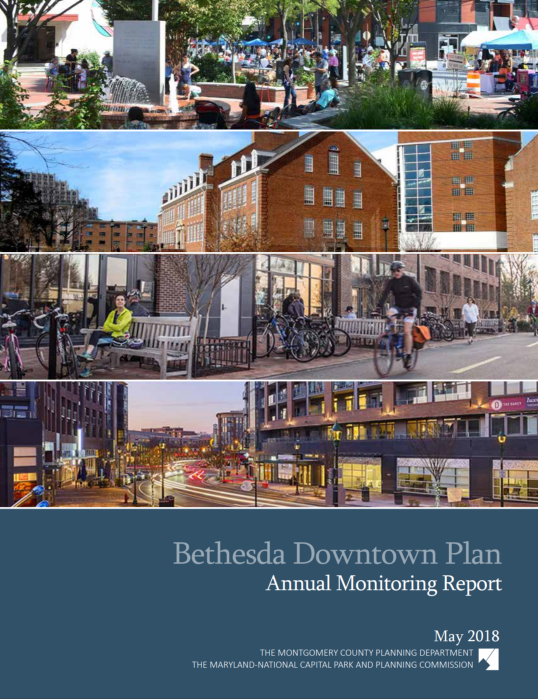 Report meets requirements for monitoring schools, parks and transportation, and provides guidance to Board and County Council on development activity and plan implementation
SILVER SPRING, MD – The Montgomery County Planning Department, part of The Maryland- National Capital Park and Planning Commission, will brief the Montgomery County Planning Board on May 31, 2018 about the Annual Monitoring Report for the Bethesda Downtown Plan.
This 50-page document explains the progress of the plan over the past year, from May 2017 to May 2018, in terms of school capacity, new parks and open spaces, and transportation adequacy. In addition, the report presents information on recent development activity in downtown Bethesda and the status of remaining density in the Bethesda Overlay Zone.
View the staff report for the May 31 Planning Board meeting. View the Bethesda Downtown Plan Annual Monitoring Report.
Summary of Activity in Downtown Bethesda from May 2017 to May 2018
The Annual Monitoring Report is required as part of the Bethesda Downtown Plan in recognition of the many complex elements of the plan, from the Bethesda Overlay Zone to the Park Impact Payment funds.
For more information about the plan, consult the online document.
Since May 2017, when the County Council approved the Bethesda Downtown Plan, key monitoring updates include the following:
Construction: The Second District Police Station opened in January 2018 and site plans for two development projects – the Marriott International Headquarters and 7359 Wisconsin Avenue — have been approved by the Planning Department.
Design: The Design Advisory Panel has reviewed 15 development projects since its members were appointed in September 2017.
Schools: Elementary schools are currently at 96 percent of capacity.
Parks and open spaces: The Montgomery County Department of Parks acquired land for the Capital Crescent Civic Green.
Transportation: Bicycle lanes are funded and being designed for segments of Woodmont, Bethesda and Montgomery Avenues, and Willow Lane.
Development: The online Monitoring and Tracking Program was launched in April 2018 to keep abreast of current development and ensure it doesn't exceed the density cap of 32.4 million square feet in downtown Bethesda.
The Annual Monitoring Report will be presented to the Planning Board during the spring of each year and transmitted to the County Council for review. Planning Department staff is responsible for identifying issues and potential solutions during the Planning Board's review.