Second Session of Winter Speaker Series on the Economic Future of the Suburbs Will Be Held on January 24 with Commerce-Focused Presentations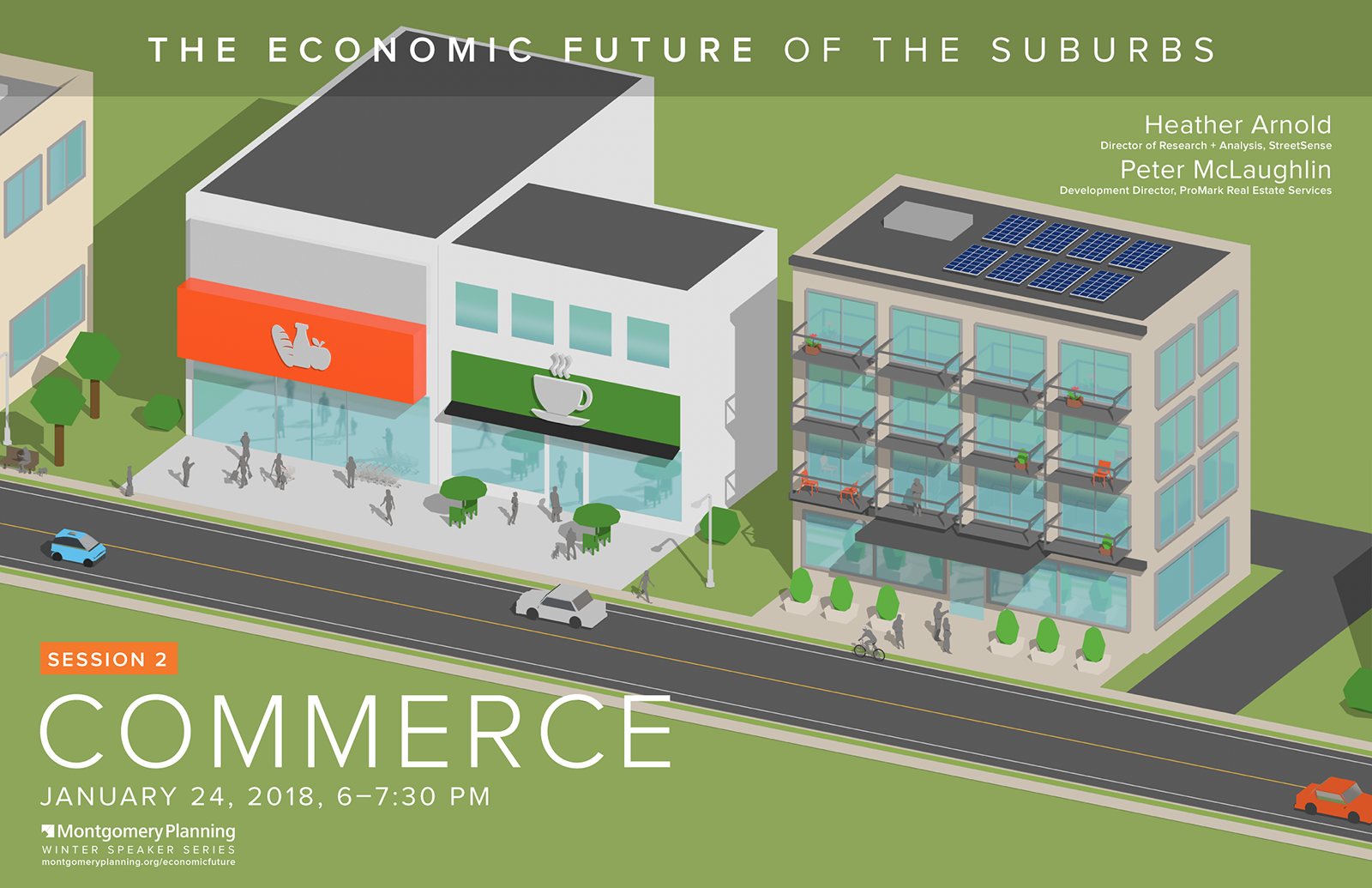 Heather Arnold of StreetSense will analyze recent retail trends and Peter McLaughlin of ProMark Real Estate Services will discuss office building conversions in Montgomery County
The Montgomery County Planning Department, part of The Maryland-National Capital Park and Planning Commission (M-NCPPC), will hold the second session of its three-part Winter Speaker Series on Wednesday, January 24, 2018 from 6 to 7:30 p.m. at its headquarters (8787 Georgia Avenue, Silver Spring, MD). RSVPs are encouraged but not required.
RSVP for the January 24 Winter Speaker Series on Commerce.
The series, titled The Economic Future of the Suburbs: Infill, Commerce, Placemaking, focuses on the changes that are occurring in the suburbs as they adapt to market forces: infill housing added to neighborhoods of detached homes; office building conversions into residential units; digital technology's influence on retail and commerce; and placemaking as a strategy for economic development.
The second session will feature speaker Heather Arnold, Director of Research and Analysis for Bethesda-based StreetSense, who specializes in retail market analysis, incentive planning and merchandising strategies for communities. Arnold was a consultant on the Planning Department's recently completed Retail Trends Study and will speak about online shopping's influence on retail and commerce in the suburbs.
In addition, Peter McLaughlin, Development Director of Rockville-based ProMark Real Estate Services, will speak at the session about conversion of aging office buildings into new uses. He will discuss the Octave condominiums in Silver Spring, a 1964 office building transformed by ProMark into residential units, and the challenges of such projects.
The session, including a question-and-answer discussion, is free and open to the public and planning professionals. Members of the American Institute of Certified Planners (AICP) attending the series can earn credit for certification maintenance.
For more information about the 2017-2018 Winter Speaker Series and its topics, go online. The next event in the series will focus on placemaking and will be held on Wednesday, February 28, 2018.