Master Plan of Highways and Transitways Outreach
MPOHT Feedback Map (Response to Comments Now Available)
The Montgomery County Planning Board, part of The Maryland-National Capital Park and Planning Commission, posted a digital interactive map of county highways and transitways to solicit feedback from the public on proposed changes to the Master Plan of Highways and Transitways (MPOHT).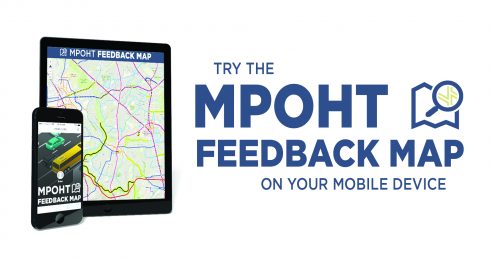 This tool, called the MPOHT Feedback Map, allows users to see 129 proposed changes and updates in the Master Plan of Highways and Transitways, and leave their online comments. A search tool on the GIS-based map will help citizens find their homes or businesses on the map. Once the 129 changes are finalized, the MPOHT Feedback Map will be placed on the Planning Department's MCAtlas.org site with the property search functionality. The public comment period using this web tool has been closed; however, this feedback map will remain on the MPOHT webpage and will be re-activated for public commenting at a later date once the MPOHT is adopted by the County Council.
For each link where a comment was provided, a response has been added. Simply click on a link with a comment, and the response is the top item in the comment section. When multiple comments were provided, we tried to address all comments in one response. Thank you for everyone who used this Feedback Map.
The next planned event for this Master Plan will be the presentation of Staff Recommendations to the Montgomery County Planning Board on December 21.
In addition, public outreach meetings were held at five locations as shown below. At these meetings, a presentation was provided and the proposed classification changes and any public comments received were discussed.
Recent Events
September/October 2017: Hold public meetings at regional service centers:
September 11: Montgomery Planning Department (M-NCPPC) Auditorium, 8787 Georgia Avenue, Silver Spring, 7-9PM.
September 13: Bethesda-Chevy Chase Regional Services Center, Room West A 4805 Edgemoor Lane – Bethesda, 7-9PM.
September 18: Rockville Memorial Library, 1st floor, 21 Maryland Avenue
Rockville, 7-9PM.
September 20: UpCounty Regional Services Center, Room D, 12900 Middlebrook Road, Germantown, 7-9PM.
October 10: Marilyn J. Praisner Library, Small Room, 14910 Old Columbia Pike, Burtonsville, 7-9PM.
Past Events
April 29, 2010: Public meeting, Potomac Community Recreation Center
April, 28, 2010: Public meeting, Eastern Montgomery Regional Service Center
April 21, 2010: Public meeting, Upcounty Regional Services Center
April 19, 2010: Public meeting, Park and Planning Headquarters. At our public meetings in April 2010, we summarized the key elements of the update. View the presentation [PDF](pdf, 5.5MB) or read the press release.
November 19, 2009: Planning Board reviews Master Plan of Highways Scope of Work[PDF]
Last Updated: November 21, 2017