Public Art in Montgomery County
Public art can be a catalyst for community building, economic development, and creating a sense of place. Where it is located, how it connects to its surroundings, and whether it engages viewers can be as important as the design of the artwork itself.
Creation of public art is an option under the Montgomery County development review process when applications are in downtown areas and transit-area zones. Significant works of public art have been installed in Silver Spring, Bethesda, White Flint, and Wheaton. Learn more about the Art Review Panel that guides creation and installation of public art associated with private development, and watch our Public Art in Public Places Video:
Public Art Guidelines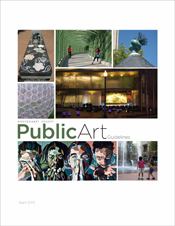 Download the Montgomery County Public Art Guidelines (PDF, 13 MB), which codify the policies and procedures that assign responsibility and set goals for the county's public art collection. The guidelines were produced in concert with the Arts & Humanities Council of Montgomery County.
Winner! The Public Art Guidelines publication won the 2013 Gold Marcom Award in the category for Government Annual Reports for its design and writing.
Public art map
The Montgomery Planning Department and the Arts and Humanities Council of Montgomery County have combined their inventory to map as many of the County's public and private commissions in order to give residents, business owners and visitors a snapshot of the impressive public art collection that can be found in our community. In accordance with the Montgomery County Public Art Guidelines, PUBLIC ART is defined as an artwork that is located indoors or outdoors and is visually and/or physically accessible to the public at least eight hours per day. This mapping program serves as an interactive and visual inventory that locates and explores public artworks that are both publicly and privately funded throughout the County. We strive to keep this program user friendly and welcome the community's feedback as we continue to maintain our collection.
Check out our Public Art in Montgomery County map to find public art near you.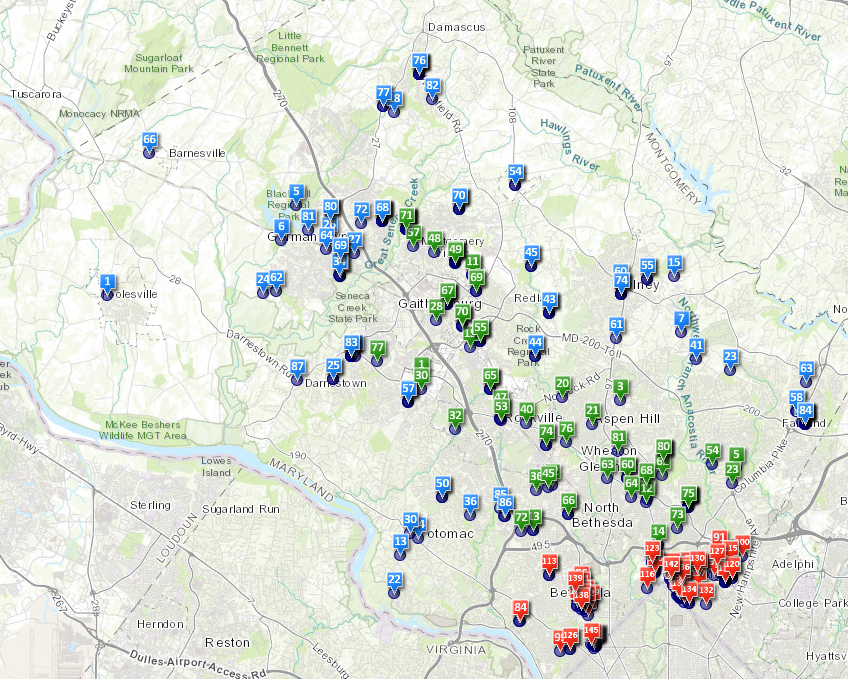 Background
Public artwork became an amenity to be provided by developers in exchange for increased density as part of the optional method standards of the Zoning Ordinance in 1974. Under the optional method, developers are granted higher densities in exchange for significant public amenities and facilities. Optional method development is available in downtown areas and the Commercial Residential mixed-use zone. The Commercial/Residential Zone Guidelines provides criteria by which artworks are reviewed.
The optional method is intended to create a more attractive urban environment through a package of public amenities provided by the private developer. To qualify for the optional method, additional filings are required and certain development standards must be met including a public amenities package. Among the list of qualifying amenities are increased open space, affordable housing, farmland protection, environmental conservation, and public art.
Artworks are reviewed by the Art Review Panel (with representatives from the Public Arts Trust Steering Committee, PATSC), whose recommendations inform the final decision of the Planning Board. Although the artworks approved through the optional method are a public amenity, they are privately owned, operated, and maintained.
Public art projects
Public art is also created through taxpayer-supported funds. The Public Arts Trust aims to build and inspire communities through place-making and to nurture artists engaged in public art.
The public art program dates to the late 1970s, when County Council member William Hanna, former mayor of Rockville, established a countywide program that funded art as a percentage of capital projects. In 1983, the County adopted a program that mandated that 1% of certain capital projects be set aside for the acquisition and commissioning of artworks. The amount was amended twice–to .5% in 1988 and then to .25% in 1990.
In 1995, the Council adopted a law that requires consideration of .05 percent of each fiscal year's total capital expenditures to be allocated for public art. Funds vary each year.
Art Review Panel
Lead planners coordinate with the Art Review Panel to evaluate the developers' public benefits package, provide professional guidance, and recommend conditions of approval for the consideration by the Planning Board. The Art Review Panel typically meets bimonthly. Please see their current schedule below.
Art Review Panel Schedule
Wednesday, March 14, 2018, 9:30 a.m.-12:30 p.m.
Wednesday, April 11, 2018, 9:30 a.m.-12:30 p.m.
Wednesday, June 13, 2018, 9:30 a.m.-12:30 p.m.
Wednesday, September 12, 2018, 9:30 a.m.-12:30 p.m.
Monday, November 19, 2018, 9:30 a.m.-12:30 p.m.
Wednesday, January 9, 2019, 9:30 a.m.-12:30 p.m.
All meetings are held at the Planning Department. These meeting dates are subject to change and are typically facilitated for the applicant and their development team.
Art Review Panel members
OPEN POSITIONS AVAILABLE (Real Estate Developer and/or Professor)—Apply Today!
Suzan Jenkins (PATSC Representative and CEO of Arts and Humanities Council)
Amina Cooper (Curator, PATSC Representative and Arts and Humanities Public Art Manager)
Claudia Rousseau (Art History Professor and PATSC member)
Judy Sutton Moore (Public Artist)
Mark Kramer (Community Representative, Architect and Public Artist)
Ralph Bennett (Architect and Professor)
Francoise Carrier (Land Use Attorney)
Lee Goodwin (Land Use Attorney and Artist)
Christine Farley (Law Professor of Intellectual Property)
Last Updated: November 2, 2018