Preservation Maryland Will Honor Planning Department's Montgomery Modern Program with Best of Maryland Award at May 11 Ceremony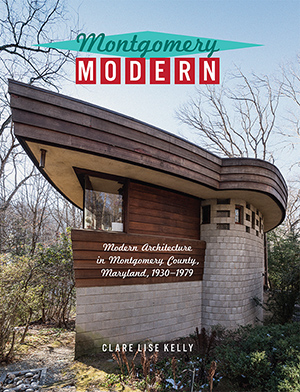 Planning Department's Clare Lise Kelly will be recognized for her efforts to raise public awareness about midcentury modern buildings and neighborhoods in the county
SILVER SPRING, MD – The Montgomery County Planning Department, part of The Maryland-National Capital Park and Planning Commission, has won a Best of Maryland Award for its four-year-old Montgomery Modern program to raise public awareness about the mid-20th-century modern architectural heritage of Montgomery County.
The award recognizes the efforts of Clare Lise Kelly, author of the award-winning 2015 book, Montgomery Modern: Modern Architecture in Montgomery County, Maryland, 1930-1979. Kelly is a preservation planner and an architectural historian with the Planning Department's Historic Preservation Office and leads the Montgomery Modern program. In 2015, Kelly received the Paul H. Kea Medal from the Potomac Valley chapter of the American Institute of Architects for her preservation advocacy.
"The statewide recognition of the Montgomery Modern program is a great honor for all of those who have worked so hard on our tours and events over the years," says Kelly. "This initiative wouldn't have been possible without the support of the Montgomery County Planning Department, and the tremendous support from property owners and residents."
The Montgomery Modern program will be recognized as one of four Community Choice winners, a category of the Best of Maryland Awards, at a reception and a ceremony to be held on Thursday, May 11 at the College Park Aviation Museum from 6 to 9 p.m. Each ticket to the event costs $20 for Preservation Maryland members and $30 for non-members, and registration is now open.
About Montgomery Modern
The Historic Preservation Office's award-winning Montgomery Modern initiative, launched in 2013, aims to educate the public about the midcentury modern buildings and neighborhoods of Montgomery County. This preservation program has included a bus tour, bike tour and other outreach events dedicated to the wealth of mid-century modern architecture in the County. Learn more about the Historic Preservation Office's Montgomery Modern initiative.
In 2015, the Planning Department published the book, Montgomery Modern: Modern Architecture in Montgomery County, Maryland, 1930-1979. Written by architectural historian Clare Lise Kelly, this award-winning publication provides the historical context for modern architecture in the county, from its first appearance in the 1930s through the 1970s. In 2016, Montgomery Preservation Inc. honored the book for demonstrating excellence in heritage education.
Richly illustrated with images by DC photographer Carol Highsmith, period photographs and architectural renderings, the book is organized by building types set within four main time periods. Biographical sketches of practitioners (architects, landscape architects, developers, planners) are included, as well as an inventory of key projects, including buildings and subdivisions.
An exhibit based on this book, documenting key midcentury landmarks through texts and photographs, is currently on view at the Montgomery County Planning Department's offices (8787 Georgia Avenue, Silver Spring, MD).  The exhibit will be at the Silver Spring Library starting in May 2017, with an author talk and book signing event to be held on Thursday, May 4 from 5:30 to 7:30 p.m.