CommUNITY Conversations in Fairland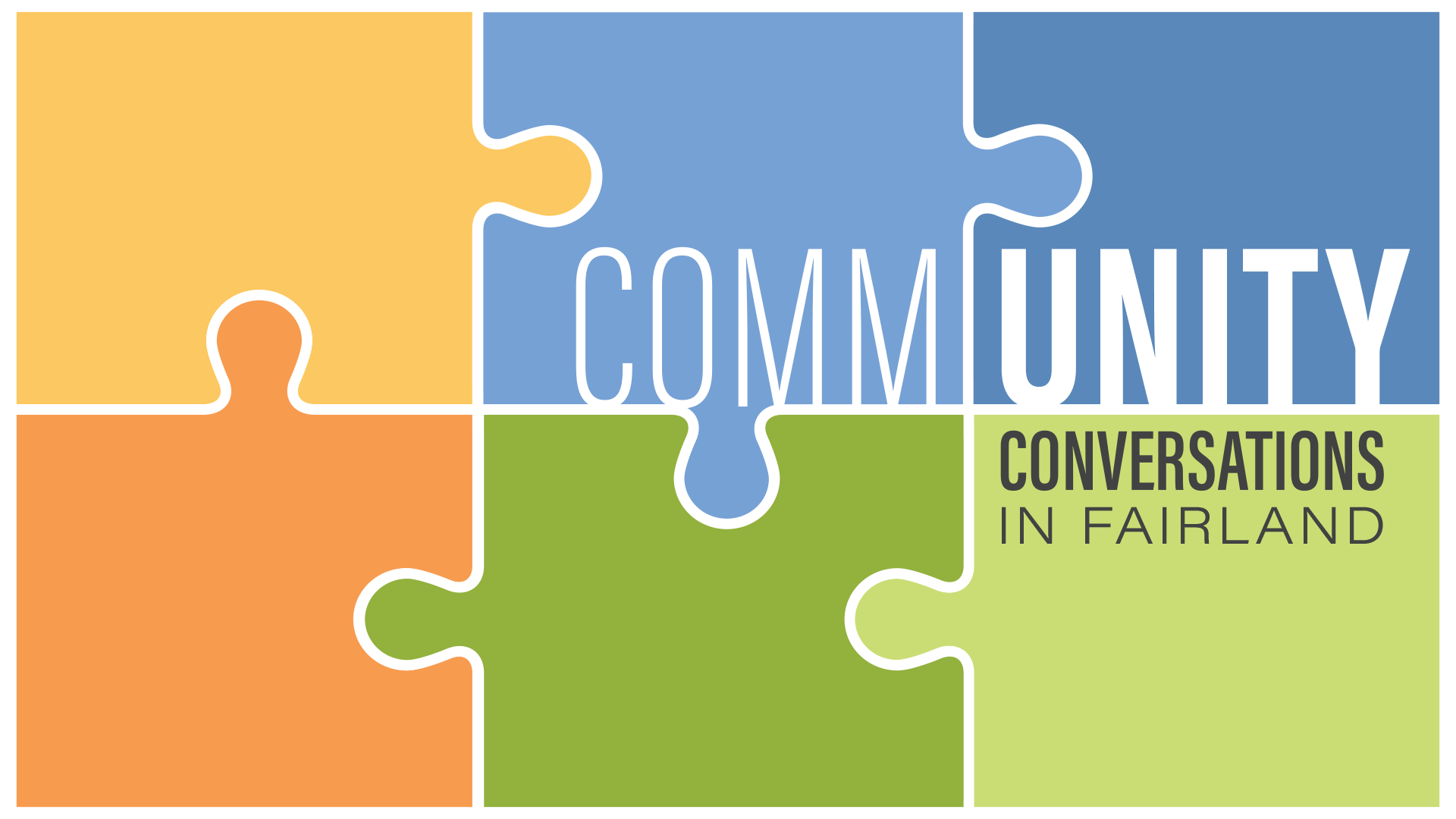 Racial equity, inclusion, connectedness and culture are critical topics to embrace in planning in order to envision and create truly diverse and complete communities. While these topics are true for all of Montgomery County, they particularly apply within the Fairland community.  Earlier this year, the Montgomery County Planning Department launched the Fairland and Briggs Chaney Master Plan to establish a vision for the future of this section of US 29. Voices from Fairland and Briggs Chaney will play a major role in creating the vision for the future of this vibrant and diverse community.
Join us for a free, three-part speaker series to discuss these topics and more which will be studied in the Fairland and Briggs Chaney Master Plan. Each session is programmed to include a presentation and question and answer/commenting segment. The events will be recorded and made available online on demand on this page.
A competency survey will be provided after each session. This survey helps us determine successful outcomes for the entire series and helps attendees that are seeking continuing education credits (e.g. ASLA).
Sessions:
New Discoveries on Sacred Ground: Paying Homage to Local Pioneers – May 18 (6 – 8 p.m.)
After launching the African American Historic Sites project five years ago, the Historic Preservation Division is committed to an honest and equitable representation of the county's complete history and heritage. In our efforts to broaden awareness of African American heritage sites (such as burial sites, churches, homesteads, and farmlands) and encourage dialogue between community members, attendees will view a documentary film about the legacy of Sarah Lee and Malinda Jackson. The documentary will tell their story from multiple perspectives. Panelists will hold a question-and-answer session following the documentary. Registration is required and this program has been approved for AICP and ASLA continuing education credits.
Speakers and Panel
Opening Remarks from Tanya Stern.
Close X

Tanya Stern

Deputy Director

Tanya Stern serves as Deputy Planning Director overseeing countywide housing policy, zoning, growth management, multimodal transportation planning and historic preservation; real estate, economic and demographic analysis; IT/GIS; and agency management services including budgeting, HR and communications. She served as an advisor for Thrive Montgomery 2050, the county's new General Plan. Previously, Ms. Stern served for 14 years in the Government of the District of Columbia, at the DC Office of Planning as Deputy Director overseeing neighborhood planning and urban design and as Chief of Staff; in the Executive Office of the Mayor; and in other agencies. Additionally, she has 11 years of non-profit sector experience. Ms. Stern holds a master's in city planning from the University of Pennsylvania and is certified through the American Institute of Certified Planners and as a Certified Public Manager.

Close X

Brain Crane is an archaeologist with the Montgomery County Planning Department where he reviews projects for impacts to archaeological sites and oversees the Montgomery County Burial Sites Inventory. He received his Ph.D. in historical archaeology in 1993 from the University of Pennsylvania and spent over 24 years working as an archaeologist in the private sector before joining the Planning Department in 2018. He also served for three years on the District of Columbia Historic Preservation Review Board.

Close X

Jamie Ferguson is the Senior Historian in the Montgomery Parks Cultural Resources Stewardship Section. She has worked with M-NCPPC since 2008 and among her current responsibilities is developing interpretive signage and managing cemeteries on county park land. She recently authored Sharp Flashes of Lightning Come from Black Clouds: The Life of Josiah Henson. She is completing a doctoral degree in the history of American civilization at the University of Delaware. Her dissertation is entitled, "Asylum for Jim Crow: African American Mental Hospitals in the Upper South, 1865-1965." She holds a Master's Degree in history from James Madison University and a Bachelor's Degree in history from Radford University. Before her employment at Montgomery Parks, Jamie was the archaeological lab curator for a private cultural resources management firm and has worked in various capacities at several museums and archives, including the Center for Historic Architecture and Design, Delaware Historical Society, Frontier Culture Museum of Virginia, Historic St. Mary's City, Monticello, Montpelier, and Virginia's Explore Park.

Close X

Molline "Molly" Jackson is a self-motivated visionary that is passionate about all things related to art, community advocacy, and public private partnerships (P3s) that enhance the quality of life throughout the Maryland/Washington, DC region. Native to this metropolitan region, she is a 2006 graduate of the Leadership Montgomery program and will be a 2021 graduate of the ULI Regional Land Use Leadership Institute. Strategically increasing her civic involvement and engagement in both Prince Georges and Montgomery Counties, she recently accepted two different State Governor appointed positions on the Maryland State Arts Council and Commission. Obtaining a Bachelor of Landscape Architecture and a Master's in Real Estate Development from the University of Maryland College Park has enabled her long-term working partnership with the Maryland-National Capital Park and Planning Commission (M-NCPPC) for over 11 years. Mrs. Jackson is a proud Prince George's County resident where she lives with her beloved husband (married 6-years), two beautiful sons, and three fur babies in New Carrollton, MD.

Close X

Varna Boyd is a registered professional archaeologist with 39 years of experience in the design, technical execution, and management of historical and archaeological investigations on prehistoric and historic sites throughout the United States and the Caribbean.  She has managed a wide range of cultural resource management and environmental compliance projects for federal, state, and municipal government clients, as well as private sector clients.  She has been doing archaeology in Maryland for 35 years and has been Vice President and a Board Member for the Archeological Society of Maryland.  She is currently on the Board of Directors for the Register of Professional Archaeologists, as well as on the American Cultural Resource Association's Health and Safety Committee. Beyond project management and technical services, Ms. Boyd has led the creation of award-winning public outreach and educational programs.

Close X

Mr. Michael Withers is the great–great grandson of Sarah Lee and currently resides in the area, living in Beltsville, MD. Mr. Withers was born in 1967 at Freedman's Hospital in Washington, DC. He moved to Hillandale, MD with his great-aunt and uncle, Mable, and Elzie Lee (descendants of Sarah Lee/Melinda Jackson) until the age of 4, when the family relocated to Gaithersburg, MD where he attended Gaithersburg Elementary School.

Mr. Withers founded his own firm, M.A. + Associates, LLC, located in Laurel, MD in 2007.  The company provides project management, construction management, and project controls that provides support to builders, developers, state and local governments, not-for-profit organizations, and private owners.

Mr. Withers is married to Mrs. Djuna Withers. They have three children: Eryn, Jabre, and Edith. Mr. Withers in a life-long member and serves as the Chairman of the Board Directors for the 153-year-old historical Round Oak Missionary Baptist Church.

Mr. Withers is a current member and former Board President of the Montgomery Housing Partnership (MHP) Advisory Board; MHP is the leading non-profit affordable housing developer in Montgomery County, MD.

Close X

Ella LaGrange is a 9th grade student at Stone Ridge. In addition to being an artist and an avid soccer player, she is passionate about social action and finding ways to make a difference in her community. She also loves to travel and visit her family in Jamaica and Croatia. Ella is hoping to learn more about the African American community in Burtonsville and Silver Spring and she is interested in finding a creative way to share the area's rich history.

Close X

CeLillianne Green is a lawyer, poet, teacher, mediator, playwright, and speaker.  She wrote her first poem, Because I Love You in 2001. She shared it in 2003, with no expectation of writing another poem. Yet, in the fall/winter of 2005-2006, she wrote over 100 poems. Her most significant work during that time was the epic poem, That Word, published in 2010, and selected in 2015 by the DC Black Theatre Festival for a Staged Reading.

The cultural observations in her work are about life, love, spirituality, relationships, history, and politics. Her work has aired on radio, TV including ITN in England, and she's been quoted in newspapers and in law review articles. She was recognized as a Social Justice Thought Leader by the Kirwan Institute for the Study of Race and Ethnicity at The Ohio State University, for her poem, Lifted in its 2009 publication, "Obama Reflections: From Election Day to Presidency."  In 2009, Lifted was sealed in the cornerstone of the Thurgood Marshall Center in Washington, DC which will not be re-opened until the year 2108.

Ms. Green's recording, CeLillianne Says released in 2011. She penned The Call of Freedom for the 150th Anniversary of Washington, DC Emancipation Day and recited it at the MLK, Jr. Memorial in 2012. A Bridge, The Poetic Primer on African and African American Experiences was published in 2015. In 2016, she wrote The Present and They Prayed. The former celebrated the opening of the National Museum of African American History and Culture. She recited the latter at the 2016 A.M.E. Church Bicentennial in Philadelphia. She delivered, A Special Place – 150 Years Bold, for the 150th Anniversary of her alma mater, Howard University School of Law in April 2019. In 2020, Ms. Green spoke at the University of Cambridge, Robinson College.  She is a contributor to the anthology, 2020: The Year That Changed America and the National Geographic Documentary, Red Summer, both released in 2021.  Contact her: www.CeLillianneGreen.com.
Speakers and Panel
Opening Remarks from Councilmember Will Jawando

Moderator: Lauren Campbell
Close X

Councilmember Will Jawando was elected to an At-Large seat on the County Council in 2018 and has been working to fight for racial justice since he took office. He has been actively using his platform to push for more equal treatment for people of all backgrounds through legislation such as the Law Enforcement Trust and Transparency Act, the CROWN Act. Just this week, he introduced a resolution to declare racism as a public health emergency, and in the weeks to come he intends to introduce additional legislation on police use of force.

Councilmember Jawando grew up in the Long Branch Community, attended MCPS for Elementary and Middle Schools before attending St. Johns College High School on scholarship. He went on to attend Catholic University for College and Law School, forming the first NAACP chapter on campus. After graduation, he went to work on Capitol Hill for Speaker Pelosi, Senator Brown and then-Senator Obama before going on to work in the Obama White House and Department of Education. He lives in Colesville with his wife and four children.

Close X

Lauren Campbell is a transportation planner with Montgomery Planning's Upcounty Division.  She is passionate about empowering communities with data to help them to make informed decisions. Lauren holds a Master's Degree in environmental and urban planning from Arizona State University, and a Bachelor's Degree in transportation systems and urban infrastructures from Morgan State University. As a regulatory transportation reviewer for Montgomery County Planning, Lauren reviews development applications to ensure transportation adequacy. Lauren also serves as the lead transportation planner for the Fairland Briggs Chaney Master Plan and as a non-voting member on the Rustic Roads Advisory Committee. She enjoys traveling, sunbathing, and playing kickball.

Close X

Charles T. Brown, MPA is a self-proclaimed "street level researcher," working at the intersection of transportation, health, and equity. He serves as a senior researcher with the Alan M. Voorhees Transportation Center (VTC) and adjunct professor at the Edward J. Bloustein School of Planning and Public Policy, both at Rutgers University. He has 17 years of public and private sector experience in urban and regional planning, public policy, and research. He also has extensive experience in community outreach and engagement having worked with municipal, county, and state government agencies, for-profits, and non-profit organizations across the U.S. and abroad.

Close X

Jesse Cohn McGowan, AICP, is a transportation planner at the Montgomery County Planning Department, where she leads Vision Zero and transit planning. Jesse has eight years of transportation planning experience, and is passionate about making multi-modal transportation options accessible, affordable, and safe for all. She brings this equity lens to all her work, considering the needs of underserved populations through visioning, community engagement, technical analysis, and presentation of results. Jesse has a Master's of city and regional planning from UNC Chapel Hill and a Bachelor's of Arts from Brown University.

Close X

Shannon Renade Minnick was born and raised in Washington DC. As a young energetic mother Shannon moved to Maryland to start a family. Shortly after moving from DC to Maryland in 1991 at the age of 21, Shannon was in a car accident that dramatically changed her life.  All though doctors told Shannon she had broken her neck, was paralyzed, and explained all the things she would most likely never do again. Shannon refused to allow her disability to be the focus of her life. For a short time, she felt uncertain, insecure, and like she had no control over her life. Then, by the GRACE of GOD, and with a supportive network of family and friends, she was able to take charge and turn her life around.  Shannon began to challenge herself to get better and to become a role model for others who are living with disabilities. Here she is, 29 years later, striving to live life to the best of her abilities. Shannon is a mother of two fabulous young ladies, Akia 30 and Erika 22. After working hard to build a stable and satisfying life for her daughters and herself, Shannon decided it was time to actively reach out to her disabled community. It is her mission to help others, who still feel like they can't achieve a fulfilling and active life with a disability. She strongly believes increasing the awareness and use of health and social services will improve the level of community participation, integration, and quality of life for the individual.

She earned a degree from Montgomery College, and became the spokesperson in an advertising campaign for the college and Washington Metropolitan Area Transit Authority. Later she became the SCI Navigator at Medstar National Rehabilitation Hospital (NRH), has started a campaign advocating for physical exercise for disabled individuals and has stared in NRH How to Videos on You Tube Quad Can Cook. Shannon is also Ms. Wheelchair MD 2010 and the assistant coordinator of the Ms. Wheelchair MD organization, the coordinator for Ms. Wheelchair District of Columbia and hosts the United Spinal DC Chapter Support Group. While holding the as Ms. Wheelchair MD 2010 she founded and organized the Disabilities Awareness Experience to educate individuals with and without dishabilles, Cofounder Women on Wheels Support Group to empower women with disabilities and started an Annual Holiday Party for teens living with disabilities. Shannon has dedicated her life to advocating for the disability community. She is currently the Director of Independent Living Services at Independence Now, one of the of Maryland's Centers for Independent Living. She serves on the Interagency Transition Council for Youth with Disabilities, Patient-Centered Outcomes Research Institute Committee, Spinal Cord Injury Consortium Board and Governor's Advisory Board for Telecommunications Relay.

During Shannon spare time she enjoys snow skiing, water skiing, dancing, movies, planning events, but most of all helping others live to their fullest potential.

Close X

Rochelle Harrod is a native Washingtonian born and raised in the Petworth and Deanwood neighborhoods She is the middle child of 3 children born to Bruce and Denise Harrod. At the age of one, she was diagnosed with cerebral palsy and hydrocephalus. She holds a Master's Degree in Counseling and Bachelor's Degree in psychology from Trinity Washington University. Rochelle never allowed her disability to hinder her personal, career, or educational goals. In her spare time, she loves to sell Avon, Paparazzi Jewelry, and Partylite Candles. She is a former Ms. Wheelchair DC, who is very passionate about showing individuals how to navigate the system and get the services they need. For the last 12 years, as a Prince Georgian she has served as an Independent Living Specialist for the Residents of Prince George's County at Independence Now which is the non-residential center for independent living that serves people with disabilities in Montgomery and Prince George's Counties. Rochelle is also an advocate in her community. She serves on the board of Just 4 Us Foundation, which is a non-profit that provides community enrichment activities for at risk youth and individuals with special needs in DC and Prince George's County.
Speakers and Panel
Opening remarks by M-NCPPC Commissioner Tina Patterson
Close X

Tina Patterson is a commissioner with the Maryland National Capital Park and Planning Commission (MNCPPC) County Planning Board where she serves as an adviser to the commission's Diversity Council and the Information Technology (IT) Council. In 2019, Ms. Patterson was appointed to the Montgomery County Remembrance and Reconciliation Commission.

Tina's interest in food began when she was a child. She often helped her mother and grandmother with preparing meals.  Her first recollection of cooking independently was using her EZ-Bake Oven to prepare treats for the family. Tina also worked with her mother in the garden – her mother grew vegetables while Tina focused on growing flowers. These interests have expanded over the years. Tina continues to grow flowers but has helped family and friends with planting and gathering food crops including collard greens, mustard greens, strawberries, peppers, tomatoes, and blueberries. Tina's interest in food has led her to enroll in cooking classes of various cuisines, eventually leading her to complete a 20-week culinary techniques course at L'Academie de Cuisine led by Chef Brian Patterson (currently at Glenstone Museum, no relation) and volunteer as assistant in classes at both L'Academie de Cuisine locations. In 2014, at the urging of friends and family, Tina launched a food blog, Technicolor Dining, sharing her journey through all things dining and food related. Later, Tina expanded her knowledge and obtained Level 2 certification with distinction from the Wine Spirit Education Trust (WSET). She is currently working to obtain her Level 3 certification. In a world where we are often reminded of how we are different from each other Tina often says, "food connects us."

Close X

Julian McElveen was born and raised in Northeast Washington, DC and has southern Christian roots from his expansive family in Charleston, S.C. A resident of Prince George's and Montgomery counties since 1995, Julian has ties to the entire DMV working as a contract professional for 18 years at a number of companies and government agencies.

Close X

Heather Bruskin leads the operational and strategic initiatives of the Montgomery County Food Council, coordinating the contributions of the organization's eight staff, and over 400 volunteers of the council, working groups, Board of Directors, and over 200 community partner organizations toward our collective food system goals and achievements. Heather spent the first decade of her career as an administrator and program director at MIT, Georgetown University, and the University of Virginia. Prior to her work with the Food Council, Heather also served as president of multiple volunteer-driven community-based organizations in Montgomery County focused on early childhood education and parent resources. Heather holds a Bachelor of Arts from Tufts University and a Master of Education from the University of Virginia. Heather serves as co-lead of the Montgomery County Food Security Task Force, and as a member of the Federal Emergency Management Agency (FEMA) Emergency Food and Shelter Program Board, Metropolitan Washington Council of Governments FARM Committee, CKC Farming Advisory Board, Montgomery County's Community Health Needs Assessment Advisory Committee and its Small Business Recovery Workgroup, and the Nonprofit Montgomery Advocacy Committee.  Heather is an active leader and volunteer in her community and local schools.

Close X

Vanessa Pierre is a garden coach, educator, and food activist in Montgomery County. When she is
not performing her functions of being a mother to three beautiful children and working as a civil litigation paralegal, she runs an organization whose mission is to build strong, self-sufficient, empowered, and healthy minority communities through food and gardening education, demonstration, and advocacy. Her organization, Homestead Hustle & Healing, is an online platform with local community initiatives, whose mission is to end food insecurity among minority populations. She is a member of the Food Security Advisory Board of her local food council, a master gardener intern, well as a client leadership councilmember for the Capital Area Food Bank.

Close X

Through his years of professional service, Mr. Wheeler has advocated for the strengthening of policies, local programs, and organizations to bolster equitable access, opportunities and wellbeing for children, youth, and families. He has also worked on justice policy reform to ensure the reduction of disparate outcomes and treatment for communities of color. Mr. Wheeler currently serves in the role of Board Chair for the Montgomery County Executive's African American Advisory Committee, Chair of the County Executive's Community Recovery Advisory Group and Co-Chair of Montgomery County's My Brother's Keeper initiative.

Close X

Agar Mbianda joined Manna Food Center on February 2021 as the community engagement manager with a decade of successful experience in community and international based projects. Among other responsibilities, she is working on deeper listening to build trust and partnerships with community members, in an effort to understand and cultivate a sense of participation.

Agar is bilingual French and a strong believer in the power of collaborative actions to address the social needs of the community we are serving. Agar enjoys learning from diverse cultures.

Close X

Michelle Nelson is an ambitious, energetic woman of excellence, working in the local government sector, who is passionate about mentoring, diversity, and local food systems. Ms. Nelson is strategic in her approach to capacity building and project management. She utilizes relationship building and collective impact to connect different concepts and philosophies to create new exciting solutions, where everyone has a voice, and everyone is a contributor. Ms. Nelson's expertise is in urban agriculture, local food systems, program development and management, and professional development for young professionals in STEM and environmental careers.

Close X

Danielle Alvarado-Davis is a bilingual and bicultural program manager for Montgomery County's Department of Health and Human Services. As the Program Manager for the East County Coordination and Kresge Opportunity Programs, Mrs. Alvarado-Davis supervises the East County Coordination and Kresge Opportunity Ecosystem programs. These programs provide strategic human service, employment coaching and other needed supports for the residents of East County. In addition, Mrs. Alvarado-Davis also supports the efforts of the East County Parent Youth Engagement, Health & Wellness and Workforce Development & Education Committees. Mrs. Alvarado-Davis holds a Bachelor of Science in Psychology from the University of Arizona and an MBA from the Johns Hopkins University: Carey Business School.
Last Updated: September 27, 2023