Burtonsville Crossroads Neighborhood Plan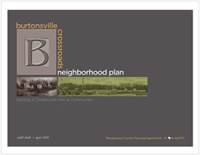 Plan Highlights
In December 2012, the County Council unanimously approved the Burtonsville Crossroads Neighborhood Plan (51.7 MB PDF).
The plan, which amends the 1997 Fairland Master Plan, establishes a vision to transform the existing crossroads into a complete community and provides recommendations for land use, transportation, environment and design that will enable the US29/MD198 commercial crossroads area to thrive. The plan focuses on:
improving the street network
adding an open space system and recreational opportunities
identifying new residential opportunities
protecting the sensitive tributary headwaters of the Patuxent River.
The recommendations, taken together, form a cohesive way forward and create a civic vision.
Background
The commercial crossroads properties at MD 198 and US 29 have seen redevelopment and circulation changes that have many area local merchants, property owners and residents questioning the area's economic future.
Changes that impacted the crossroads area included: a master planned loop/service road, State Highway's MD 198 corridor planning effort, and the Base Realignment and Closure (BRAC) at Ft. Meade on MD 198 in Laurel.
Last Updated: July 20, 2022