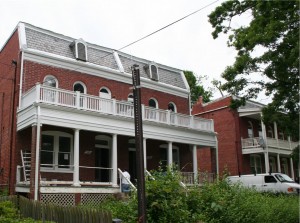 guest blogger:  Lisa Mroszczyk
Recycle your house and neighborhood.
During National Preservation Month, the National Trust for Historic Preservation reminds us that just as old buildings are sustainable, so are old communities. Older communities are often built closer to economic centers, they are smaller and have viable existing infrastructure, and can be retrofitted for walking, biking, and transit use. In contrast, developing previously undeveloped land is energy and material intensive and can have significant environmental impacts. The rehabilitation and reuse of buildings in denser, centrally located historic districts and the preservation of agricultural land prevents sprawl and reduces impacts on the environment. 
Architect Carl Elefante, author of "The Greenest Building Is…One That Is Already Built," describes the relationship of preservation to … Continue reading