First session of Winter Speaker Session focuses on infill possibilities as land becomes scarce for conventional developments.

Here is a question to discuss over your next dinner party: where can Montgomery County fit an additional 87,100 households?
Our county, like many jurisdictions across the nation, has a housing problem. Demand for homes is persistent and space for new dwellings is limited, forcing families to consider too many tradeoffs, such as paying higher housing costs or selecting homes in communities far from their employment.
The good news is that there are solutions to this problem that can be applied in Montgomery County, as revealed in the first session of the Planning Department's Winter Speaker Series on the Economic Future of the Suburbs.
On December 6, real estate expert Erin Talkington of RCLCO presented an overview of nationwide suburban trends and then focused on housing. Talkington pointed out that development patterns across Montgomery County fall into in three general categories: urban, established suburban and greenfield suburban where vacant land is developed into new communities. Only 10 percent of our population lives in the urban areas while 68 percent resides in established suburban neighborhoods and 22 percent dwell in emerging greenfield and rural areas.
However, residents moving to Montgomery County in the coming decades will face a different landscape of choices when it comes to the new housing when compared to the development patterns prevalent 20 or 30 years ago. Our county has very little land left for large developments and, with an expected increase of 87,100 households, careful consideration will have to be given to where and how to build so that our future neighbors will be able to afford to live here.
According to Talkington, the type of development likely to predominate going forward will be infill in the urban areas and established neighborhoods of the county. Finding ways to fit new housing into existing areas while maintaining the desired character of Montgomery County, she pointed out, will be a challenge for planners and architects.
When most people think of development, they imagine single-family houses, townhouses and large, multi-family buildings. There are, however, less familiar housing types that can provide more design options and a range of prices in neighborhoods. The duplexes, fourplexes and courtyard apartments found in our region fall into this category. They are called "missing middle housing" and offer housing options where few alternatives to conventional homes currently exist.

A housing study from RCLCO reveals that that 48 percent of single-family homes across the country and in Montgomery County are occupied by seniors and retirees with no children. We might infer from this statistic that these empty nesters still enjoy the size and location of their homes or, faced with a limited offering of housing types, they can't find an attractive or affordable alternative to move to. The missing middle could offer a wider-range of choices that might be more suitable for smaller families and empty nesters, thus increasing the supply of single-family homes for larger families.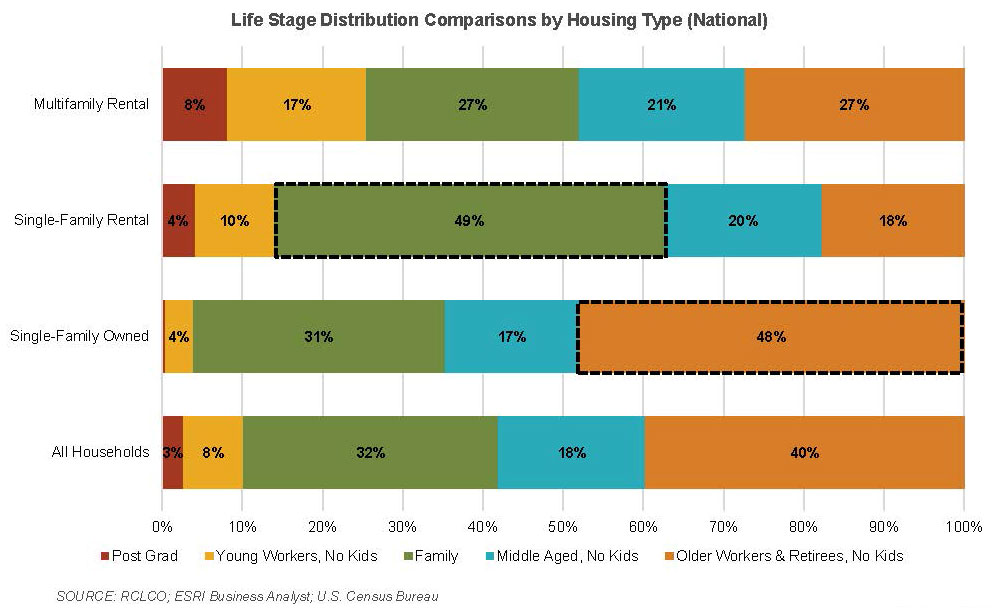 Because the missing middle housing typologies consist of multi-unit and clustered housing that are compatible in scale with single-family homes, this housing trend is gaining more traction across the country. Many cities and counties, including ours, are beginning to conduct studies to see how they can expand the missing middle and foster a wider range of housing choices.