By Paul Mortensen
Montgomery Planning is working on their new Pedestrian Master Plan to be presented to the Planning Board this spring. One of the greatest books on walkability and the creation of safe streets is Walkable City: How Downtown can Save America One Step at a Time, by Jeff Speck. This entertaining, informative, and most relevant book celebrated its 10th anniversary this past year. To help achieve Montgomery County's Vision Zero goals of eliminating pedestrian fatalities through safe streets, Speck's book provides a vision for creating streets that are safe, comfortable to pedestrians, and interesting—the primary criteria that supports walkability.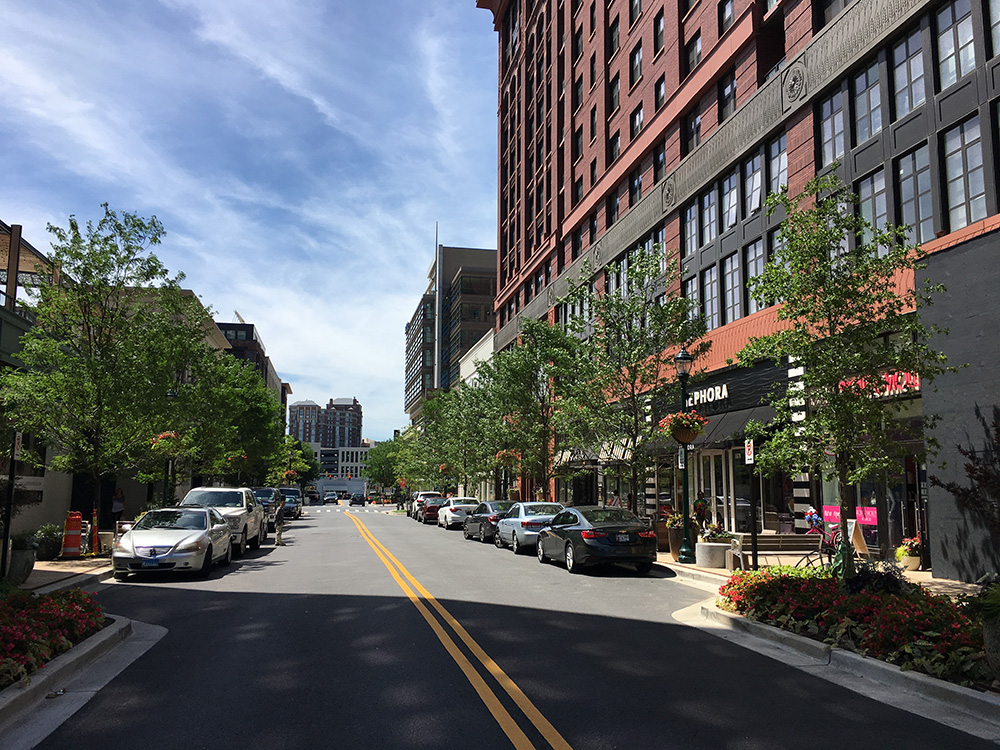 In our cities, towns, and neighborhood centers, streets occupy between 20% and 45% of the land. In the 10-year lifetime of this book, the United States has seen an almost 50% rise in pedestrian deaths. Maryland remains in the top 15 states for pedestrian fatalities per population. Speed is a major contributing factor that accounts for one third of all fatalities. The faster the speed, the greater likelihood of a fatality. Someone hit by a car traveling 30 miles per hour is roughly nine times more likely to die than if they were hit at 20 miles per hour. Walkable City proposes solutions for designing safer streets. By providing a small number of inconveniences to drivers, pedestrians can be much safer, and the inducements to speed by drivers are reduced. Streets that slow down traffic can dramatically reduce serious or fatal deaths by traffic accidents.
In general, Speck suggests that by making streets a little less comfortable to drive through design, drivers are forced to pay attention and slow down more.
Speck offers the following safe street design ideas based on national research:
Multiple-lane, one-way streets create less friction from oncoming cars and therefore promote greater auto speeds. Pedestrian safety is also decreased because drivers often do not look both ways when turning onto these one-way streets.
Except on streets with heavy congestion of more than 10,000 trips per day, left-turn lanes should be avoided. Both right- and left-turn lanes encourage greater speeds which undermines pedestrian comfort.
A 10-foot-wide lane comfortably supports 35 miles per hour.  A 12-foot lane comfortably supports 70 miles per hour. Drivers instinctively understand the difference and speed up with wider lanes.
When properly designed, bike lanes make streets safer for people who are biking, walking, and driving.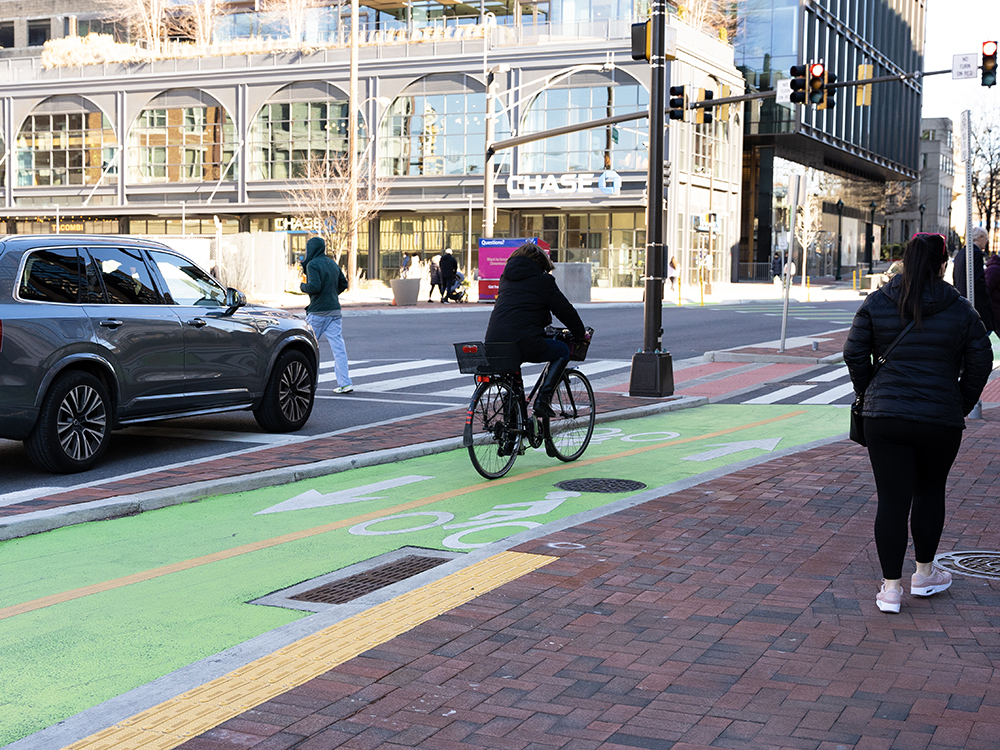 Trees and parked cars at a street's edge protect the sidewalks and create a perceived narrowing of the street which lowers speeds. This only works when the trees are tightly spaced so that they are perceived by the driver. Street trees have the added benefit of increasing property values and reducing heat island effects and stormwater runoff.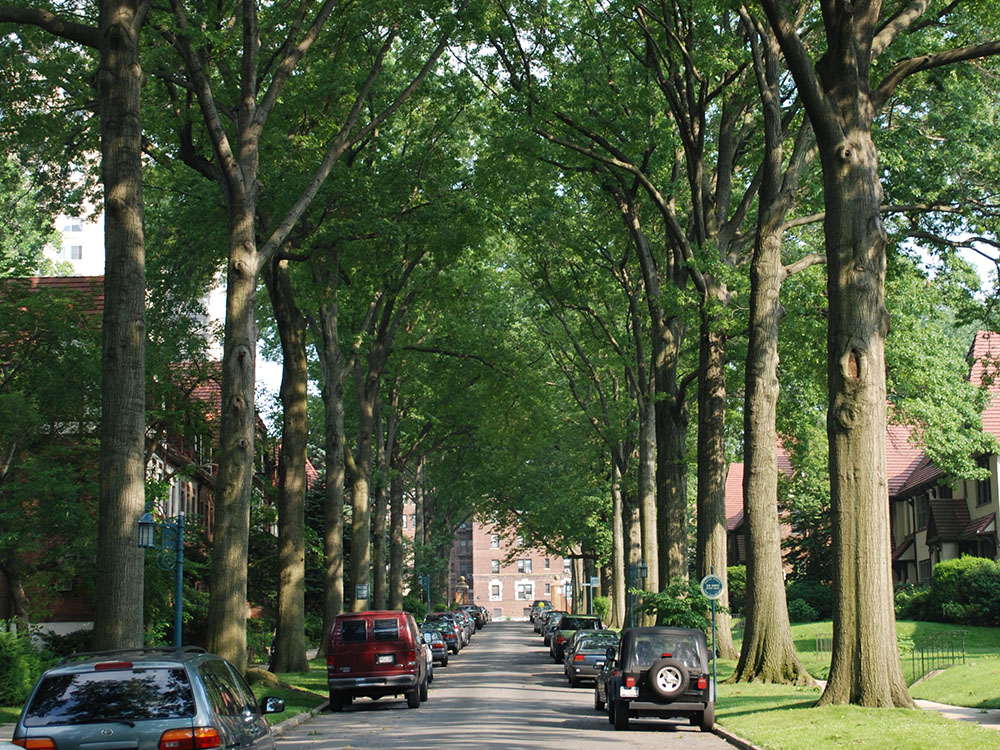 Research shows that all-way stop signs are much safer than signaled intersections because they force drivers to negotiate an intersection at more than a very slow speed and force eye contact among all users.
Curb cuts across sidewalks make sidewalks less safe and comfortable, which is reinforced by the tilt of the driveway skirt and missing curb. Curb cuts eliminate on-street parking which protects the sidewalk, and they make bike lanes dramatically less safe. Tree planting is also more challenging.
Provide proper crosswalks, signals, and streetlights. The wider the crosswalk, the more important the pedestrian is perceived. The shorter distance of the crosswalk also limits conflict between pedestrians and cars.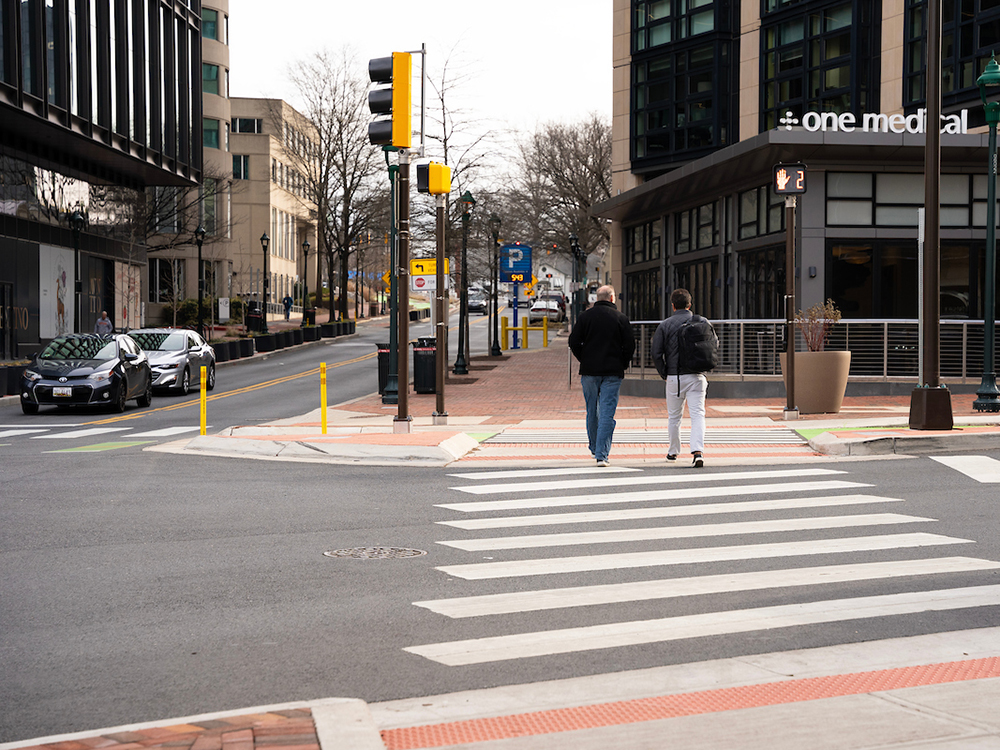 On streets with wide, swooping geometries, cars are encouraged to go faster, and pedestrians feel less safe. Gentle curves and wide-open corners undermine safety. Road networks should never be shaped around minimum design speed but rather should be designed to accommodate the turning motions of the largest vehicles that will use the street daily.
Intersection sight-triangle requirements, which keep trees and buildings away from street corners or street adjacency, allow cars to see clearly around corners while approaching at speed. Keeping visual obstructions away from intersections is one thing that causes drivers to speed through them. For this reason, most of the world's most dangerous streets satisfy a sight-triangle requirement, while many of the safest do not. For walkability to succeed, Speck suggests that site-triangle rules must be removed.
Do not fix complexity. More complex street intersections are safer because they elicit caution which translates into slower, more attentive driving.
On local, neighborhood streets, Speck suggests the removal of centerlines. When a street loses its centerline, speeds drop approximately 7 miles per hour. Centerlines make drivers more confident, causing them to speed as a result. The studies that showed this reduction, also showed that speeds were reduced the most when drivers see oncoming vehicles approaching. When typical speeds are around 30 miles per hour, a 7-miles-per-hour reduction can cut the risk of death almost in half!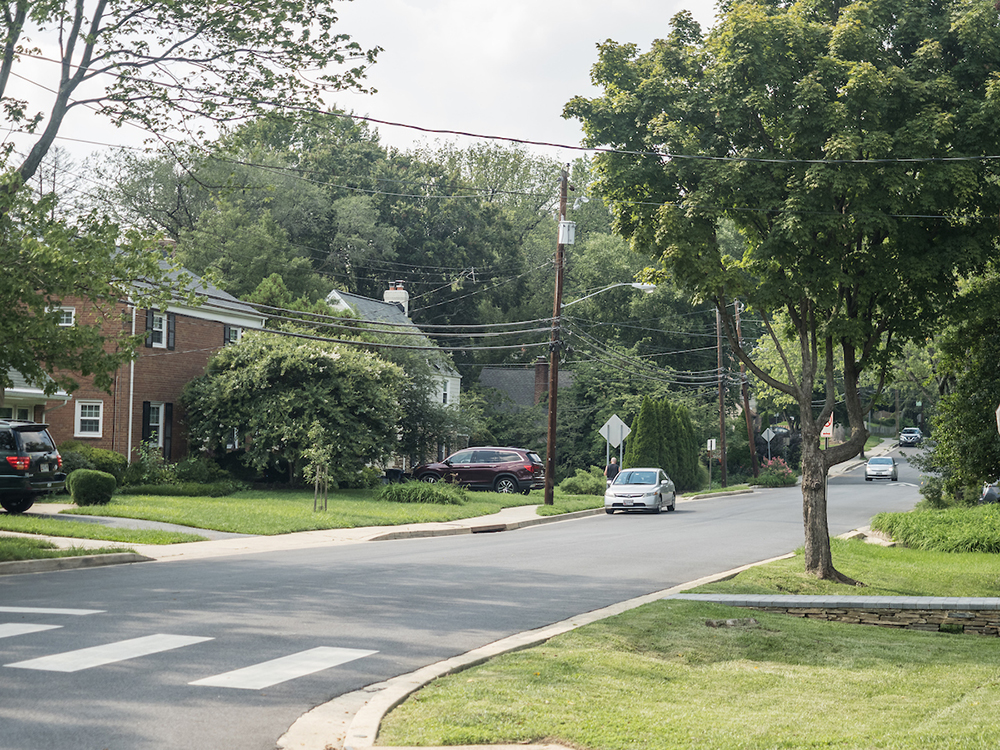 With Montgomery County's support for stringent, safer Vision Zero goals and equitable, vibrant, complete communities, Walkable City is as relevant as ever.
---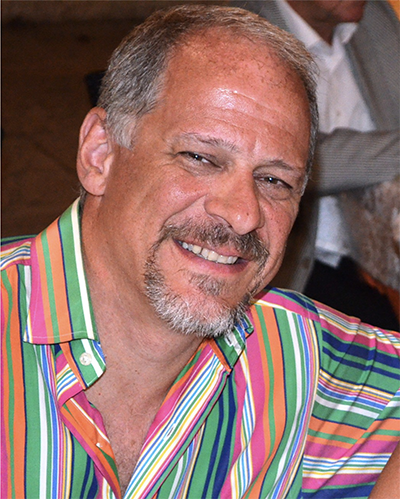 About the author
Paul Mortensen is Senior Urban Designer in the Director's Office at Montgomery Planning and is leading numerous high profile Design Excellence review, master planning, policy and awards efforts within the organization. He is a registered architect in the states of California, Washington and Maryland, is a LEED Accredited Professional, a member of the Congress for New Urbanism, and is an Architect and Urban Designer of significant experience with sustainable architectural design in urban settings.