By Miti Figueredo
This content was originally posted as an opinion piece by guest contributor Miti Figueredo in Greater Greater Washington on March 28, 2023 and is posted to The Third Place with permission.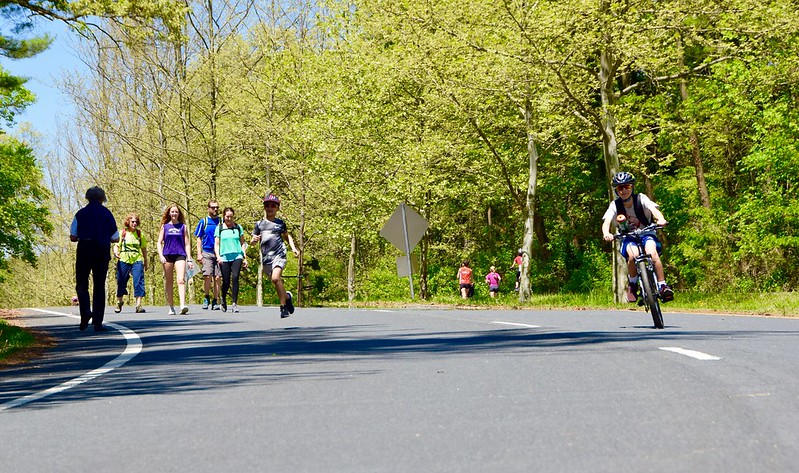 Around the country, some pandemic-era changes have been widely accepted and made permanent, while others have been abandoned or scaled back. On Thursday, March 30, the Montgomery County Planning Board held a public hearing on whether to keep a half-mile road diet on Little Falls Parkway or end the closure of two lanes to car traffic that made space for walking, biking, and play.
Testing out a road diet on Little Falls Parkway
Last summer, Montgomery Parks implemented a pilot project to study whether Little Falls Parkway could safely accommodate vehicular traffic with two lanes rather than four, and the results have been clear: two lanes more than adequately accommodate traffic, and the road diet improves safety for all road users, including pedestrians and cyclists. We found that even during peak-hour traffic, travel times have been stable and traffic level of service (LOS) has remained at B (reasonable and stable free flow) and C (slightly restricted but stable). In urban areas, a LOS of "A" typically occurs only during off-peak hours.
Travel Time Summary Table: Little Falls Pkwy from River Rd to Fairfax Rd
Direction
Travel Time (min:sec)
Speed (MPH)
Arterial LOS*
AM
PM
AM
PM
AM
PM
SB
3:38
3:13
16
18
C
B
NB
3:10
3:22
18
17
B
B
While these results seem surprising to some, they're consistent with what we've seen on our other two-lane park roads, including Sligo Creek Parkway and Beach Drive. These roads, which have 25 mph speed limits and two opposing drive lanes, carry similar volumes of traffic.
The set of traffic counts conducted throughout 2022, before and after implementation of the pilot project, show a similar or slightly decreased amount of traffic on the Parkway and neighboring roads, and a substantial reduction in weekend traffic on nearby residential streets. Approximately the same number of drivers are using the Parkway before and after the Pilot Project and are not "avoiding" the Parkway to use other roads.
Traffic volumes on Little Falls Parkway (Between Arlington Road and Hillandale Road)
Traffic volumes on Kennedy Drive (South of Bradley Boulevard)
Traffic calming and road safety before the pandemic
The Capital Crescent Trail crossing at Little Falls Parkway has historically been the site of frequent conflicts between trail users and motorists. It's the busiest trail in Montgomery County and carries an average of 2,000 users daily.
After bicyclist Ned Gaylin was struck and killed in 2016 by a driver while he was in the crossing, the Parks Department installed an interim road diet at the crossing and created a "facility plan" to study permanent changes. The road diet immediately improved safety: the number of crashes at the crossing fell from six in 2016 to six over the next three years. After a raised crosswalk was installed in 2020, there have been zero crashes at the crossing.
The pilot project extends this road diet between Arlington Road and Dorset Avenue, by keeping the two northbound lanes open to vehicles and keeping the two southbound lanes as a 24/7 "open parkway."
The pandemic and Open Parkways
Since the start of the pandemic, the Open Parkways Program on portions of Sligo Creek Parkway, Beach Drive, and Little Falls Parkway saw over 1.5 million visitors walking, running, and biking with friends and family. In response to the popularity of Open Streets and Open Parkways, in June 2021 the Montgomery County Council unanimously passed a resolution in support of maintaining and enhancing these programs.
The Little Falls Parkway Open Parkway was initially implemented from Massachusetts Avenue to Fairfax Road every Friday through Sunday. It was later scaled back to include only the segment from River to Fairfax Roads on Saturdays and Sundays only. In 2020, usage averaged over 3,000 bikers and walkers each day, but the closure of Little Falls Parkway led to increased cut-through traffic in some adjacent neighborhoods. After hearing complaints from residents, the Parks Department looked for a solution that would eliminate cut-through traffic, improve road safety, and maintain the recreational benefits of the Open Parkway.
The two-lane solution
Working with the Montgomery County Department of Transportation, the Parks Department decided to try closing two lanes of traffic to cars while leaving the other side of the parkway open to vehicle traffic. The project was split into two phases: Phase I eliminated the outside lane in each direction and when this did not cause congestion or other operational problems, Phase II shifted all automobile traffic to one side of the median which allowed for recreational use of the now empty side of the road.
This change from four lanes to two is consistent with recommendations in the county's recently passed general plan, Thrive 2050, the Vision Zero 2030 Action Plan, the Bicycle Master Plan, and the Westbard Sector Plan, which endorsed two lanes of traffic on Little Falls Parkway, as it currently is from River Road to Massachusetts Avenue.
The Westbard Sector Plan includes the results of future traffic modeling assuming complete buildout of all known infrastructure and development projects and deems the transportation network "in balance." Long-term traffic trends along the Parkway, River Road, and Wisconsin Avenue are decreasing despite continued population growth, and the parkway has enough additional capacity to accommodate potential traffic growth.
Turning pavement into parks
If the Planning Board approves moving forward with a lane reduction, Montgomery Parks will have a rare opportunity to create over an acre of new park space in an urban area, without spending one penny to acquire it. To put this in context, prices for new parkland in downtown Bethesda have recently cost as much as $10 million for a quarter-acre.
We would look to the community for input on what to do with this space, but the opportunities are exciting to think about. The nearby Capital Crescent Trail is popular but congested, especially on weekends. We could create space for kids to learn to ride bikes, for families to gather and play games, and for relaxing and enjoying nature near the creek. Removal of some pavement would reduce impervious surfaces that are currently draining into Little Falls Branch, providing environmental benefits.
Next steps
If the Planning Board approves keeping two lanes, the Parks Department will temporarily activate the new park space on the west side of Little Falls Parkway with games, seating, and other placemaking elements and then kick off a public outreach project for input on the permanent use of the space.
---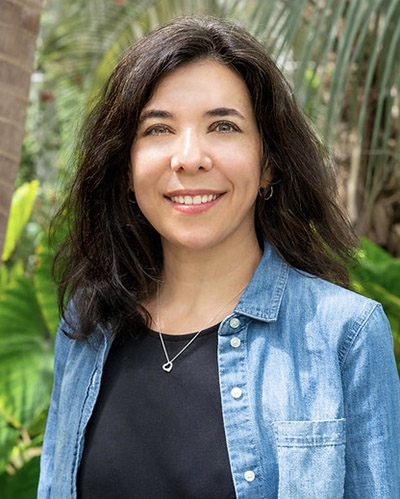 About the author
Miti Figueredo is the Deputy Director for Administration at the Montgomery County Parks Department where she manages park planning and development, natural resources stewardship, public affairs, and communications, and the department's $130 million annual operating budget and $265 million 6-year capital program.